CUISINE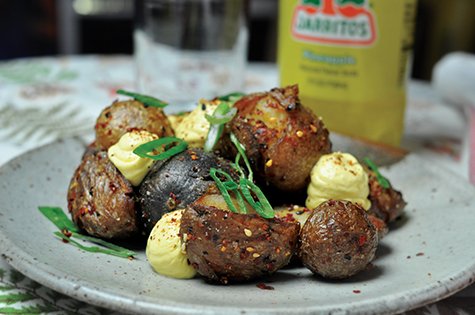 All On Board at TigerHawk

It's All About Fun, Funky and Fabulous Food in Oak Bluffs
By Lisa C. Belcastro, Photos by Charlie Utz
If you love good food, you've been to TigerHawk. If you've needed a quick lunch, a picnic to go, breakfast to get you through the day, or food with friends, you've been to TigerHawk. If you've followed chef Jimmy Alvarado through his Island career, you've been to TigerHawk.
If you haven't been to TigerHawk, I'm sorry. But fret not, for you can go today. There are many reasons why you should, including, but not limited to, my favorite: broccoli rabe with sweet chili and tofu or my bestie's favorite: Tiger Style Fried Chicken Sandwich.
Jimmy opened TigerHawk three years ago with Nathaniel Wade. Nathaniel chose a different career path after their first year and left the restaurant business. Jimmy, on the other hand, had found his path – creating unique sandwiches and special meals for friends, Islanders, and visitors at his festive location on Circuit Avenue in Oak Bluffs.
Jimmy first arrived in the US in 1996. He was 10 years old when his family left Peru and moved to New Jersey. He lived and worked in New Jersey and New York until he came to the Island in 2010. "A friend was working here. I came for the summer and stayed," said Jimmy.
Jimmy started working as the chef de partie at the Harborview Hotel. He worked his way to sous-chef for Nathan Gould, then followed Nathan to the Beach Plum Inn. Jimmy left the Beach Plum to become the head chef at Isola. He moved off Island for a bit when Isola closed, but he couldn't get MV out of his heart. He returned and accepted the head chef position at Woods at the Lambert's Cove Inn.
When COVID hit, and everything closed, Jimmy began working as a private chef. "I really liked working for myself. I decided I wanted to open my own business." He began with On Time, a private chef/catering business, and soon began the process of opening TigerHawk.
"It's been fun. I get to put food out that guests will enjoy, that I think is delicious, and that resembles me and where I'm from," said Jimmy of TigerHawk. "I'm very proud of this place. We have a broad menu. There are a lot of sandwich spots on the Island. I want to be different. I want to be creative."
Creativity is certainly one endearing aspect to TigerHawk's menu board. Nothing is ordinary. Jimmy has put a special twist into everything, like that one friend who wraps presents with ornate bows and flowers and drawings and makes the packaging look too good to open.
A sweet example is the Turkey Rachel sandwich. Jimmy created the Turkey Rachel for his wife Rachel, whom he married last year. "She loves rye bread. She wanted an unseeded rye sandwich. Essentially, it's a turkey rueben with a bit of funk," said Jimmy, who also created a smoked beet option for vegetarians and vegans.
We have the smokey beets recipe, which you can use in a sandwich or in a salad. If you're a lover of beets, you'll enjoy the process to create these delicious options. Jimmy has also included the recipes for the sauces he makes at TigerHawk. When you make the Gochujang Mayo, Jimmy shared his secret for dispensing the sauce simply: "I place the mayo in a Ziplock bag making sure I don't fill the corner. When the beets are ready for the mayo, I cut the corner of the bag and I squeeze it like Gogurt," said Jimmy.
Jimmy's favorite, which is also one of the top sellers, is The Hustler. "It brings a little piece of Peru to this Island. I refined all the flavors and added sweet potato, which balances the onion and salsa." Jimmy shares the recipe and a few tips for The Hustler with Vineyard Style readers. "The marinating is super important. Use the pork belly and marinate it in the Peruvian rub overnight. Peru is like a melting pot. The rub has soy, aji panca, cumin, garlic, and oil. It's like a flavor punch."
When you cook the sweet potato for The Hustler, you can roast it or fry it, just be sure the outside is crisp and the inside is soft. "It's such a simple sandwich," said Jimmy, "but it's so good."
If you're looking for a new taste delight in chicken, be sure to try Jimmy's Chicken Anticucho Skewers. Whether you buy this dish in the restaurant or make it home, you are going to love all the flavors. And here's a major plus, you can stop into TigerHawk and purchase the kimchi and the pickles that Jimmy makes in-house.
Once again, the marinade is the key. "All the marinade ingredients go in the blender. They all matter. Don't delete one. You can marinate the chicken for up to four days, "said Jimmy, adding, "Skewer the chicken first and place in a pan, then pour the marinade over chicken."
"What's great about this chicken is that if you don't want to make lettuce wraps, you can use it in other recipes such as over rice or with a stir-fry," said Jimmy.
The Smashed Potatoes are the easiest recipe Jimmy shared with us, and they are so darn good you'll be making them a lot, even in summer to eat cold at the beach. Jimmy noted that if you don't have a fryer, "you can use a cast iron pan on the stove or roast the potatoes in the oven."
Jimmy finishes the Smashed Potatoes with a yummy cheese sauce. You can find the Peruvian yellow pepper (aji amarillo) at Cash & Carry. "In Peru, we pour the sauce over the potatoes. I serve the sauce on the side. Visually it looks better on the side," said Jimmy.
TigerHawk is open year-round.You can check out all the tasty offerings at TigerHawk at: www.tigerhawkmv.com. Jimmy is cooking up breakfast and lunch daily until early June, when he'll begin offering all three meals throughout the summer. TigerHawk will even be open late this summer on Fridays and Saturdays. Jimmy has decided to keep serving delicious food until the bars close. In addition to the regular menu, Jimmy hosts a quite a few pop ups throughout the off season. Noodle Night was the most popular to date, and now those ramen noodles are on the menu board. The noodles come with amazing shitake mushrooms. Honestly, you could order the mushrooms on any dish or sandwich because they are that good.
You can check out all the tasty offerings at TigerHawk at: tigerhawkmv.com.
If you need a private chef or caterer for an intimate dinner or special event, reach out to Jimmy and let him create a culinary feast just for you. Email at: info@ontimemv.com or check out the website: ontimemv.com.
SMASHED POTATOES WITH PERUVIAN CHEESE SAUCE
Ingredients:
1 lb. of creamers
2 tablespoons of salt
2 qts. of water
1 tablespoon of togarashi
1 bunch of scallions
2 tablespoons of Aji Amarillo
1 cup of cream cheese
1 cup of sour cream
2 tablespoon of grapeseed oil or oil of choice
FOR THE CHEESE SAUCE: In a small bowl whisk together Aji Amarillo, cream cheese and sour cream. After mixing well add salt to taste.
FOR THE POTATOES:
• Slice scallions thinly and store for finishing. Just like boiling pasta we are going to boil the potatoes in 2 qts of water.
• Salt the water and taste, if needed add more salt, should taste like sea water.
• Add potatoes to the water and simmer for about 30-40 minutes until tender.
• Once the potatoes are cooked through, remove and cool and pat dry with paper towel – don't skip this step of hot oil will pop and it can be dangerous.
• With the palm of your hand press down on the potato to "smash."
• In a cast iron skillet or pan of choice, add your oil until it reaches smoking point–you will see it smoke a little bit.
• Add your potatoes and brown the outside on all sides.
• Once your potatoes are roasted toss in salt and togarashi blend.
• For prensentation – serve potatoes in a bowl add sliced scallions.