GARDENSCAPES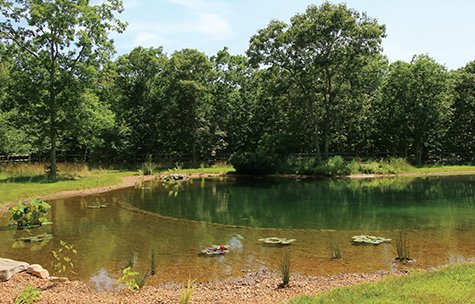 Next Generation Natural Pools:

Making an Eco-friendly Splash on Martha's Vineyard
By Diane Alter
Reasons for owning a backyard pool are vast and include things like more family time, stress relief, fitness, an incentive to stay at home, and home improvement value. Choosing a natural pool offers some added benefits: they are better for the environment, are less time-consuming to maintain due to the lack of chemicals used, and they are gentler on the skin and eyes.
If you need any more convincing, a quick conversation with Daniel and a look through his Next Generation Natural Pools (NGNP) photo gallery will unquestionably do it.
An Island native, Whiting is a skilled carpenter and contractor with an environmental science degree. He created NGNP in 2012 to complement his family-owned construction business.
"I have always loved and appreciated nature," Whiting said. "My start in the natural pool business came after I built a small pond in my Vineyard backyard. I had a great deal of fun doing it and decided to offer it as an extension of my contracting business."
Since building NGNP's first natural pool in 2012, Whiting has built five on the Island.
Martha's Vineyard was a good place to start, Whiting said. The Island is environmentally conscious and forward-thinking, and there are people who have the means to see such an endeavor through. "I have been lucky in that people trust my esthetics and technique. Interest continues to grow."
It wasn't an easy start, Whiting admitted.
One of the most difficult things starting out, he explained, was finding a consultant well-versed in natural pools who was willing to share. "It is a very niche business, and all the intellectual property is guarded."
Still, Whiting and his crew have mastered the trade and are adept in designing, constructing, and maintaining breathtakingly beautiful outdoor natural pools that provide a truly unique swimming experience.
Natural swimming pools blend into their surroundings and can look more like a lake or pond than a traditional in-ground pool. They use a bio-mechanical filtration system designed to create an organic, healthy, and sustainable swimming environment. Plant life, not chemicals, is used to maintain the water quality and keep it clean.
Similar to perennial gardens, natural pools require seasonal maintenance and typically take one to three years to become established, Whiting explained. Then, they are primarily a self-sustaining system and require fewer yearly maintenance visits compared to traditional chlorine-based pools.
Chemical-free natural pools rely on perennial plants and nature's microbes, which act as natural filters, to keep them clean. In addition to the controlled use of microorganisms, the main types of aquatic plants used for natural pools include emergent plants, such as tall grasses, rushes, and reeds; submerged plants rooted below the water's surface; floating plants that glide on the surface of the pool; and marginal plants that grow around the edges of the pool.
Natural pools provide a welcoming environment that can be a nesting area for frogs and other wildlife. The views, smells, and sounds are always changing with the days, nights, and seasons. Like nature itself, the scenery is delightfully dynamic.
NGNP also specializes in transforming chlorine pools into natural ones. Whiting said he has not done an indoor natural pool – yet. It is possible that he will tackle that in the future.
As for additional future plans, Whiting said he aims to keep the natural pool business going and growing and hopes to bring more natural pools to the island.
"The more I do the more awareness I bring and the more misconceptions I squash," Whiting said. "Word of mouth is a powerful tool. Mostly, the visual speaks loudest. That said, my work speaks for itself.
Whiting has an exceptionally trained eye and vision for a specific design and a finished product. Working with seasoned consultants and engineers Whiting doesn't just build a natural pool, he builds a dream.
For more information or to contact Next Generation Natural Pools visit: nextgenerationnaturalpools.com, E-mail: daniel@nextgenerationnaturalpools.com, (508) 566-2166.