HEALTH + FITNESS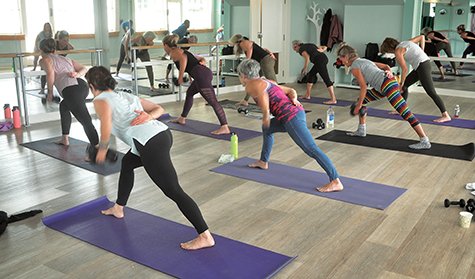 Mansion House Health Club

Fitness, Instruction, and Workouts at Its Best
By Diane Alter
Located in the heart of Vineyard Haven at 9 Main Street, Mansion House Health Club offers the ultimate venue where you can work out, get and stay in shape, and enjoy a plethora of curated classes.
The two-level health club is equipped with the most modern machines including bikes, ellipticals, rowers, and treadmills featuring interactive touchscreens, workout tracking software, television, and internet access. Weight training area equipment ranges from dumbbells to adjustment benches to leg presses to squat machines.
The group cycling room features 13 state-of-the-art lifecycle bikes and classes like the great rock bike. Fitness director Brenda Wallis, who leads the lively classes, explains the 45-minute spins are set to a combination of classic and contemporary rock music.
"It's pure cardio," Wallis said. "It really gets the heart rate up. Sometimes I add weights for arm movement to mix things up. Still, cyclists go at their own pace. There is absolutely no judgment."
Yoga sessions include Yoga for EveryBody to Vinyasa Slow Flow. During balmy July and August, Rooftop Yoga sessions are offered via one-hour sessions starting at 7:30 a.m.
Pilates, stretching, strength, body sculpting, and fit barre classes are also available.
Try private or semi-private training sessions with experts who understand the human body, how it moves, how to work out safely, and how to meet your goals.
For water enthusiasts, an 81-degree heated pool measuring 25 meters in length pool is located on the lower level. Lap lanes allow swimmers to engage in all-inclusive aerobics, stretching, and strengthening workout. The pool, like the health club, is open year-round 7 days a week from 6 a.m. to 9 p.m. Two days a week the pool is reserved for hour long water aerobics classes.
Men's and women's locker rooms offer private and family dressing areas, showers, and lockers.
"Mansion House is a full-scale health club with a laid-back vibe," Wallis said. "Our facilities are clean, our equipment is excellent, and our teaching staff is knowledgeable, inspiring, and approachable. We have a large year-round community as well as summer residents, visitors, and hotel guests." And, you never know who you might meet.
"I once trained an older gentleman who had never worked out in a health club," Wallis shared. "Kind, humble, and on vacation, he had just retired from the British Parliament!"
Mansion House Health Club is a hub of all that is key to staying fit and well. It's where you can embrace exercise, a healthy balance, and adopt quality over quantity. Go at your own pace or go with one of the classes. Just make sure to go.
The Mansion House is located: 9 Main St., Vineyard Haven, For more information visit their website: mvmansionhouse.com, E-mail: healthclub@mvmansionhouse.com, 508-693-2200