CUISINE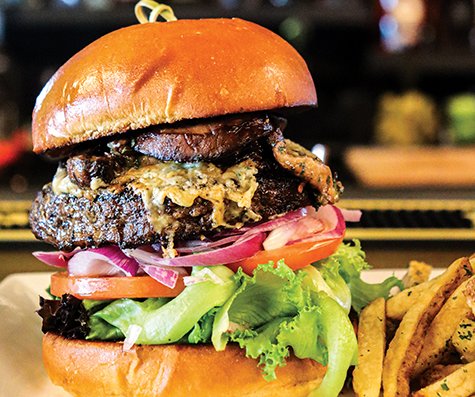 The Island's New Dining Destination

Featuring The @ttic - A Family Owned Gem in Vineyard Haven
Photography by Shored Up Digital
Family-owned restaurants hold a special place in the culinary landscape, embodying a unique blend of tradition, passion, and a personal touch that sets them apart from their corporate counterparts. These establishments are more than just places to dine; they are living legacies, carrying forward generations of culinary expertise, cherished recipes, and a deep sense of community.
The importance of family-owned restaurants extends beyond the delectable dishes they serve; they serve as anchors in local Island communities, preserving cultural heritage, and fostering a warm, familial atmosphere that welcomes patrons as if they were guests in the family home. In a world where chains and franchises dominate the dining scene on the mainland, these cherished local establishments remind us of the irreplaceable value of authenticity, personalized service, and the time-honored art of crafting exceptional meals with love and dedication. And it's exactly what we can find in this next restaurant group.
The culinary fabric of Martha's Vineyard is defined by family and locally-owned restaurants and since 2008 with the opening of Waterside Market, the Just One Bite Restaurant Group has served the community in a few iterations, with its most recent new additions Fish MV in 2020 and the @ttic in 2023.
Previously the space that held the beloved Le Grenier and the decadent La Soffitta, Stephen Bowen and co-owner and chef Bill Hart have reimagined this spot located above Waterside Market and aptly named it the @ttic.The gorgeous re-design of the restaurant is thanks to Scott Mullin, of Studio Scott Mullin Interior Design. "We wanted to work with someone that not only had experience with restaurant design, but that would allow substantial input from us," Stephen states.
Imagine walking up the stairs into the @ttic, embraced by a whisper of time gone by. Black and white images adorn the deep green walls of rum runners and historic photos from the prohibition era on Martha's Vineyard, while a classic playlist of your old-time favorites invites you to settle in at the brass bar lined with exclusive bourbons and whiskeys. The crystal clear bottles dazzle in delight as another Old Fashioned gets crafted by their expert bartenders. The offerings are approachable, and with an educated staff you will be guided along a delicious trip through the beverage world.
They want to be known for having the largest and best collection of bourbon on Martha's Vineyard, paired with an elevated tavern dining experience. Some of the hand selected bourbons include: Old Fitzgerald, Pappy Van Winkle and Dogfather 15yr for those special occasions. They also have at the bar exclusive Martha's Vineyard batches of Whistle Pig and Angel's Envy, which are a treat all on their own.
A quick lesson from the folks behind the bar at the @ttic: Bourbon and whiskey share a familial lineage, both being distilled spirits made from fermented grain mash. However, their distinction lies in specific production criteria and geographic origin. Bourbon, a type of whiskey, is exclusively made in the United States, with a primary requirement being that the mash must contain at least 51% corn. It is then aged in new, charred oak barrels, imparting a rich, sweet flavor profile with hints of caramel and vanilla. Whiskey, on the other hand, is a broader category encompassing various types like Scotch, Irish, and Rye, and can be produced internationally. Each type of whiskey has its own set of rules and regional nuances, resulting in diverse flavor profiles ranging from smoky and peaty to spicy and fruity. So, while all bourbons are whiskey, not all whiskeys are bourbon, and the distinction lies in the ingredients, production process, and location of origin.
"Two years ago I decided to finally earn my level 1 Sommelier Certification and I wanted to pair that with visiting and selecting many of the wines that grace our wine list. A highlight was meeting and working alongside the winemakers at Frog's Leap in Napa Valley during harvest. This truly was an incredible experience I will never forget," Stephen reminisces.
At the @ttic, not only will you find delicious things to sip on, but the culinary adventure you'll go on with the recipes created by Chef Bill Hart are truly special. "A large part of the @ttic menu is inspired by specials we have run at Waterside Market in the past years that our guests have raved about", states Bill. Listening to what the community wants and implementing that on their menus truly shows how much this team cares about feedback and making their guests happy.
Some of their most popular items include the Short Rib Poutine with cheddar cheese curds, shredded short ribs, gravy, scallions, and sriracha aioli; Lobster & Corn Fritters served with roasted corn, lemon dill aioli, and micro greens; Classic Mac & Cheese topped with golden brown, garlicky, basil bread crumbs; and the Black & Bleu Burger, that's cajun spice rubbed, with melted gorgonzola cheese, roasted wild mushrooms, lettuce, tomato, and red onion. Some of these recipes you'll get to try at home, thanks to Chef Bill for sharing with Vineyard Style readers!
With Waterside Market and the @ttic open year round, it's also a testament of how this restaurant group is here for the Island community. Stephen brought his experience working with restaurant groups in Fort Lauderdale and seven years experience as general manager of the Premier Theaters Bistro and Bar in Boca Raton with him when he washed ashore on Martha's Vineyard and never wanted to leave. Chef Bill Hart, after graduating from the Johnson & Wales culinary school, went straight to work for The Black Dog Tavern for 14 years as their executive chef. Now currently in his 7th year with the Just One Bite Restaurant Group, Bill is the Director of Culinary Operations and works alongside Stephen as a co-owner.
Vineyard Style readers won't have Chef Bill at home cooking for us, but we will be able to recreate some of the @ttic's top sellers at home with Bill's recipes and insights. the @ttic has a nice variety of vegan, vegetarian, and gluten-free options and they are open year-round six days a week for lunch, dinner, and drinks (hours subject to change in the off-season months). You can check out their menu at: www.theatticmv.com.
Black & Bleu Burger Makes one burger
Ingredients:
8 oz. American Wagyu Beef Patty
2 tbl. McCormick Cajun Seasoning
3 oz. Gorgonzola Cheese
4 oz. Roasted Mixed Mushrooms
1 Brioche Bun (grilled)
For Serving: leaf lettuce, sliced tomatoes, sliced red onions
Directions: Brush each side of the bun lightly with melted butter, place in a separate hot pan and toast until golden brown. Place lettuce, tomato slices and sliced onion on a bun, top with burger and oven roasted mushrooms. Serve with crispy hand-cut fries.