HAPPENINGS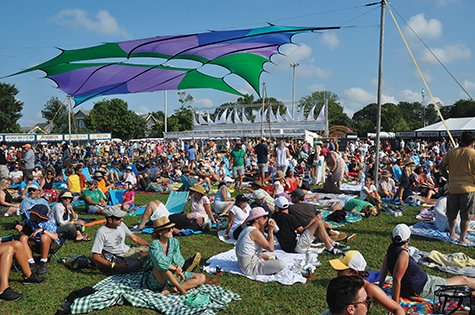 Beach Road Weekend

The Island's Premier Summer Concert Event
By Amelia Smith
There used to be a lull in late August, in between the Agricultural Fair and Labor Day. Now, that weekend has become time for one of the major events of the Vineyard summer, Beach Road Weekend Presented by The Black Dog. The music festival transforms a corner of Vineyard Haven into a place where up to 12,000 people each day enjoy live music by well-known artists, most of whom are performing on the Vineyard for the first time. Bon Iver, Mumford & Sons, and Leon Bridges are headlining the 2023 festival, and they'll be joined by newer artists and old favorites including Mary Chapin Carpenter, Japanese Breakfast, Dispatch, Alvvays and Patti Smith.
"This is a powerhouse lineup that has something really special for everyone. It's the ideal blend of folk, rock, and soul that gives everyone those great beach vibes we all hope to have all summer long," said Adam Epstein, founder and Executive Producer of the festival.
Beach Road Weekend began in 2019. After the pause of 2020, it returned in a socially distanced 2021 edition. The event was a success."We're very happy to be able to repeat what we did," Epstein says. "Last year we established a site plan and a layout that proved to be well designed. It's a massive undertaking." Epstein likened the process to building a hotel. Now, he and his team created the basic structure of the event from the physical stages to the workflow and are fine-tuning what they do. The event physically transforms Veteran's Memorial Park in Vineyard Haven, turning the playground and fields into a music venue with two massive stages, viewing stands, and video screens.
Beach Road Weekend draws an audience from beyond the Island, as well as local music fans. "The festival celebrates everything Martha's Vineyard has to offer, and we want our guests to get the most out of the Island," said Epstein. "We want everyone to fall in love with the Island and see what makes this place so magical." The festival website offers hotel packages on and off-Island, making the visit more accessible for music fans who've never been here before. Joe Kosin is the VP of programming for the festival, and he handles booking the talent along with logistics and planning. "A lot of our fans who came last year were experiencing the Vineyard for the first time, and want to come back and enjoy the Island some more because it's such a unique place," he says.
Getting bands to come can be challenging, Kosin says. "The touring world is a complex ecosystem. Bands only have certain periods of time that they're working: most members of the bands have other obligations and projects outside of the band. A lot of stars have to align." For those of us on the Island, Beach Road Weekend feels big, but in the world of music festivals it's a relatively small event. "Any major festival has between fifty and a hundred thousand people a day," Kosin says. According to him, those typically feature big pop acts, hip hop, and electronic music. At Beach Road, he says, "We go for a more mature, intimate experience. In the grand scheme of festivals in the United States, we're actually one of the smallest. It's bucolic and airy, and that reflects the nature of the Island as well."
There's a lot of musical talent in the lineup, with great stories in their backgrounds. "Justin Vernon, the front person of Bon Iver, was at a crossroads in 2007. In the midst of dealing with medical issues, a bad breakup, and having not achieved measurable success as a musician," Kosin says. "He went into seclusion at his father's cabin in Wisconsin to recover and reset and ended up producing his first album, 'For Emma, Forever Ago' where he played all the instruments heard on each song. A few months after its release he became one of the biggest stars in indie music, won a bunch of Grammys and now he's collaborating with Taylor Swift. Michelle Zauner of Japanese Breakfast was in LA and had to go back home to Eugene to care for her dying mother. She used that time and inspiration to write Japanese Breakfasts' debut album."
Adam Epstein's inspiration to create Beach Road Weekend stemmed in part from his memories of the summer he spent on the Vineyard in 1988, when he was a college student. The late 1980s were a very different time on the Vineyard. "I lived with ten guys and girls in Oak Bluffs," Epstein says. "We slept on whatever flat surface we could find. Back then it was really hard to find work. My friends and I thought we could get waiting jobs and that turned out to be the holy grail, no one could get waiting jobs. In the mornings, I was a garbage man for Vineyard Haven. We got to ride on the back of the truck, it was a lot of fun. In the evenings, I worked at a seafood restaurant in Edgartown called Lowry's. I washed dishes with the daughter of the owner of the restaurant. It was the summer of my life," he recalls.
"There was so much live music back then, it was amazing," Epstein says. "We would get together in jam circles in Ocean Park by the gazebo. There were multiple clubs on the Island, we were all too young to get in, and we didn't have fake IDs, but there was an energy and excitement. As a kid, you really felt limitless. A lot of the people who came to the Island, they wanted that feeling of being completely free, to live life the way we wanted to live it. It was really exciting for me, but unfortunately right after that I went home and didn't go back for a long time."
He finally returned to the Island in 2006 to celebrate his second wedding anniversary. After that he and his wife Mandy started coming to the Island more and more each year. "We would come for weekends and stay in hotels, and gradually we started coming for longer periods of time," he says. "We always came in the shoulder season, when it was nicer. We had a blast, and then one year we rented a house for two weeks in June and then again for two weeks in September, then we knew this was something serious." In 2013, Epstein bought a house in Katama, planning to rent it when they weren't here themselves. "We came out just every chance we could get, it didn't matter, January, December. We just loved that quiet and peace."
Life on the Vineyard wasn't everything he remembered, of course. "The Island had changed quite a bit since I was 18 and 19. It was almost like Hollywood East in the late 1980s," he says. There was the Hot Tin Roof, the Atlantic Connection, and it had seemed like music was everywhere. By the time he returned, those venues were gone, along with the music that had happened there. "At that point I was a professional event producer, and I asked why these events weren't happening anymore," he says. "There just wasn't as much live entertainment."
"As the years went on, I thought about bringing some shows here," he says. "I've worked with David Sedaris for 21 years now, and I booked him to do 2 shows on the Vineyard and we sold out in advance. It was very exciting. We wanted to wake up the sleeping giant; and bring back the energy that made MV what it was in the 70's and 80's." Those shows with David Sedaris led to the Martha's Vineyard summer concert series starting in 2016. "The Island isn't known for big venues so we had to be creative," he says. He put on shows at the Whaling Church, the MVRHS Performing Arts Center, Union Chapel, and the Tabernacle. "It was fun, and it was very, very difficult," he says. For bands, the usual logistical challenges of getting to and from the Island are compounded by the risk of missing their next performance off-Island because of possible weather related delays impacting the ferries.
Beach Road Weekend and the Concert Series are produced by a 501c3 non-profit, the Friends of the MV Concert Series. It supports recreational and entertainment opportunities on Martha's Vineyard and is intended, Epstein says, "to create and support the fun things that bring communities together, that spirit that I used to enjoy when I first started coming here." No profit is made from Beach Road Weekend or the concert series. "We paid 40 bands to play at the Loft last summer, we overhauled its sound, lights, and video system," he says. "This is all part of the mission at the nonprofit. Friends of the MV Concert Series has also given $20,000 to the MVRHS Minnesingers, helped the Edgartown School raise money for their Washington DC trip, contributed $10,000 to LadyFest, and donated $5,000 in tickets to Camp Jabberwocky for their campers and counselors."
You can check out the artists who will be playing at this year's Beach Road Weekend by following the links at: www.beachroadweekend.com/lineup. The festival website also has information about tickets, hotel packages, transportation and more. This year's festival is sure to build on the successes of previous years, bringing people together to revel in sound and summer.
BEACH ROAD WEEKEND 2023 Friday, August 25th – Sunday, August 27th Veterans Memorial Park in Vineyard Haven Tickets, Hotel Packages and additional information is available online at: www.beachroadweekend.com