SCENE + SEEN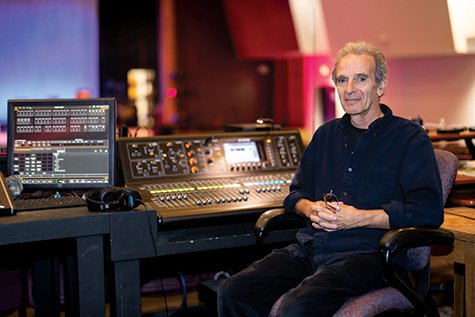 The Creative Life of Charlie Esposito
By Tessa Permar
Recording artist, sound engineer, chef and restaurant manager, illustrator, educator, and production manager, Charlie Esposito is accepting the spotlight after over 60 years of abundant creativity. This Fall, the MV Community Foundation awarded Esposito the Creative Living Award, celebrating the myriad works of this quietly rigorous artist.
He's known for playing with The Kahoots and Daytrippers, for managing The Black Dog and co-authoring and illustrating their cookbook, for recording artists like Entrain and Johnny Hoy in his Educomp recording studio, and for managing the technical production of music, dance, and theater across the island. But this only scratches the surface of Charlie's prolific life.
"I was always interested in doing art since I was very young," he shares. "I was always given the tools to create by my parents, especially my Mom. I loved to draw and would do so as often as I could." Charlie also had a knack for music, and had learned to play the clarinet, saxophone, organ, and piano by age 15. At the same time, he was teaching himself about recording sound and acoustics. Charlie majored in Fine Arts at The School of Visual Arts in New York. Four years later, he moved to the Vineyard with a four-track tape machine and his band, Mr. Timothy Charles Duane (TCD). In the 1980's he recorded five albums (profiled on Ultravillage.com) on his four-track tape machine and a Commodore 64 computer. In 1991, he established a recording business, Audiolutions. He also performed live with bands Miracle Cure with Michael Johnson, The Strangemen (as 3-D Meteorite Jr.), and with Slim Bob (as Slim Venus) and Captain Summertime.
Today Charlie is the director of the Performing Arts Center, where he works as both educator and master of all things production. "During the Summer, I get to host all the national acts coming through… It's part hospitality, part technical interface, part troubleshooter, and part host." When school is in session, Charlie mentors students in live audio, microphone usage, mixing, and recording, lighting design and programming, theater safety, rigging, set design and props. While Charlie has done it all, he continues to experiment with new sound technology, brush and ink techniques, and recipes, truly exemplifying what it means to live a creative life on Martha's Vineyard.
For more information contact Charlie at: 508-693-6432