ON ISLAND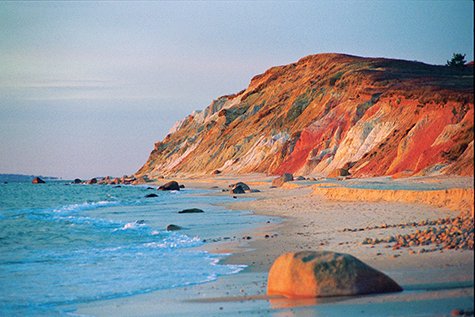 The Torch Is Passed

New Leadership at The Vineyard Conservation Society
By Amelia Smith
The Vineyard Conservation Society (VCS) has been dedicated to preserving the environment of Martha's Vineyard since 1965. Protecting the environment encompasses land conservation as well as reducing our impact in other ways. In the '60s, founding member Richard Pough wrote: "The whole future of Martha's Vineyard hinges on whether it has enough people of real vision. If children yet unborn are to see any land in its natural state, we who are living today must save it for them."
Samantha Look was "yet unborn" when VCS was founded, and her vision comes from a long and intimate connection with this island. "I grew up in a rural spot on the Vineyard and spent much of my free time roaming the fields and woods nearby. We lived on what had been an old family farm, and every generation had been tasked with not thinking so much of ownership but of stewarding the land. Unfortunately, in my teens there was a big subdivision of this land, and I railed against it. I sat in on meetings and learned the complexities of land use and conservation." For most of the 20th century, the island was an isolated, relatively poor area, but over the course of the 80s and 90s, the level of privilege rose, and the land's commercial value shot up, threatening the old sense of place.
Samantha also loved horses. "The horses just amplified my connection with nature. Riding gave me an increased ability to cover ground and go exploring. As a result I felt like I knew the State Forest and much of West Tisbury really intimately," she says. After graduating from high school here, she went on to Swarthmore College, where she majored in English Literature with a concentration in Environmental Studies. After college, she spent some time in North Carolina, then returned home to open Crow Hollow Farm, where she taught horseback riding for most of the next decade.
In 2010, Samantha was invited to join Vineyard Conservation Society's board of directors. A few years later, she started helping with donor management on a very part-time basis. The movement to ban single use plastic bags got underway, and she wanted to help with that. Brendan O'Neill, who led VCS for almost 40 years, encouraged her to branch out and take over as lead for the new project. That project was not only succesful, resulting in passage of a ban in all six towns, but also came to be one of the most recognizable initiatives for VCS in recent years. "It was a great example of how Brendan worked," Samantha says. "This wasn't in the description of what I'd been hired for." Soon, she was working in a nearly full-time position entitled "Education and Youth."
Samantha has been VCS's full-time director of Advocacy and Education since about 2016. "I feel really lucky to get to do this work on behalf of this place I love so deeply, and in a way that is so collaborative and varied." Following up on the success of the bag bylaw, she served as a resource to West Tisbury School students for their plastic bottle ban. She worked on West Tisbury's Big House bylaw, the Martha's Vineyard Commission's Climate Action Plan, and much more, before stepping into this new role as VCS's executive director.
She's looking at her work from a new angle and learning new things, while still covering what she did in her old role. "I have a lot of respect for what Brendan did invisibly," Samantha says. "He balanced the behind the scenes running of the organization while also leading its forward facing initiatives and programs. I now understand what an art that is to accomplish!" Everyone in VCS's small office does more than their titles would suggest. Along with Samantha, there are two others, Signe Benjamin, Director of Membership and Resource Development, and Jeremy Houser, Director of Science and Policy.
Brendan encouraged the whole staff to take on leadership of various initiatives. It is a working style that is important to VCS and that we will continue." Samantha said. And there's plenty to lead the way on. VCS is currently working on numerous programs that advocate and educate for protecting the Vineyard's environmental health and biodiversity. Current programs include, expanding its Tap Map of water bottle refill stations, advocating for environmentally sensitive landscaping, assisting towns with master planning, hosting walks and beach cleanups, planning the 11th annual student environmental art contest, and most importantly, acting in a rapid-response manner to issues that arise threatening the environment and character of the Vineyard. Asked about her priorites, Samantha shared, "If there is one thing I hope VCS will do in my tenure it is helping the Vineyard find a better balance between the incredible developement pressure we are experiencing and protecting the biodiversity and health of the Island as a natural place. I hope generations from now, those who live and visit here will find a sense or wildness and be awestruck by the natural beauty. It is an unusual responsibility and good fortune to be tasked with decision making on behalf of this special place. As a community I hope we see the Island's protection as a mandate, as opposed to its development as a financial necessity."
A deep and longstanding love of the Vineyard powers all of this work, and as VCS's new Executive Director, Samantha Look has the vision to help safeguard the Island's environment and ecosystems for the generations yet to come.
For more information, or to join The Vineyard Conservation Society, visit: vineyardconservation.org