ON ISLAND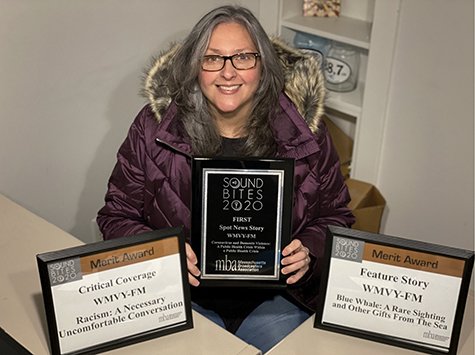 The Community Outreach at Non-Profit, Independent and Local MVY Radio
By Amelia Smith
MVY radio first hit the airwaves in 1983. A lot has changed since then, both at the radio station and on the Vineyard, but the station's commitment to this community is stronger than ever. Originally a commercial station, MVY became an independent, listener-supported community non-profit in 2012, after the broadcasting company that owned it sold off its 92.7 FM signal license. MVY's content, equipment, and brand remained on the Island, along with the staff who kept the station going. They began broadcasting via the internet and later back on the air at 88.7 FM.
This frequency carries more than just music: it's a platform for local voices. Laurel Redington is the station's Community Outreach Director. "Her job is to create content for the air and to do off-air things that show that MVY is an important institution in the community," says program director PJ Finn. Laurel first went on the air as a DJ at WMVY in 1991. At the time, she was living in a half-built house and working as a landscaper, painter, and housecleaner. She would come into the station after work and practice in the sound booth. Eventually the program director, Jeff Damon, gave her a part-time job, and MVY has been a huge part of her life ever since – she's had a variety of roles at the station and she even met her husband there (fellow DJ Ray Whitaker). She's now been at the station longer than anyone else on the current staff, interspersed with time at a few radio stations off-island during the '90s.
When MVY became a public radio station, it became clear that the station could benefit from having a Community Outreach Director. PJ and Laurel created the position together through trial and error. In this role, Laurel has re-imagined early public affairs shows and built new programming to serve the community. She builds relationships and makes sure that the station is representing as many people as possible, with the help of their community advisory board. "We had a seed planted with previous programs like First Tuesday with former News Directors Laura Alexander and Mitch Wertlieb," Laurel says. Person of the Week is a long-running spot that Laurel introduced in 1999, after she'd seen it at a station where she worked in upstate New York. It's a three-minute piece in which Islanders and Cape Codders talk about their work in the community in their own voices. They cover everything from organizing festivals to social justice action, saving the planet, caring for elderly residents, and more.
Another regular event is the Vineyard Current and the Cape Cod Current, at 10:00 and 10:30 AM on Sunday mornings. In these half-hour shows, Laurel (and Joe Stickles for Cape Cod) talk to people about what's happening, the organizations they work with, and upcoming community events. Sometimes a half-hour spot can be very short. Laurel also has an hour-long Sunday night program, Night Casts with Laurel, that combines music and interviews built around a theme. "I want to use my platform for stories that can help us feel better about our lives," Laurel says. "We live in such a complex world, and we all deserve an opportunity to feel represented. As a radio station we have a responsibility to be a voice for inclusion and to invite a deeper understanding of each other and maybe that can even contribute to more empathy and kindness." Laurel became the morning show DJ in 2006, and in that role she developed the Morning Toast. In a few minutes around 6:20 in the morning, she meditates on something she hears in a song, a bit of deeper meaning to inspire listeners. "I talk about a theme or something that is very universal, like patience," Laurel says. "It's something positive that we can start our day with. I needed an intention to begin my day, and music is a non-preachy way to say something, so I figured why not share it in a Morning Toast!"
Laurel also organizes in-person events in the community. In March, there's the Night out for Non-Profits, an event at the PA Club. "We invite all folks associated with non-profits to a cocktail party, and we have a band and invite the general public," PJ says. "Our role is to be a platform for people who need voices in this community. We're here to help them tell their story." There are also educational opportunities. MVY will be working with Circuit Arts this summer to create a summer youth music series at the Grange. "It's exciting when two non-profits can work together," Laurel says. At the West Tisbury Library this spring, there is an after school program called Radio Games for 4th through 6th graders.
Finally, there's an annual community forum, a series of conversations exploring an important issue in depth. The 2022 series centered on the housing crisis, and this year Laurel is collaborating with Liz Durkee from the Martha's Vineyard Commission to talk about climate change. They'll be diving into the MVC's Climate Action Plan, a detailed roadmap showing how the Island's organizations and local government can mitigate the effects of climate change and improve the island community's resilience and sustainability. The conversations will be on Zoom, with time for questions at the end, and will be recorded and available on the website at: mvyradio.org/community.
MVY, "A Voice for the Vineyard," is rooted here but reaches beyond these shores, with a broadcast area extending to Cape Cod and an audience on the internet listening around the country and around the world. Community Programming has something in it that could speak to a listener wherever they are, inspiring people to reach out and make meaningful connections with their communities and the people around them.
You can find MVY radio at 88.7 on your FM dial, and you can listen online at: mvyradio.tunegenie.com