HOME PORTRAIT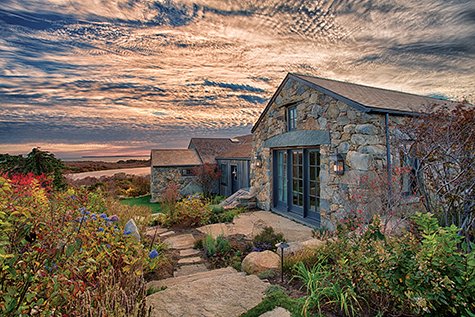 Unexpected

The Diverse and Masterful Design of Architects MacNelly+Cohen
By Kara Goldfarb, Photography by Bob Gothard
When architect Bruce MacNelly takes on a project, he's not looking for answers. "A lot of people think that the designer's job is to find the solution, and I always feel like the real job is to find the question," says MacNelly, who owns MacNelly Cohen Architects P.C. with his wife, Linda Cohen. On the surface, that question may be a simple pragmatic one. For instance: How can I make more room for my family?
But as MacNelly says, there is always a deeper architectural question buried in there somewhere, whether it has to do with making a house feel more open, or connecting a house to the landscape, or preserving the character of a property while updating it at the same time. The clarity that comes with figuring out that larger question makes it much easier to create the building.
If that all sounds a bit philosophical, it's because it is. With a background in fine arts and art history, as well as working closely with renowned architect Michael Graves, whose work was grounded in the history of both architecture and painting. MacNelly has an extensive lexicon regarding architectural design that goes beyond the basics. One of his favorite architects is the modernist Louis Kahn.
"He was always after this notion of what the larger issue is. What's the bigger question, the bigger challenge?" MacNelly says. "And he always saw it in light of the histories of cultures and the whole notion of their institutions expressing the greatness of human expression through architecture."
Going back to that background, it was actually when MacNelly was working for Michael Graves that he met Linda, who was a graduate student at Princeton and studying with Graves at the time. The couple lived in Philadelphia for several years before deciding that they wanted to relocate somewhere near the ocean. After visiting friends on Martha's Vineyard and meeting enough people on the Island, they decided to take the leap and move here themselves in the early '80s. "When we got here there were, I think, only maybe four architects on the island," MacNelly recalls. Linda's friend, an established contractor at the time, started feeding work to them, which helped them get things going.
The Vineyard proved to be a very unique and special place to work, especially given MacNelly's interest in history. "What's interesting to me working on the Vineyard is that every town has its own character, architecturally," MacNelly says. In West Tisbury, for instance, a lot of people (including MacNelly), work from their property. Even before Covid, working from home could mean you're an architect, or a woodworker, among other things; and working from home doesn't necessarily mean working from room in your home. There are many old farmhouses on State Road, with old barns in their backyards, which can serve as models for places of home-based occupation. Similar is Menemsha, where one can find fisherman's houses and harborside shacks. It's also that kind of Island history that got MacNelly involved in helping to craft a zoning bylaw for West Tisbury in which "we were very conscious of trying to make it possible for people to keep a relatively rural kind of character to the landscape." The question at the root of it all: "What does it mean to be a contemporary architect in a historical place?"
Bruce and Linda share that same background in history. "We're simpatico in terms of philosophy," he says. And while there's no disagreement about what they're trying to do fundamentally, the type of work they do lends itself to one person spearheading a project. "It's unlike a giant office building where you have to delegate a lot of different parts to different people." Still, MacNelly says, they obviously depend on each other for critiques and advice.
Another thing MacNelly emphasizes: Size doesn't matter. Referring again back to his art history roots, he brings up the idea of sacred geometry–the idea that geometric order is built into everything, and that it can be expressed within the creation of a building. He says, "Some of the most amazing architecture I've ever been in is small–such as a project by Michelangelo, a vestibule to a library in a monastery in Florence, where the footprint is probably the size of the room you're sitting in right now. And it's one of the most fantastic things you could imagine." MacNelly feels that such places inspire his own projects. "I think the most important thing to me is proportion, harmony… harmony of the floorplan," he explains, comparing the floorplan to "little sonatas or symphonies." Instead of being concerned with projects that entail big buildings or unlimited budgets, he prefers to think about a project right in the moment, finding the interesting thing about it, and discovering how to make the best thing you can make with it. "No is as good as a yes for me," he says. MacNelly tells a story of the worst project he was ever given in graduate school, in which the assignment was to design a house where the client would be happy no matter what the outcome, and money was no object. "It was just horrible," he recalls, because it's working within constraints that creates a breeding ground for true creativity.
Speaking of creativity, MacNelly is proof that all artistic mediums collide. Also a painter, collage artist, and improvisational musician, he is constantly looking for connections between the fine arts and architecture, though admittedly he doesn't have a concrete answer for how they all coalesce. He built a painting studio for himself where the exterior was painted to essentially make it a three-dimensional painting. "One of the reasons that I built this painting studio is that I'm still trying to find out exactly what that connection is," he says. Coming from a family of artists–his father was a portrait painter, and his late brother was a cartoonist who won Pulitzers for his editorial cartooning work–MacNelly has always preferred hand drawings to working with computers. Even though computers are necessary for the industry now for practical reasons, he's made a habit of carrying a little sketchbook around and drawing ideas in it. "Some of them maybe only mean things to me, they might be diagrams or just ideas," he says, "but sometimes I find it helpful to sketch some things and then let it percolate for a little while before I sit down and actually draw."
Those little sketches can wind up being very fruitful. Speaking about a current project, MacNelly referred to some sketching that he had done a month or two earlier; while considering initial steps in the design he went back to those sketches because he thought "this could work as an approach." In regards to music, the connection there is seemingly a polar opposite. MacNelly's music is purely improvisational. As he explains, "With architecture going from concept to the final realization might take a couple of years, whereas with improvising music, the gap between inspiration and realization is about two seconds." Still, there is that notion of the initial idea (a little sketch, or an idea for a song), and whether it takes two seconds or two years to complete, those initial roots set the groundwork for the entire piece.
Remember the mention of floorplans being "little symphonies"? Well, it comes full circle, quite literally, in terms of music. In talking about vinyl records, where you only had a certain amount of space to create something revolutionary, MacNelly says that "albums became like little symphonies." We got into the Beatles and some of their records, like Revolver and Sgt. Pepper's Lonely Hearts Club Band, and even smaller than that, a 45 record, which is has just a single song on each side. An example of the latter is Brian Wilson of the Beach Boys' Good Vibrations, which Wilson called "a pocket symphony." To MacNelly it's only a few minutes long, but it's amazing. "So you can put amazing things in small packages," he says. It's a nice analogy, and it translates well to architecture. So while MacNelly and Cohen have had coworkers and classmates who have gone on to design baseball stadiums and university buildings, they find much to appreciate in doing their residential projects right here on Martha's Vineyard.
That's what makes MacNelly unique, not just as an architect, but as an artist. He's keenly aware of the importance in finding a single idea, going in to make that statement, and getting out. In architecture, if you find that sweet spot, even if the budget is tight, or the space is small, there's always that belief that you still have enough to do something really nice. "I don't know that having a huge project is better than a small project, or worse. It's, you know, it''s what you find in it," he says, adding, "What's exciting is when you start to realize the thing, whatever it is."
To find out more about MacNelly Cohen Architects PC, click: www.macnellycohen.com, e-mail: mcarc@comcast.net, Instagram: @macnellycohenarchitects, Mobile: 508-627-0911