HEALTH + FITNESS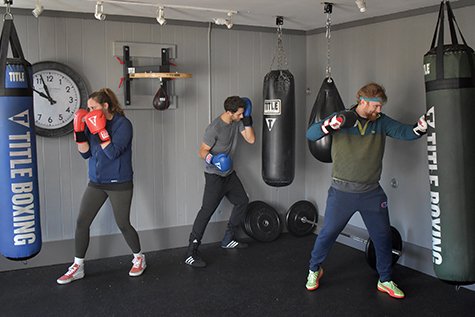 Strong Martha

Finding Your Strength in a Workout That's as Healthy as it is Empowering
By Amelia Smith
Strong Martha is a small gym in West Tisbury where boxing and weight lifting bring people together. Emily Mizer and Sam Rothberg started working out there when Charlie Giordano owned the gym, and became friends. After a while, they found themselves covering some classes for Charlie, and when he decided to sell the business they bought the gym. Now, they bring their enthusiasm for the sport to students of all ages.
Emily started boxing ten years ago, in Los Angeles. "Boxing was my mental reprieve, where I wasn't worried about people looking at me or judging me," she says. "It's really shaped by health and fitness. For me, working out is more mental than physical." In 2020, she took a sabbatical from her work as a film producer and moved to the Vineyard in 2020 to write a book. Although she only planned for a few months on the island, she's been here ever since. Sam helps lead a wedding and events band on the Vineyard, The Dukes of Circuit Avenue, and after a decade of going back and forth, he moved here permanently when the pandemic hit New York.
"I found a gym [in NY] that was great," Sam says. "The sessions were at a really high level and I loved it, and that inspired me to find a boxing gym on the island. There's no better full-body workout that I've discovered. It's fun and mentally stimulating – remembering combinations of punches and focusing on form – and it's a great stress reliever."
"We want people to think of Strong Martha as a place that they love, where they can be themselves and get a good workout," Emily says. Good things come in small packages, and the gym's small physical size means small classes, where no one will get lost in the shuffle. They offer classes for kids, teens, and adults, emphasizing fitness and form rather than competition and sparring.
You can find more information about Strong Martha at their website: strongmartha.com, on Instagram at: strongmarthamv, by email at: info@strongmartha.com, or by phone at 216-570-7853.