GARDENSCAPES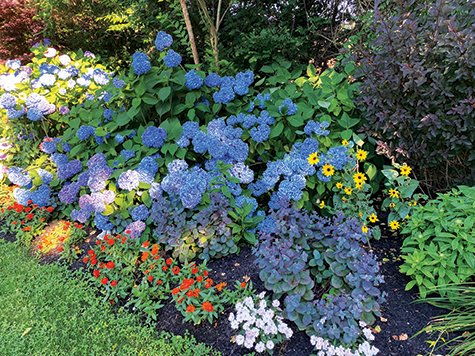 Garden Angels

The Art and Joy of Finely Detailed Gardening
By Amelia Smith
If you walk past Atria in Edgartown on a spring day, you might see Jennie Slossberg and her Garden Angels at work. They're creating fragrant and sculptural delights for visitors: a flower bed with a base of greenery and smaller blooms like lavender, verbena, and St. John's wort, whose delicate white and blue flowers brighten the foliage while pink and white lilies crown the arrangement. "I love that people are there getting gorgeous food and having a beautiful experience," Jennie says. Flowers also surround the outdoor dining area at the restaurant. As Jennie works gardens in town, sometimes passers-by will stop to talk to her about their own gardens, and to seek out her expert advice.
Jennie is a sculptor who earned her degree in art from San Francisco State University and worked with ceramics there and beyond. "The evolution of my work has brought my medium for creating beyond previous mediums of photography, painting, and clay to flowers," she says. Her career as a gardener emerged out of island summers of waitressing, babysitting, and generally exploring the full range of Vineyard summer jobs. During that time, Jennie assisted Elizabeth Luce, who ran Middletown Nursery. "I would help her with housekeeping and in the garden," Jennie says. "It was a great education because she did everything from scratch." Mrs. Luce mixed her own fertilizer, used compost from cows, and cut bamboo for stakes. For two seasons, she worked with a high-end gardening crew that took her to some beautiful properties. Working in that crew, she gained maintenance experience and came to love gardening as a lifestyle. That foundation, and continuing to work with Mrs. Luce, set Jennie on the path to starting her own gardening company.
She founded Garden Angels in 2000 with a couple of clients and learned how to run a business as she went along. The Garden Angels specialize in bright window boxes, planters, and flower beds. Twenty- three summers later Jennie passes her knowledge along as she works. "I work with these amazing young people," she says. "I've had several waves of delightful people working with me over the seasons, dozens of really special people from the island and from all around the world." she says. "The best part of it is when people get to be passionate about it and ask questions." She's grateful to be surrounded by hardworking, honest people, and says that they made the difficult pandemic feel less stressful. "My clients often share their appreciation for the good teamwork and its such a bonus!"
Spring is their busiest season, installing borders and setting up planters all around the island. "Every couple of weeks we're doing something different," Jennie says. For some clients, she only comes in twice a year, once to set up the garden in the spring and again to put it to bed for the winter, but others require more regular maintenance. For one client, she does weekly maintenance on window boxes and deck containers that define and enhance an outdoor seating area overlooking the water. "I try to fill them with fragrance," Jennie says. "My client loves her terrace, and you never know who is going to be enjoying the property." That client sends her emails and Jennie seeks out feedback. "I like the opportunity to bring people joy by being surrounded by plants," she says.
On the breakfast patio, a gardenia is surrounded by yellow and sky blue flowers, osteospermum, silver and jet black foliage plants, with blue petunias. The flowers on the table are Jennie's work, too. "I also do floral arrangements for events occasionally, and for this property specifically upon request," she says. The flowers are grown at various island farms, including her own small cutting garden, Poppie's Petals. She and her son created the garden in honor of their late Irish Jack Russell Poppy Belle, and they sometimes sell their flowers at the corner of Tabor House and Middle Road in Chilmark. "I always try to incorporate feed for the birds and the pollinators," she says. "I did an installation this fall with about 85% native plants, with shrubs and interesting bark on the trees for all seasons. Gardening is an opportunity to keep the food chain that the migratory birds need." Monarda, also known as bee balm, is an important source of food for monarch butterflies, and butterfly bushes attract all types of pollinator. "I'm obsessed with providing for this process so I often include several asclepia varieties whenever possible in my designs," Jennie says. "I watched several generations hatch from eggs then transform through metamorphosis in my gardens last season."
Eventually, the leaves fall and the season winds to a close. The Garden Angels fence the gardens to keep out hungry deer and put them to bed with a blanket of top dressing. Jennie uses local composted cow manure when she can get it, but with an Asian jumping worm problem that started last summer she's trying locally made leaf mold is a substitute. "That takes us into December," Jennie says. "It's a race, taking in the timers and the hoses." She takes a deep breath, and soon spring will come again. "I'm always enjoy opportunities to help people out, and rebuild the natural world on people's property."
For more information and to contact Jennie Slossberg and the Garden Angels, visit: www.vineyardgardenangels.com, call 508-645-9306, or email: gardenangel@gmail.com