CUISINE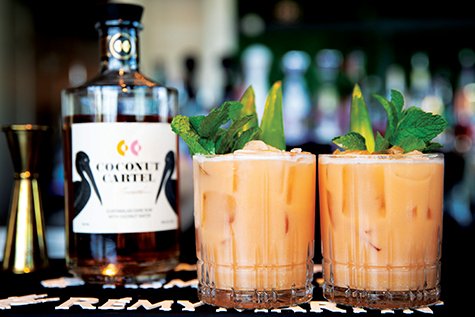 Brett Nevin Mixes Up His Perfect Life at MV Speakeasy
By Lisa C. Belcastro, Photos courtesy Brett Nevin
On the counter sits a bottle of Tanqueray No. Ten Gin, a bottle of Dolin Dry Vermouth, a small bucket of ice, our favorite olives, and a few peels of lemon nicely curled (after a few tries). We are, of course, making martinis for our guests tonight. The martini glasses are chilled, and whether a guest would like his or her drink shaken or stirred, we have the appropriate supplies.
I confess, I googled the best martini recipe before entertaining the idea of serving guests a good martini.
For our next party, I'm calling Brett Nevin of MV Speakeasy! Brett has learned his way around Martha's Vineyard and through the levels of bartending. MV Speakeasy, Brett's private bartending business, is the culmination of years of hard work and sweat equity, extensive travel, and a lot of fun.
Brett, 37, first came to the Vineyard eleven years ago at the urging of his brother. "I was living in Colorado, waiting tables. My brother started lifeguarding at South Beach and wanted me to come out to MV. I laughed at the idea at first. I always thought I needed to be near the mountains," Brett recalled. "My love for living in a mountain town made it hard for me to commit to the beach lifestyle."
His brother persisted, connecting Brett with Atria, and then he moved into his brother's new unfurnished home, sleeping on an air mattress. "When I first arrived, I was broke, living in Vineyard Haven, and riding my bike to work. I didn't initially love it," said Brett, adding, "By the end of the season I bought a brand new two-door Jeep. My first new car ever."
What started as a one-time summer job destination quickly became Brett's summer go-to location. He spent winters in Colorado, Utah, and California, but always came home to MV for the summer seasons. Brett worked for Christian Thornton at Atria for seven summers. At first he waited tables, then in his third summer Brett began bartending.
As his love of bartending grew, so did Brett's imagination and creativity. He began to create his own drinks and those drinks became a part of Atria's menu.
"I've always enjoyed bartending. More importantly, I am very passionate about it. I am always seeking out exotic ingredients and coming up with innovative ways to improve ordinary cocktails. Many people view bartending as a temporary occupation, I see it differently." said Brett.
Life flowed from season to season until COVID hit, or maybe a stolen bike during a stay in California the previous year was an equal factor in the direction Brett followed.
Brett had always been a serious bike rider. When his bike was stolen in early 2019, Brett started running. "I started running as a way to fill the void that was missing," said Brett.
Running felt good. Even after he bought a new bike, Brett continued to run. Brett entered the New York City Marathon in 2019 at the urging of his brother Michael who owns an art gallery in NYC.
When the summer season came to close on the Vineyard, Brett headed to New York City to run the marathon, which he finished in 3:45, besting brother Michael's 4:02. Brett hung out at his brother's apartment for a bit after the race, and then reached out to a contact at Gramercy Tavern. Once he saw the New York icon, Brett applied at Gramercy, interviewed, and was hired. He went through an intensive two-week training before his first night of work.
"I got behind the bar and it felt like nothing I had ever experienced. The extent of skill behind the bar made me feel like I was just starting as a new bartender. The level of what they were doing was beyond anything I'd done," said Brett of Gramercy Tavern. "They had four incredible bartenders. It was very humbling. I learned so much there about bartending and about myself."
Months later, the Pandemic hit New York City and Gramercy Tavern closed. Brett lost his job. His brother left the city and went to Vermont to stay with their parents. Brett stayed a while longer, his brother Michael joking that Brett would be riding his bike across the bridge if the city locked. Which is exactly what Brett did.
"I packed eight peanut butter and jelly sandwiches, twenty protein bars, and water. I rode from the city to Vermont," said Brett, then chuckled, "The day after I arrived, it snowed."
As COVID caused more and more closures, Brett helped out his father with his landscaping business and became the resident bartender at home. Locally, his family and friends held outdoor summer parties and Brett served as the bartender, mixing his own creations as well as old favorites.
An idea began to take shape – perhaps he could start his own private bartending business. No sooner had the idea started forming roots when Brett got a call from a friend on the Island who needed a bartender for a private event. Brett headed back to the Vineyard with one event on his book and a new Instagram account for his new business: MV Speakeasy.
"I ended up doing a lot of social-distancing parties," said Brett. "At the end of the summer I did my first wedding, my first big event."
Brett stayed on-Island for the winter of 2020-2021 bartending at Town MV and also driving a UPS truck on Chappy. Through the winter, he started to get more of a following on Instagram. In the spring of 2021, "I was approached by the management of Behind the Bookstore. They asked if I would create their cocktail menu and train their staff."
Perseverance and determination define Brett. It is no wonder MarcAnthony Crimi of Blue Flag Partners approached Brett to work for him on Nantucket. "I declined as I felt my presence was best on the Vineyard and wanted to fully commit to expanding MV Speakeasy on the Island first before I expanded to other areas," said Brett.
The two spoke again after Blue Flag purchased the Kelley House. MarcAnthony was the acting GM and he wanted Brett's expertise. "I left TownMV to be the beverage director for the Kelley House and to create menus for The Newes and the Pelican Club. I first redid the menu at The Newes and two weeks later opened the Pelican Club," said Brett.
What started as a pop up for the summer at the Kelley House quickly became one of the hottest spots in Edgartown in the summer of 2021.
As Brett's name became known, MV Speakeasy grew. Last summer, Brett only did private functions, weddings, and parties through MV Speakeasy, as well as a few pop ups at fun locations such as The Pawnee House in Oak Bluffs.
When the 2022 summer season came to a close, Brett headed south. "I went to Bucks Camping and Fishing restaurant in Washington, DC, to consult on the bar to help restructure and create a new menu for them," said Brett. When the D.C. job was complete, Brett then drove down to Sarasota, Fla., where he settled in at Georgie's Garden Café for a couple of months to create a new cocktail menu for them.
"I love what I do. I'm building a life out of it. I feel I've created a new thing which has provided lots of new opportunities on the Vineyard and beyond and I'm excited to see what will come next," said Brett, adding, "My dream is to have my own place on Martha's Vineyard one day."
Brett has shared a few of his favorite cocktail creations with Vineyard Style. While you wait for him to return to the Island for an in-person sampling, try one of these fantastic recipes. Summer won't seem so far away as you sip a new drink layered with flavors.
You can follow Brett and see pictures of his amazing cocktail creations on Instagram at @mvspeakeasy. If you're planning an intimate dinner for two or a wedding for two thousand or anything in between, you can reach Brett Nevin at: 802-558-2834.
The Mocking Bird
Ingredients
• Coconut Cartel Rum - 1.5 oz
• Campari - .25 oz
• St. George Spiced Pear - .25 oz
• Pineapple Juice - 1 oz
• Pistachio Orgeat - .5 oz
• Bittermens
• Elemakule Tiki Bitters - 3 drops
Directions: Add ingredients to the shaker, add ice. Shake/double strain over fresh ice. Garnish with mint and pineapple fronds.
To make Pistachio Orgeat
• 2 cups raw shelled pistachio.
• 1.5 cup sugar
• 1.5 cup water
• 1 oz dry curacao
• 1/4 oz elderflower liqueur
Pulse the pistachios in a food processor until finely ground. Add sugar and water to pot over medium heat and stir until sugar dissolves. Add pistachios and turn heat to low and simmer for 3 minutes. Turn up the heat and right before it starts to boil, remove and cover. Allow the mixture to sit for 3-8 hours. Double strain through cheesecloth and store in the refrigerator. Orgeat is good for up to 2 weeks refrigerated.