ARTIST PROFILE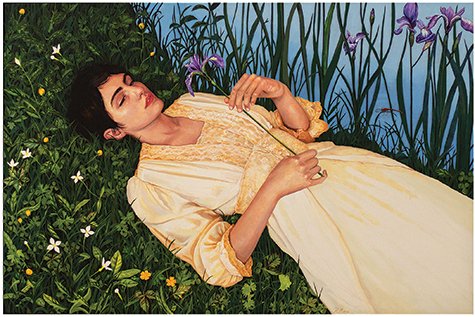 In A Family of Artists

Hannah Moore Finds Her Own Style
By Tessa Permar
A Sinuous heron flings its fish lunch skyward against crinkled irises in a scene that could only be captured this way by artist Hannah Moore. She paints the natural world, with equal parts elegance and whim-sy. Her style is meticulous, using fine ink and watercolor lines to depict spirited birds and oils to paint richly colored portraits. All her pieces are in some way embedded in nature. Moore draws from 19th century influences and a childhood spent among artists on Martha's Vineyard to create depictions of life in nature in a style that is all her own.
Moore was influenced by the verdant nature of Martha's Vineyard and her artistic family. From a long lin-eage of creatives, both Hannah's mother and father are well-known local artists. Moore shares, "I watched my parents and other family members work on their craft, in all their different styles and mediums, and it was informative and enchanting. Drawing and painting was encouraged in our household. Working quietly on an art project became one of my favorite activities." Moore recalls looking in wonder at her painter father's collection of shells and outdoor items preserved in glass jars. Other times frozen birds were stored in the freezer for anatomical study. It was her first encounter with the world and practice of a naturalist. Without realizing it at the time, Moore was inheriting a family passion for observing and evoking the natural world in art.
When she wasn't watching her older family members create, she was chasing her siblings and cousins around outdoors. These dual influences of art and the natural world fed each other. Moore recalls, "As children, The Great Animal Search books were some of my siblings' and my favorite books. I think in some ways, looking back, spending all that time looking through them helped teach us the importance of quiet observation and patience, instilling in us a curiosity for the diversity of nature."
This curiosity was nurtured during Moore's time at Martha's Vineyard Regional High School under the tutelage of beloved art teacher Janice Frame. Moore remembers feeling truly supported and encouraged to choose the path of a professional artist there. She decided to study painting at Syracuse University, where the natural world continued to call to her. While at Syracuse, Moore enrolled in entomology, the study of insects, at the New York College of Environmental Studies and Forestry. While looking for her classroom on the first day of entomology, she stumbled upon the Roosevelt Wildlife Collection's vast assortment of taxidermied birds. She kept returning to that room to sketch the birds and eventually set up an inde-pendent study with Ron Giegerich who oversaw the collection. "The hours I spent drawing in that room, with Ron coming over occasionally to show me a new specimen or share his knowledge about different birds and their anatomy, are some of my most cherished memories from college," Moore says. "The influence that independent study had on the direction my interests and artwork went is hard to measure."
Moore transferred to Rhode Island School of Design for her junior and senior years. There, she took classes in scientific illustration and continued to hone her skills while observing the school's collection of taxidermy and pinned specimens. She was also exposed to influences like John James Audobon's iconic ornithological art, 19th century poster design, as well as the Vienna Secession movement, a branch connected to Art Nouveau. All of these influences use meticulous curving line work to depict organic subjects. In these works and in Moore's, even though the subjects are frequently depicted in two dimensions, the delicate curves, rich color, and intricate natural environment make the scenes feel charged with life. Moore brought this style with her to Chicago after college, where she designed posters and made regular visits to the Field Museum of Natural History to work on ink drawings, watercolors, and oil paintings.
"I have never been able to stay away from Martha's Vineyard for too long," Moore shares. After a year in Chicago, she returned to the Vineyard to deepen her painting practice. In 2020, The Field Gallery showed a series of her ink drawings and watercolors on natural themes. Then in the summer of 2021, she teamed up with her father and brother to open The Moore Family Gallery in Oak Bluffs.
Formerly the Andrew G. Moore Gallery, the space was built in 1990 by Andrew Moore (Hannah's father), and a team of helpful islanders. Their website MooreFamilyGallery.com details the incredible process of its build. Andrew Moore is a realist painter and naturalist who has been painting, as well as hunting, fishing, and sailing on Martha's Vineyard for many years. Soon after Hannah moved home, her brother Gordan returned home to finish his final year of art school during the pandemic. Gordon Moore is multimedia artist known for his ceramics which often depict natural elements like herons and schools of fish. As Hannah and Gordon began to establish their practices and careers locally, the family began to reimagine Andrew's gallery. In 2021, the Andrew G. Moore Gallery reopened as The Moore Family Gallery, displaying the work of Andrew, Gordon, and Hannah.
"Seeing our artwork displayed together, there is a noticeable cohesion, but it does not overpower each artist as an individual." Says Hannah. "I think that makes the experience of coming into our gallery unique. The family connection and shared influences can be felt but there is still a diversity of work." The Moore family's dedication to craft and their love of the natural environment is evident in each piece. Hannah shares that during the pandemic they developed a harmonious workflow while each living and creating in a shared space. While they may gather to talk about their works in progress, there is a deep reverence for the solitude of observation and creation, something instilled since childhood. Perhaps it is this shared respect for each of their creative processes that brings both a serenity and sense of awe to every piece dis-played in the Moore Family Gallery.
Hannah's creative process begins in her sketchbook, which is filled with whispers of ideas captured on the page. Eventually she'll gravitate toward one of these rough sketches and a painting begins. "When I start a piece," she shares, "I begin by creating a to-scale drawing of it on tracing paper. This is where I work out all the compositional elements, working from life, my imagination, drawing studies, field guides, and occasional photo references. It is never based on one space or moment but a compilation of many, to create an imaginary scene." Hannah uses tracing paper to map out the piece, which allows her to rotate and reverse the different images until they all come together.
With meticulous repetition, Hannah transfers the image from the tracing paper to the watercolor paper. She paints a faint wash of watercolor to demarcate the painting, before erasing the pencil lines left from the tracing paper, "leaving a ghost image of what the painting will eventually become." Then brush stroke by brush stroke, she begins to layer color. For her finest of lines, Hannah uses a brush with only 3 or 4 bristles, lending her paintings their signature delicacy. Hannah works on several paintings at a time, painting until she reaches a point of pause or uncertainty and switching to work on another canvas. While she may work on many different pieces over a period of months, when the pieces are finished, they demonstrate a cohesiveness when viewed together in a show. Hannah remarks, "All my paintings reach fruition together, informing and influencing one another along the way."
Hannah's most recent show was called "Reverie." Scenes of swallows swooping gleefully in watercolor hung beside dreamy oil paint portraits of young people dozing in foliage. In each of Hannah's paintings, nature blooms, almost becoming a moving character like the birds, snakes, and people. She expresses, "I love researching and exploring different flora and fauna and I want to incorporate these into dreamlike scenes that allow experimentation with different compositions and color combinations." By using subtle 19th century influences of dramatic curves and ele-gant geometry to depict the natural habitat and life of Martha's Vineyard, Hannah captures the magic of walking to your favorite pond and stumbling upon something exquisite, be it a rare creature or simply the color of the sky.
Hannah's work captures the delightful interplay between accuracy and artistry. She shares, "What I really love [is] the relationship between the arts and sciences; how both can be outlets to explore the other." Over the past ten years, she has spent hundreds of hours in natural history museums, sketching preserved insects and birds. With a naturalist's curiosity and an artist's dedication, Hannah continues to hone her craft. Splitting her time between the Vineyard and Portland, ME, she is preparing for a show next summer in the Moore Family Gallery. And eventually, she imagines, "I hope to carve my own frames that work with the paintings they are paired with. My great great grandfather, Arthur P. Spear, on my mother's side, was a painter. He carved and prepared his own gold leaf frames. Seeing his beautiful whimsical oil paintings from the early 1900's in these handmade frames is awe-inspiring. I'd love to someday get to a point where I can do the same."
Hannah continues to find inspiration in the natural world around her. At times dignified and serene, at other times playful and dreamlike, her scenes transport the viewer. Nestled in a triad of creative masters and family members, Hannah Moore's artwork can be experienced on its own or in conversa-tion with the rich tradition of artistry in her family. With a foundation of scientific and anatomical observation, and influences of 20th century line work and perspective, Hannah has carved her own path as an artist and developed a style that is all her own.
The Moore Family Gallery is open by appointment year-round and is currently showing the work of Hannah, her brother Gordon, and her father Andrew. Hannah's work can be seen at HannahMoorePortfolio.com.