MADE ON ISLAND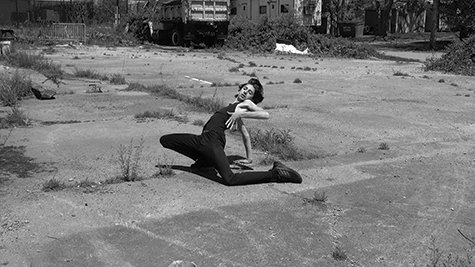 Adagio Esposito

Imagining a Better Future Through Music
By Tessa Permar
At age 14, Adagio Esposito is developing his third album, a new music video, and a musical film about his life. He is a musician, dancer, and director, as well as the youngest in a family of creatives. Adagio receives technical support in editing and shooting his music videos from his father Charlie Esposito, an Island icon in per-forming arts production. But Adagio's lyrics, tracks, and captivating creative worlds are all his own.
"I basically started singing when I was a baby," says Adagio, whose perfect pitch and vocal tone caught his parents' ear at a remarkably young age. Accompanying his dad to work across the Island exposed a young Adagio to a range of dance and music. He spent summers at The Yard's young dancer program, and played roles like Zazu in The Lion King, and Tin Man in The Wizard of Oz at the West Tisbury School.
In Spring of 2022, Adagio created his first of many albums to come. Adagio, whose stage name is Daj, describes his first album entitled 'Music is the Key to Greatness'. "It's mysterious, calming, and meditative; each track tells a story." He continues, "My second album is called 'Mejores Dias'– Spanish for Better Days. This album has more energy, more passion." To make these albums, Daj taught himself to beatbox and harmonize and incorporated the Spanish language he learned at school. He also plays the cello, clarinet, piano, and synth on the tracks, which he edited and recorded himself. Following the release of his albums to SoundCloud, Daj works with his dad to produce music videos incorporating Daj's choreography.
Through his music, lyrics, and movement, Daj calls attention to the challenges of our world today, including racism, violence, and homophobia. In his song, '¿Por Que Hay Guerras?' he sings, "Let's not hate/Let's come together." His character in the music video for song 'Géneros' is "a superhero fighting for justice and equality and supporting the LGBTQ community." His upcoming album 'The Painter' will encourage listeners to find beauty in the colorful and vibrant world all around us. Daj hopes to pursue recording artist success, but for the moment, he reflects: "The life that I'm living right now is really good. I'm a youtuber making music for my viewers and friends, that's really cool." To listen to Daj's albums or see his videos, search "Daj" and his song titles on Soundcloud, Youtube, or TikTok.
Check out: 25 music tracks on Soundcloud: Daj • TikTok: adagioesposito413, Youtube: youtube.com/playlist?list=PLpYfnWL19t5kR-MCyx2WFluxCGni0AkCY