HEALTH + FITNESS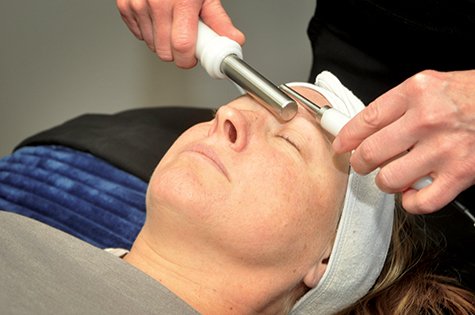 Skincare, Makeup and More

Cinnamon White Provides Safe and Effective Skincare Aesthetics
By Olivia Cameron
Cinnamon White Skincare and Makeup offers expert skincare, massage and make up services for special events in a welcoming space, situated at 97 Circuit Ave in Oak Bluffs. Cinnamon White, who has lived on the Island for twenty years, has been doing skincare for thirteen years. She started out doing nails to see if the salon industry interested her, and then went back to school to learn skincare. Four years ago, she decided to incorporate massages because she loved the massage aspect of facials, and after taking a cupping class in Costa Rica in January, started offering cupping as part of her work. She also does makeup for all kinds of special events, focusing on emphasizing clients' natural beauty.
"I especially love doing the skincare, just because I found a product that really works, it's an amazing skincare line from South Africa called Environ," says White. She personally used it and loved it so much that when she opened up her own studio, she knew that she wanted to use it in her treatment room, and to get it into as many hands as possible. Environ is a result driven pharmaceutical grade skincare line that won "Top Medical Skincare" of the decade in the 2021 Everything Aesthetic & Cosmetic Medicine Awards. "It's also one of the most effective and safest in the world," says White. "They only use the highest quality raw materials and are one of the few companies that don't add preservatives in the manufacturing process. The efficacy of Environ's products has made it a cult favorite of movie, tv and sports celebrities, along with dermatologists and plastic surgeons around the globe." She also uses their Triawave Microcurrent machine during all skincare treatments, which provides facial muscle stimulation & strengthening as well as deep product penetration.
While people seem to embrace massage as an essential, other aspects of the salon world, like skincare treatments or facials, are still perceived as more of a luxury. But White wants to encourage people to start incorporating something that might feel like a luxury, such as using skincare products and getting facials, into their daily habits, to recognize them as an important act of care. "Taking care of your skin, which is the largest organ in your body, is pretty essential," she says.
She opened her studio Cinnamon White Skincare and Makeup right before COVID started, so she couldn't work in the space for nearly 8 months, but now she's been there for three years and every day it gets a little easier as she's building a client base, as more people find out about her through word of mouth and online. While she is busy in the summer and has a robust summer clientele, she has been focusing on building a year-round client base and trying to keep her prices affordable. "I want the people who live here year-round and work hard to be able to afford to come, hopefully often," she says.
Clients can book appointments online at cinnamonwhite.com or call 508-633-8433. The studio is located at 97 Circuit Avenue in Oak Bluffs.