GARDENSCAPES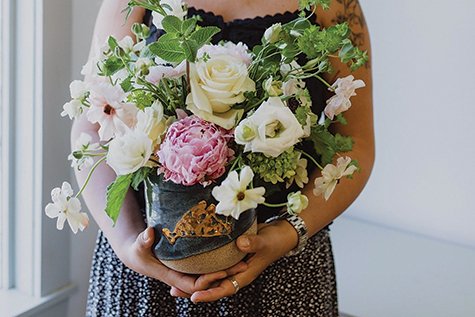 Donaroma's

No Matter How Big or Small Your Project is, They will Help You Bring it to Life
By Amelia Smith
Donaroma's is a full-service nursery, landscaping and floral design company, a family business that has helped make Island lawns and gardens beautiful since the 1970s. The company's founder, Mike Donaroma, started working on lawns and gardens when he was a teenager in the 1960s and returned to the Island after earning a degree in Agronomy. His family grew alongside the business – his son Jeff and daughter-in-law Gislaine help to manage aspects of Donaroma's work. With three retail spaces and a landscape business that covers everything from hardscape and irrigation to the seasonal décor along Main Street, there's a lot to do, and it takes a big team to keep it all going.
In addition to the family, several employees have been with Donaroma's for a quarter century or more, doing work that brings the bright hues of flowers and the soothing green of the growing world into people's homes as well as into the landscape. Every December, the garden store hosts its "Evening of Enchantment" on Friday of the Christmas in Edgartown weekend. The greenhouses are transformed into a winter wonderland, with thousands of lights and a dazzling array of decorations. Gislaine, Jeff and young Jordan Donaroma Visitors and islanders come together to enjoy the celebration, buy gifts, and find inspiration.
The next day, floral designers Mariko Kawaguchi and Sue Weyl teach workshops on making wreaths and boxwood trees, as they've done for well over thirty years. "When I first came here I noticed that this was one of the few places where visitors, washashores, and island natives would be side by side together and everyone has something in common," Mariko says. At the workshops, she sees perfectionists who spend all day on one project and families with kids and parents working together. "It can be for people who just come here for the congeniality," she says, emphasizing that it's not an intimidating workshop. Outside of workshop time, the garden store has something for everyone, from single cut flowers to inspired, artistic planters of orchids and succulents. "We always try to have a beautiful tapestry of color and it's different every week," Mariko says.
Patty Mundt has been at Donaroma's for about twenty five years. She started off working in the garden store, answering phones and maintaining houseplants. Now, she works in the retail nursery among the potted trees and shrubs, annuals and perennials, and in the office. "I like all the plants," she says. "Mike is a real plant person and he knows a tremendous amount. It's a fun job." She enjoys seeing the way the plants change and improve over time, as new varieties are developed and the nursery cultivates more native Island plants to use in landscaping. In winter, the greenhouses provide ferns, ficus, and dozens of other houseplants to bring the green world inside during the colder months.
Meanwhile, Cammie Naylor sits at her drawing board in the office, working up plans and designs in pencil on paper for landscaping clients. Cammie took a part-time summer job here in the summer of 1996, which led to working at Donaroma's nine months of the year while pursuing a graduate degree at New York Botanical Gardens. "I fell in love the green world," she says. "I worked in museums – I was an art history major with a studio art minor. I look at landscapes as a visual art, but with the practicalities of the grading and the drainage and construction aspects that you have to know. Once you figure out the design, that's where the team comes in. We figure out the vision and the practicalities of it, and it's so fun. My position is the gateway, the beginning of the design build process, and then it opens up the doorway to the team that makes the vision come together."
These are just a few of the people who make all that Donaroma's does possible. In addition to the garden store in Edgartown, Donaroma's manages Eden Gardens on State Road in Vineyard Haven and also recently acquired Juniper, a floral and gift boutique in downtown Edgartown that features work by local artisans as well as flowers. Aubrey, who founded the store, worked as a floral designer at Donaroma's before starting her own business, and has now returned to be their chief floral designer for weddings and events. From the family to full-time and summer employees, the Donaroma's team works hard to bring their clients' nursery, landscape and floral projects to life.
Donaroma's Garden and Gift store is located at 270 Upper Main Street in Edgartown, and you can find out more on their website at donaromas.com. And on Instagram: donaromasmv or call 508-628-3036.