CUISINE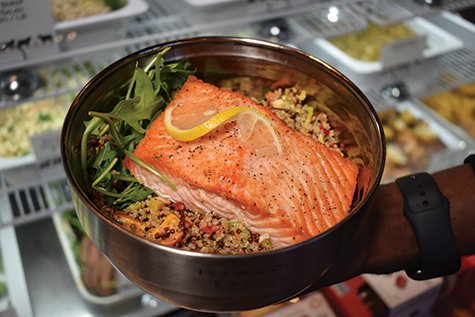 Saving the Planet, and the Island

One Bowl, One Meal at a Time: Enter Island Eats MV
By Lisa C. Belcastro
What if you could give a holiday gift on Island that would help save our Island and the planet? Well, this year you can. Do you know what our largest export is on Martha's Vineyard? Trash.
Probably not the answer you were hoping to read.
When I was asked that question, I was hoping the correct answer would be cheese or sea salt or another delicious item made locally. Trash was not on my list of possible exports.
As consumers we create a lot of trash, especially in summer with the influx of tourists. Not only are we throwing away general household waste, but as food lovers we are throwing out an increasing number of single use take-out containers.
Enter Jessica Mason and Island Eats MV.
"I was struck by the overflowing trash bins on Island in the summer," said Jessica, who works full-time for a national nonprofit that helps launch cooperative businesses. "Through my work I heard about a reuse program on the west coast and thought it could work here. I already have a full-time job, a family, and a bunch of roles in the community so I talked about it with lots of people on the island hoping someone would want to take it on. Everyone thought it was a great idea and definitely needed, but no one wanted to start it. Ultimately, I felt so strongly about it that I decided to get started on my own. I felt like it just couldn't wait another season."
On Memorial Day of 2022, Jessica launched the summer pilot program for Island Eats MV. The concept is simple andbrilliant. Island Eats MV provides cafes and restaurants with gorgeous, stainless-steel bowls that are one hundred percent reusable. Island Eats members can order takeout from any participating restaurant and receive their food in an Island Eats bowl. After finishing the food, the Island Eats member returns the bowl to any participating restaurant (ideally within a week). The bowls are then professionally cleaned, sterilized, and ready for another great meal.
"Jess makes the program so easy and efficient. She's a joy," said Debbie Cohen, the chef at The Pawnee House in Oak Bluffs. "The picking up and dropping off of containers helps us out immensely, especially in the summer months!"
I became a member of the pilot program as soon as I heard about Island Eats MV. While the pilot program is ending, there is great news. With over 200 members and 11 restaurants participating, the pilot program was a success and Jessica will move forward with a full program in the new year. Now we can all sign up for a year-round membership in 2023 at: islandeatsmv.com/sign-up/p/island-eats-2023-membership.
There are many reasons to become a member and not a single reason not to. "There are so many people on Island who are aware of reduce, reuse, recycle. People tend to default to the recycle part, but the fundamental issue with recycling is that so many of the items intended for recycling never actually get there and simply end up in landfills," said Jessica, a mom of three who lives in Chilmark with husband.
"Restaurant owners on the island want to be a part of the solution and have moved to compostable take-out containers, which is definitely a step in the right direction" said Jessica, adding with genuine sadness, "but the problem with compostables is that they have to make it to a commercial composting facility. This means we need to have composting bins in each restaurant that uses them and we need access to a commercial composting facility that accepts them, which we just don't have on-island. What ends up happening is the so-called compostables end up in landfill, where they won't break down because the temperatures are not high enough."
"But there is an alternative. Remember reusable milk bottles?" As soon as Jessica asked me that question, I flashed back to my childhood days and the milk box on my family's porch and the weekly deliveries from our local Dell Dale Farm.
"We've been brought up to believe that single-use containers are normal, that disposable is okay. But years ago everything was reuse," said Jessica. "Reuse has the potential to make a hugely positive impact on the environment."
So many people, especially on Island, have switched over to reusable water bottles and coffee and tea mugs. The logical next step is reusable food containers. I'm hoping everyone reading this article agrees with me.
Jessica spent a great deal of time sourcing containers. "I was talking to anyone and everyone who would listen about a reuse system. I heard from consumers that they did not want plastic, even reusable plastic. I knew I needed to use a stainless-steel system." And while the consumers wanted stainless steel, Jessica found that chefs and restaurant owners "wanted a clear cover so customers could see the food."
Jessica also talked with chefs and owners about the size and shape of containers. "I settled on a 40-ounce bowl for the first container. I also have my eye on sushi trays and cups."
When Jessica launched last May, she had partnered with five Island restaurants: The Pawnee House, MV Salads, Black Sheep, Katama General Store, and Bobby B's. Over the last six months, Jessica has added Aalia's Coffee, Chilmark Tavern, Juice by the Sea, Little House Café, Rosewater, and Waterside Market to the growing list of restaurants participating in Island Eats MV's program.
"When I learned about Jessica's plans, I was immediately intrigued. MV Salads is all about kindness to the environment and sustainability. We have never used plastic in our shop, everything is compostable. We have also never sold bottled or canned drinks, all in an effort to reduce our carbon footprint. But Island Eats MV takes it to an even more impressive level. How could we not want to be part of it? It was a no-brainer, and we were actually the very first restaurant partner to sign up for the program," said Susanna Herlitz-Ferguson of MV Salads, who shared her Menemsha Lobster Cobb Salad with Green Goddess Dressing with Vineyard Style readers.
As a community, Martha's Vineyard excels at sourcing and using green alternatives, reducing single-use plastics, and attempting to care for the land we live on. Island Eats MV is one more way we can reduce our impact.
"When Jessica came to us and asked if we wanted to participate in the pilot program, I was all in. I'm all about sustainability and leaving less of a carbon footprint," said Mark Venette, owner of Black Sheep, who shared his Salmon over Quinoa with Lemon Dijon Dressing. "The salmon has been on the menu for about eight years. If we took it off the menu, there might be a riot. Same with the quinoa salad."
Lots of us love Black Sheep. All that delicious pre-made food. Have you had their grilled shrimp? Simply fantastic! If we take home our orders in an Island Eats bowl, imagine the change. For every take-out order we use an Island Eats bowl, we keep a single-use disposable container out of our landfills! Debbie and Alex Cohen of The Pawnee House first heard about Island Eats MV on Instagram. "When we read about Jessica's plan, we had to be a part of it. A solution for takeaway! Restaurants will benefit in waste and cutting down on take away containers, most of which aren't recyclable," said Debbie, who shared her Red Bean Vegan Bowl with us. In all fairness, I should point out that Debbie's amazing vegan chocolate cake would also fit perfectly in an Island Eats container!
"Island Eats is about meeting our community needs. I see a path for all of us to work together to make it a reality," said Jessica, who moved to the Island with her family fulltime in March of 2020. She'd grown up in Sydney, Australia, took a gap year in London, and went to college in the United States, and lived in Argentina after college. Throughout her life, she'd always spent time on the Island in a home her parents have owned here since the seventies.
"I love it here. My husband loves it here. We had wanted to move here for a long time. My parents have been here full-time for almost twenty years now," said Jessica, 39. "It's really everything we always wanted. We love our life and our community here."
As 2022 comes to a close and the holidays remind us of the people we love and the coming New Year motivates us to think about changes we'd like to make in 2023, can I offer a great suggestion? Buy an Island Eats MV membership. Give yourself the gift of saving the Island and the planet and give that precious gift to others.
Here is the website link to order your 2023 memberships for yourself and friends: islandeatsmv.com/sign-up/p/island-eats-2023-membership. Jessica is offering a presale membership now at only $60. You do not want to miss this amazing offer. Join me in taking this small action that can have a big positive impact for our local environment; I'm already signed up for 2023.
As we ring in the New Year, let's order our favorite foods to go in an Island Eats bowl and meet on a beach one warm winter day for lunch and a walk. Who's in?
Visit their website for more information: islandeatsmv.com, Instagram: islandeatsmv
Black Sheep Salmon over Quinoa with Lemon Dijon Dressing
Directions for the Salmon:
1. Salt and pepper salmon, then sear salmon on both sides, about 2-3 minutes each side.
2. Finish salmon in the oven for 15 minutes at 350 degrees.
Directions for the Lemon Dijon Dresssing:
1. In a medium bowl, zest lemon.
2. Squeeze juice of lemon into bowl.
3. While using an immersion blender, slowly add olive oil until dressing is creamy and to your desired thick/thinness.
4. Salt and pepper to taste, if desired.
Directions for Quinoa and Vegetables:
1. Cook quinoa as directed and set aside to cool.
2. While quinoa cools, dice and roast two sweet potatoes and one red pepper.
3. Thinly slice or shave Brussel sprouts.
4. Chop Parsley
5. When vegetables are roasted, toss with quinoa and parsley, then finish with Lemon Dijon Dressing.
6. Place cooked salmon filets atop quinoa and vegetables.