ON ISLAND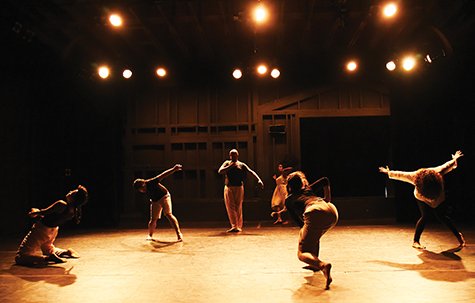 With Great Joy and Celebration

The Yard Celebrates 50 Years of Dance
By Tessa Permar
Like so many iconic Vineyard creations, it began in a barn. Chilmark circa 1973, the audience perched on hay bales while dancers got ready in a gutted school bus to perform the work of choreographer and founder of The Yard, Patricia Nanon. After a decade of sharing professional dance on a makeshift stage, Nanon purchased a few wooded acres off Beetlebung Corner in Chilmark and continued to grow what would become one of the East Coast's most beloved dance residency organizations.
This summer The Yard began celebrateing its 50th Anniversary with a full summer of classes, residencies, performances, and community programs. The Yard is a creation and performance platform for some of the most prestigious and innovative artists from around the globe. The Yard is also a community hub. It's a place where anyone on Martha's Vineyard from local kids to professional dancers can take class, join a discussion, or see a performance together.
For participants and audience members, The Yard provides an intimate window into how dance companies large and small create their work. For the dance companies in residence, The Yard provides artists with precious time and space to conduct research, experiment with new ideas, and revise existing material while enjoying the Vineyard's unique community and landscape. Artists and teachers in residence receive payment for their work, compensated travel, housing, and food staples, as well as support in technical production, videography, and marketing, not to mention access to coveted Lucy Vincent beach passes.
Every artist, teacher, and community leader brings something special to The Yard. This summer, interdisciplinary artist Larissa Velez-Jackson and collaborators shared an intimate look at spontaneity, connection, illness, and care. Renowned choreographer Ronald K. Brown taught a sweaty and joyous class in The Yard's converted-barn studio to students ages 4 through 79. Adele Myers and Dancers not only gave a base-thumping, soul-moving dance performance but also held a discussion at Slough Farm, focusing on women's strength and collective empowerment. Beyond these and other exciting dance events, two companies this summer are utilizing their time at The Yard to connect even more deeply with the local community in order to amplify indigenous and Black voices, experiences, and artistry.
Danza Orgánica is a dance theater company that creates anti-racist, anti-patriarchal, and decolonizing work through performance and education. In 2019 the company, led by Mar Parrilla, began collaborating with Aquinnah Wampanoag tribal members and artists to create âs nupumukânean (we still dance). This piece, which shares indigenous perspectives, stories, and traditions through movement, music, and visual art, was presented in-progress at Boston's Isabella Stewart Gardner Museum and at The Yard. This summer, The Yard and the Aquinnah Cultural Center will host Danza Orgánica and local tribal members in continuing to create work together ahead of public and in-school performances for the Island this fall.
The Yard is also facilitating a long-term residency with Urban Bush Women, an acclaimed dance company founded in 1984 whose creative process seeks to bring the untold and under-told histories and stories to light through dance. This summer Urban Bush Women's company of dancers, singers, musicians, and writers swept the Island collecting histories and absorbing and embodying what they encountered. In collaboration with African American Heritage Trail co-founder Elaine Weintraub, Urban Bush Women visited trail sites and performed at the Juneteenth Truth and Joy event. They created a pop-up performance at Featherstone Center for the Arts. They also shared space and stories with members of the Aquinnah Cultural Center and Wampanoag Tribe. This culminated in an outdoor, work-in-progress showing and community dinner at Julie Vanderhoop's Orange Peel Bakery. Over the next year, Urban Bush Women will continue to engage with The Yard as well as local leaders and storytellers to develop a site-specific version of their work, Haint Blu, to be performed on Martha's Vineyard in 2023.
While The Yard has always welcomed a diverse range of artists and provided accommodations to patrons who may face financial access barriers, the past few years and new leadership have brought deepened dedication to anti-racism and equity. Executive Director Chloe Jones shares, "The Yard has always played a specialized role as a creative residency center for dance: an incubator for new work and an oasis for artist development. Today, The Yard is finding greater value in the creative process and its potential to enrich audiences differently from the creative product. We believe that fostering the creative process of artists is a vital, activist activity."
In addition to hosting a packed summer of opportunities for dance companies and Vineyard residents to interact and share work, The Yard also welcomes a line-up of beloved teachers. Ugandan dance teacher Godfrey Muwulya returns to the Island to teach his percussive, jubilant class. Naomi Goldberg-Haas brings her technique, Movement for a Variable Population, to all bodies and movers in the local libraries and councils on the aging. And DJ Flavia draws on her musical expertise to lead Ecstatic Dance classes. In the upcoming school year, The Yard plans to bring an international group of dance teachers into local schools to share traditions of music, dance, and culture. Jones emphasizes, "We are committed to furthering our longstanding commitment to serve dance artists and, equally, the Martha's Vineyard community." In continuing this mission, The Yard is working towards a campus renovation to make much needed upgrades to their facilities and winterize them. This would allow The Yard to host artists and programming year round, and continue to spread the joy and impact of dance across the Island.
To learn more about the Yard, their seasonal schedule and events click:
dancetheyard.org