CUISINE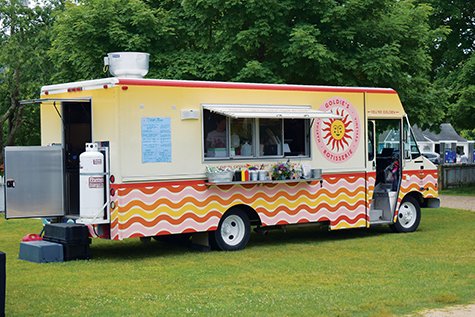 Keep On Truck'n

Eva Farber and Lexie Roth Make Goldie's Rotisserie Golden
By Lisa Belcastro, Photography by Elizabeth Cecil
I don't know about you, but I am beyond thrilled that our town and county leaders voted to allow food trucks. I'm not one to mingle food and politics, but my tastebuds are thrilled whenever I have the opportunity to enjoy lunch from Lexie Roth and Eva Faber's Goldie's Rotisserie truck.
Everything about Goldie's is like a kiss from the sun: the adorable truck (yes, adorable), the warmth and smiles from Lexie, Eva, and their friendly staff, and the food, the yummy, mouthwatering food. I think they aptly named their food truck, because one certainly feels "golden" when Goldie's is on site.
If you love rotisserie chicken, Goldie's will be a dream come true. Last Saturday at the Farmers Market I thought I'd stepped into a Neil Diamond concert with people holding chicken and singing, "So good, so good, so good."
While Goldie's has lots of chicken dishes, those of us who prefer vegetarian and vegan options will never be disappointed. I'm always torn between the Mermaid Bowl, the Golden Rice Bowl, or the Sesame Noodles, just to name a few.
"Our main goal is to make people smile," said Lexie, who has been coming to the Island since she was a child. "It's fun to directly see who you are serving."
Lexie and Eva met four years ago at a Halloween party. Lexie, who graduated from the Natural Gourmet Institute, was working as a private chef at that time. Eva, who graduated from MV Regional High School in 2012 and obtained an environmental science degree from the University of Vermont, was landscaping.
The following summer, the two began their culinary journey.
"Lexie had a private chef job. I jumped in, picked it up pretty quickly, and recognized it was a passion," said Eva.
They talked briefly about opening a brick and mortar restaurant and then learned about the rotisserie food trucks in France. As they considered their clientele and calculated costs, the couple decided on a food truck.
"Rotisserie chicken was something the Island could use. And a food truck is adaptable to a pandemic world," added Eva.
"We do a lot of catering. It's nice to have the truck parked at events," said Lexie. "People can be outside, eat outside, and enjoy a culinary experience."
Both women genuinely love what they are doing, and it shows in their attention to detail, their commitment to great food from start to finish, and their care for their staff. Lexie and Eva source as much produce and products from the Island as they can. They purchase certified humane, non-GMO, all-natural chickens. And they create their own sauces and marinades.
"We spent an entire winter honing our sauce recipes," said Eva, who also created a masala spice mix that she has shared with Vineyard Style readers.
"Our chicken marinade is based off of a cuban pork marinade. We opted to make it less sweet. We took out the orange juice and only use lemon and lime juice. We lessened the liquid, and made it drier to stick to the chicken better," said Lexie, who also shared her modification for homemade whipped cream. "I whip mascarpone and Mermaid Farm fromage into the cream. There is a low amount of sugar, and the whipped cream is stiffer and holds up better to the strawberries."
Ultimately, Lexie and Eva not only love to cook but they also love what they cook. "I love that I'm excited to eat our food," said Lexie, who started cooking at age 10.
Eva smiled, nodded, and added, "We make food we ourselves love and want to eat. Our food is a balance of delicious, healthy, fresh, and ethical."
Now, Vineyard Style readers can cook a few of Lexie and Eva's favorite recipes at home.
First up, their incredibly popular Sesame Noodles. Eva encouraged readers to buy only the freshest ingredients. Squeeze your limes and lemons for fresh juice and pick the vegetables that are in season. Lexie also suggested using a julienne peeler for the carrots.
The ultimate secret for great sesame noodles is water. "Tahini comes to life when you blend it slowly with ice water. Water is the secret ingredient," said Lexie.
If you're a fan of Caesar Salad, Goldie's has one of the best. "My favorite way to eat Caesar salad is to take each spear, drizzle it with dressing and then grate cheese on top," said Eva, adding, "We use our own homemade sourdough crumbtons – crumbles not cubed."
Eva and Lexie shared a few hints to help Vineyard Style readers make the best possible Caesar Salad. To begin, we must start with really good olive oil and a good food processor "to get the dressing creamy."
Eva emphasized, "Chill the lettuce until you are ready to serve. Do not dress the Romain until you are ready to serve it."
Lexie specified that we should use only freshly grated Parmesan. Specifically, "hand grate a snowstorm of Parmesan on top."
While most of us do not have a rotisserie at home, we can certainly use Lexie's fabulous marinade to make a delicious roasted chicken dinner. The recipe is simple to follow, and the ingredients are easy to find on Island. Two easy tips: Rub your chicken with salt first to insure they are perfectly seasoned and use a bone-in cut of chicken. Simple and delicious.
If you're looking for a non-meat option, a rice bowl is perfect. "Our rice bowl started as a vegan dish, now people can add rotisserie chicken to it if they'd like," said Eva, who spends about two days a week in a rented kitchen prepping food with Lexie for their weekend retail and private events.
"Lexie is the rice master," said Eva. Who better than a rice master to create a delicious rice bowl dinner?
Lexie describes Goldie's rice bowls in a way that makes you want one as she's talking. "Roasted vegetables, creamy dressing, warm spices, crispy crunchy pickle pop on top."
Every ingredient in the rice bowl is important, but none more so than the rice. Sticky rice is bad. Fluffy rice is good. "I'm a firm believer in the 2 to 1 ratio of water to rice, plus one teaspoon of salt per cup of water. Do NOT stir the rice before the water boils. Once boiling, turn the heat to the tiniest flame. Do NOT lift the lid while the rice is cooking. Keep the steam in. Fluff the rice when it's cooled down, about ten minutes after cooking," shared Lexie.
If you love Mermaid Farms yogurt and cheeses, you're going to love Goldie's Mermaid Bowl. "It's super easy. Combining yummy things together," said Eva, who gave one bit of advice for the homemade granola, "When baking, don't disturb!"
No dinner (or day) is complete with something sweet. Lexie chose to share her Strawberry Shortcake recipe with us. "The biscuits are a classic buttermilk recipe. Don't overmix your dough. It will be craggy. Keep your buttermilk cold and your butter iced. Pour the buttermilk slowly and mix slowly," said Lexie, adding, "Keep the biscuits close on the baking sheet as it helps them rise. And the more undisturbed the oven, the better."
As a bonus for the hot days of summer, Eva has shared their lemonade recipe. "I down it all day. It's nice and tart."
I don't have a favorite item on Lexie and Eva's menu because I cannot decide between my top three: their Mermaid Bowl, the Golden Goddess Rice Bowl, and their sweet and salty chocolate chip cookie. Fortunately, I don't have to decide.
I hope you'll try a few, if not all, of these yummy recipes. Be sure to visit Goldie's Rotisserie food truck too, and then let me know what your favorite dish is. If you can't choose just one, and who could, let us know your top three.
Goldie's Rotisserie will be at the Ag Fair, First Friday in Vineyard Haven, the Martha's Vineyard International Film Festival, as well as the weekly Saturday Farmer's market, the weekend Artisan's Festivals, and other special events. Lexie, Eva, and the food truck are also available for private parties and special events.
Visit their website for more information:
www.goldiesmv.com
instagram.com/goldiesmv
Sesame Noodles
Servings 4-5
For the Sauce
2 Tbsp. sesame oil
3 ½ Tbsp. soy sauce
2 Tbsp. unseasoned rice vinegar 2 Tbsp. tahini paste
1 Tbsp. smooth unsweetened peanut butter
1 Tbsp. sugar
1 Tbsp. finely grated ginger
2 tsp. minced garlic
2 tsp. sriracha (optional)
To Finish
One bell pepper, cut into long thin strips 1 carrot, julienned
1 cup shredded purple cabbage
1 sugar snap peas, cut diagonally into thin slices
Garnish with sesame seeds, cilantro, fresh lime
Directions
1. Bring a large pot of salted water to a boil. Add noodles and cook until al dente. Drain, rinse with cold water and toss with 2 Tbsp. sesame oil so noodles don't stick.
2. In a medium bowl (or food processor), whisk together sesame oil, soy sauce, rice vinegar, tahini, peanut butter, sugar, ginger, garlic and sriracha. If too thick add cold water to thin until desired consistency is reached. The sauce should be creamy but pourable.
3. Toss noodles, pepper, carrot, and purple cabbage with peanut sauce in a bowl until well combined.
4. To serve, sprinkle sugar snap peas, sesame seeds, and fresh cilantro on top. Serve with fresh lime wedges.
Tips
1. To prepare ahead, complete step one and store noodles in the fridge. Make sure they are generously coated in sesame oil. Sauce can be made ahead and stored for up to a week. Add the sauce and vegetables when you are ready to serve.
2. Mix it up: try with fresh cucumber, radishes, broccoli, cherry tomatoes. Add protein, like scrambled eggs or shredded chicken.