COMMUNITY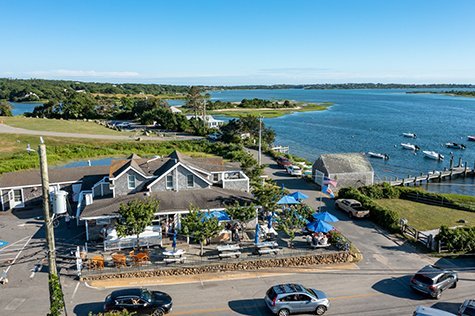 The Homeport Lives On

Without Many Changes
By Amelia Smith
The iconic Homeport restaurant re-opened this June for the first time since 2019. Its dining room and patio overlook Menemsha Creek, a setting that perfectly suits the seafood focused menu.

The restaurant's new owner, Seth Woods, has a sentimental attachment to the place. "It's a restaurant that I've always loved," he says. "I've taken my family there, I've gone there since I was young. It's the first place my older kids had oysters, and I'm sure this is where my 4-year-old will have his first oysters, too."

Seth has been in the restaurant business in Boston since the 1990s. "I'm in a place where I can pick and choose what or if I wanted to open anything, so it had to be something that meant something to me," he says. "I was driving by the Homeport, and I said to myself, wow, there's a lot closed in Menemsha." A little while later, he and a friend approached the Nixons to see if they wanted to sell the Homeport. "It came to fruition late in the spring," Seth says. "We had a very short window to get open."

They hit the ground running. Between emails to friends and talking to contractors working on the restaurant, they brought a staff together in a month. "Responses came in, even some of our friends picked up shifts, and we have a bunch of people who used to work there and came back. I've got my three kids working there," Seth says. " We kept the menu simple and delicious. It truly is a labor of love. It has, in my opinion, the best view on the entire island. It has charm, and that's another reason we didn't change it too much.

Seth plans to keep the Homeport open until mid-October and to return in spring with the back door reopened, in addition to the dining room. The current menu and hours are on the website at www.thehomeportmv.com, and it's still where you can watch the boats go by and see the tides run through Menemsha Creek.