COMMUNITY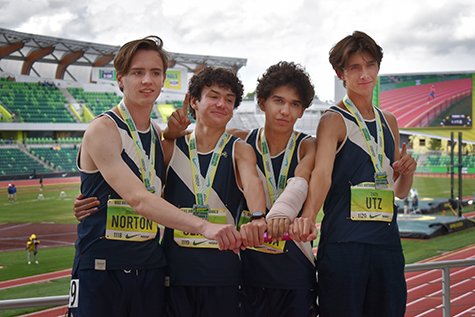 A Cinderella Story

The Vineyard HS Boys 4x800 Relay Team Places First at Nationals
The Martha's Vineyard Regional High School (MVRHS) boys 4x800 meter relay team, won their category at the prestigious Nike Outdoor Nationals Track and Field Championships in Eugene, Oregon in mid-June of this year.

"It all culminated that day in June," said MVRHS track and field coach Don Brown. The relay team consisting of Jonathan Norton, Daniel Serpa, Daniel daSilva and Zach Utz placed first in the Emerging Elite category at the National Championship meet, winning the relay with a time of 7:53. According to Track and Field News the fastest High School record for this event is 7:28 by a High School team in California in 2011.

The teams performance that day was 10 seconds faster than their previous best time going into the meet, Coach Brown said. He attributed much of the team's success to their dedication to a singular goal, starting when their indoor track season began the previous November.

"It's really hard to get here," he said of the National Championships. "We had a rock solid plan...and we stuck to it."

After their 4x800-meter relay team missed the National Meet during the indoor track season by less than two seconds, Mr. Brown said the team set their focus for the outdoor season.

"A champion is someone who loses, doesn't give up, and just comes back," he said.

With recently graduated seniors Zach Utz and Jonathan Norton moving on from the team, that Championship Meet marks the last time the quartet will race as a group.

Mr. Norton and Mr. Utz also competed as individuals at the National Meet. Mr. Norton ran the 2,000-meter steeplechase, finishing 23rd overall with a time of 6:28. Mr. Utz competed in the Emerging Elite mile, placing eighth in a field of just under 60 runners with a time of 4:18. The top 5 runners finished with times of 4:16 within fractions (1/1000th) of each other.

Coach Brown said another motivator throughout their trip to Eugene came from support shown by Vineyarders. The Island generously responded to a "Go Fund Me" drive which covered expenses for the cost of travel, lodging, car rental and food for the Coach and the team.

"It really means so much to us," said team member Zach Utz, "thanks to everyone that donated, watched, and cheered us on this season. We are so lucky to be a part of such a tight-knit and supportive community." Utz said the team was receiving constant calls, texts and messages of encouragement and congratulations throughout the weekend of the event.