GARDENSCAPES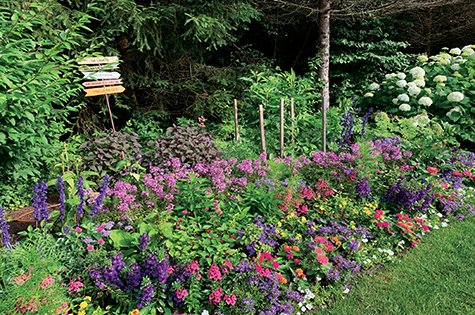 Working Earth

Creating Maintaining Dynamic Landscapes With the Right Approach
By Amelia Smith
Jude Villa and her crew at Working Earth Organic Gardening and Landscaping bring out the best in their clients' homes, yards and gardens. Working Earth does everything from lawns, trees, hardscaping, to tending flower gardens, so that the brightest of flowers are timed to bloom at the height of summer. Jude started out mowing lawns and trimming hedges way back Jude Villa in 1980. She working the earth started Working Earth as a sideline, when she was the program director at the Martha's Vineyard Boys and Girls Club from 1980 to 1987. She had a little brown pickup truck, a mower and tools her grandfather had given her. "I got started when a friend of mine's mother, who was in real estate, always needed help," Jude says. "She was always calling me up to mow the lawns and trim the hedges. People would see me out there, and before I knew it, I had about ten regular customers."
"I pretty much worked from 7:00 in the morning to 9:00 at night," she says. She would start her day with her landscaping work, and then run the after-school program at the Boys and Girls Club. Eventually she decided to take a leave of absence from the Boys and Girls Club and give full-time landscaping a shot. "I put an ad in the paper, in the Home and Garden section, and it just happened to be good timing," she says. "I picked up about twenty customers just from that one ad, and that's pretty much how I got started."
At first, Jude mostly hired friends who needed work. After a while, she got a Bobcat to do more hardscaping work. When the Brazilians started moving here, she hired a few members of that community to work with her. "Now I've got a really good crew assembled," she says of her roughly 25 employees. Her operational manager, Andrew Kelly, has been with her for almost 30 years. She first met him when he was one of the kids who played basketball and hung out at the Boys and Girls Club, later he came to work for Jude after graduating from college with a degree in Landscape Contracting.
Currently, the company takes care of nearly a hundred properties all over the Island. Jude became committed to environmentally friendly and organic practices early on. "After several years of trying to use chemical fertilizers, I couldn't stand the chemicals," she says. When she went into full-time landscaping, she researched organic alternatives and soon put them into practice, later she became a Certified Landscape Professional with the National Organic Farmer's Association. "We're about 95% organic all around," Jude says. The gardens are 100% organic, and the lawns are environmentally friendly. Working Earth has begun using battery-powered robotic mowers for many of its lawns, in partnership with Greener Lawn Robotic Mowing (www.gogreener.us). The mowers are like lawn Roombas (autonomous robotic vacuum cleaners sold by iRobot), working quietly and as needed while being monitored remotely.
This reduces the use of gasoline-powered mowers as well as the need to drive trucks around the Island to get mowing crews to her various properties.
"My role has changed," Jude says. "I'm not in the field as much as before, but I do like to meet with the clients and check to see how things are going, the way I want them to. Once in a while, I like to take on a property myself and do the design work." The seasonality of any garden is important, she says. For year-round clients, having evergreen hedges for privacy can be important, but for a homeowner who is only in residence during July and August, she focuses on flowers and shrubs that peak in the summer months. Clients' needs and visions for their gardens change over time, too. During the pandemic, many of her clients came here and wanted to put in vegetable gardens, and to spend more time doing their own gardening.
Jude and I walked around a garden that Jude is working to transform from a formal style into a place that feels more like a beach house. She's starting near the house, with one of the side yards. "This is going to become more flowing, less manicured," Jude says. "We're going to change the trim of the hedges and add a vegetable and herb garden on the other side." Jude and her crew intend to replace some of the evergreens with more deciduous plants that will be at their peak when the new owners are in residence. The lawn there is mostly grass, but has quite a bit of clover in it, too. "What I like about clover in lawns is that it's a natural source of nitrogen, it's its own fertilizer, so it will keep the lawn greener," Jude says.
In other nearby gardens, she and her crew have built walkways and terraces, where they plant beds of lush flowers every summer, bringing out the most in each yard and garden. "It's always interesting to find out what works and what doesn't, and it's different in all parts of the Island." A plant that does well in Vineyard Haven won't necessarily thrive in Chilmark or on Chappaquiddick, but there are some stalwarts that she relies on. Hydrangeas thrive all over the Island, and come in many shapes and colors. They bloom in July and August, and the dried flowers have a beauty all their own into the fall months. Another favorite is the thread cypress, an evergreen shrub with interesting yellowy green thread-like needles that drape and create a backdrop or focal point on the property.
Jude works intuitively, walking the property and getting a feel of the land and its possibilities. She and her crew have the knowledge and experience to make the homeowners' garden visions a reality, while maintaining an environmentally friendly way of working."
To find out more, and to contact Working Earth for Landscape Design, Construction and Maintenance, visit:
workingearthmarthasvineyard.com
or call 508-627-7094.