CUISINE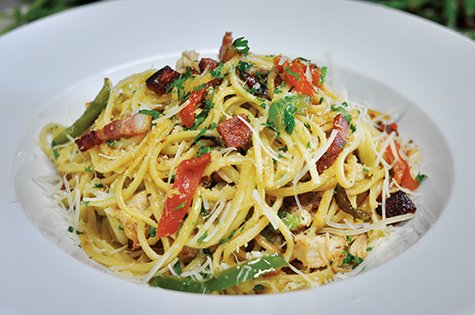 The New Kids in Town

Island Home Cooking at Its Finest in Winston's Kitchen
By Lisa Belcastro, Photography by Charlie Utz
We've all heard, "The way to a man's heart is through his stomach." For Lisa and Winston Christie, food brought them together and food keeps their lives full and interesting at Winston's Kitchen in Oak Bluffs. Located next to Our Market on the harbor in OB, Winston's has become the new year-round go-to take out location for hearty, delicious meals.
Last summer, my OB friends were always asking, "Have you been to Winston's yet? Let's meet for __________________ ." Whether it was breakfast, lunch, or dinner, Winston's quickly became the place to meet, pick up yummy food, and head to the beach or simply stroll to a harbor bench to sit, eat, and chat.
One of the perks of picking up food at Winston's is seeing the smiling faces of Winston and Lisa. The couple has created a kitchen restaurant that is a true reflection of their histories, their Island life, and their family. "We try to keep it as a family business," said Winston. "My dad was helping all last year, and my son Chris helps after school. In the summer, more family helps."
"We have been very fortunate that our families will help in any way possible. My sister Nicole will help on the counter or run errands. My brother-in-law Silvio helped with all the painting and construction to get us up and going. My mom helps when she's on the Island. And my dad pitched in by picking up restaurant equipment for us or taste testing the food. He loves our breakfast sandwiches," said Lisa.
Winston and Lisa found their ways separately to the Vineyard. Lisa, who grew up in Maine, followed her sister to the Island in 2004. Lisa started working in Island restaurants and settled into Vineyard life. In 2006, Mike Santoro offered her the manager position at the former Navigator. "I told Mike I had no managing experience," Lisa said. Lisa learned quickly and spent fifteen years working for Santoro at the Navigator, Seasons, Fishbones, and The Ocean View. "Mike taught me everything I know," Lisa said with deep appreciation.
Winston grew up in Jamaica and washed ashore on MV in 2007, a true "Island Boy," as he proclaimed.
Winston spent six years making the world's most delicious fudge at Murdick's Fudge. At the same time, he worked nights at Back Door Donuts making their famous apple fritters. The following year, Winston started at working for Jo Maxwell and David Joyce at Chesca's. He started as a
dishwasher, eventually becoming a line cook. He worked for Jo and David until they sold Chesca's in 2020.
"If you come from Jamaica, you better know how to cook, wash, and clean," said Winston. "Chris is an incredible engineer and was always able to come up with original solutions to any equipment problem. He also possessed brute strength. We often think of food and cooking skills as being the foundation of a restaurant kitchen. And they are. But being able to problem solve when equipment failures occur are a fact of restaurant life," said Jo Maxwell. "A new handle on the reach in fridge? Chris. Move a freezer to make room for a new one? Chris. Customize a lid for an ice bin at the bar? Chris." "As for cooking, Chris was extremely passionate, and he took pride in every dish. His work ethic was top notch. We loved his Jamaican food, which he cooked often for our nightly staff meal. Especially, his dumplings," said Jo.
Winston learned an immeasurable set of skills from Chef David at Chesca's, and while those skills equip him for the life he now leads, another restaurant brought him life's greatest treasure.
"I started at Fishbones in 2014," said Lisa, a twinkle in her eyes. "My first day on the job I met Winston."
Six years later, Winston and Lisa, happily married, decided to open their own restaurant. "This space wasn't on our radar," said Lisa. "A friend was looking at it and didn't take it. We met with the owner, told him our idea, and the next day he gave us the keys."
Winston and Lisa began renovations in the spring of 2020 on the space that used to be a tackle shop. A year later, in the summer of 2021, they opened Winston's Kitchen to rave reviews and a steady following. "The menu is a combination of Jamaican, Italian, comfort food," said Winston, who's personal favorite is any fried fish or a hearty fish stew.
Though the menu changes often, you will always find crowd favorites: Garlic Chicken, Thai Chili Salmon, Jerk Chicken, and the Breakfast Burrito. The Loaded Steak and Cheese is consistently on the lunch menu. "It's our most popular sandwich," said Winston.
"Lots of people come in for the Benbow's Coffee's Jamaican Me Crazy brand coffee," said Lisa. "The company is from Maine. I grew up on it."
On any given day, the Garlic Chicken or the Jerk Chicken could be vying for the top selling item. Winston has shared both recipes with Vineyard Style readers. The Garlic Chicken is super easy to make. For the best flavor, be sure "to marinate the chicken overnight. When you sear the chicken, heat the pan first on medium heat. Add just a touch of olive oil to the pan, then sear the chicken on each side. You want just a hint of color, but not golden brown," explained Winston.
Winston makes his Jerk Chicken mild for more people to enjoy. If someone asks for a spicier version, Winston will make a pepper sauce. When you make it at home, crispy skin and moist inside is the trick to master. Winston outlines one method of cooking in the recipe below. You could also try, "Marinating the chicken overnight. Then smoke it real hot on the grill to get the skin crispy, then remove from the grill and finish cooking the chicken in the oven."
Winston serves the Jerk Chicken with his Garlic Green Beans. You'll easily follow the recipe for a wonderful side dish. "They are delish!" said Lisa.
I have to agree with Lisa. I'm not sure what I enjoyed more, the Jerk Chicken or the Garlic Green Beans, but the two together are my favorite menu item to date.
Winston suggests serving with rice and beans, tastes best when you "use a curry powder that you like,"said Winston. "Add a lot of scallions and a lot of thyme and you can't lose."
"We want to be year-round and affordable to islanders," said Lisa. "We got a lot of local support last summer and during the off-season. We are smaller, so we will, and do, sell out of some menu items. We are so fortunate."
"My dream is to have a sit-down restaurant, a nice dining room, and to make it affordable," said Winston.
For now, you can follow Winston's Kitchen on Facebook and Instagram. Lisa posts the daily specials, including Winston's meatloaf and short ribs. "I try to have meatloaf as much as possible. It's really popular," said Winston, adding, "My short ribs are even better here than at Chesca's. I leave the ribs in the sauce overnight after I finish cooking them. Whenever we have them, we post on Facebook."
Winston's Kitchen is open seven days a week in the summer, closed Mondays during the off-season. Summer hours are 7 am to 9 pm. Off season hours are 8 am to 8 pm. You can order breakfast, lunch, dinner, and snacks at the counter or online.
Winston's also has a great selection of desserts. Winston makes the Key Lime Pie, which is so good you might as well order two slices because you'll wish you had.
Winston's Kitchen , 1 East Chop Drive, OB, Located next to Our Market overlooking the harbor (508) 687-9572,
winstonskitchenmv.com
Pasta Na Chappa
Ingredients:
1 Box Linguini
Linguica, diced
Chicken, cooked and sliced
Bacon (Thick Cut)
1 Small Green Pepper sliced
1 Diced Tomato
1 Sauted Onion
1/2 Cup Corn
Parmesan Cheese
Scallions
Butter
Method:
1. Cook Linguini and set aside
2. Heat large skillet, then add a tablespoon or so of butter, melt
3. Add diced Bacon, get brown
4. Add Linguicia
5. Add Chicken, Onions, Garlic, Pepper, and Tomato. Saute everything together
6. Add corn and scallions, stir everything together, then add 3 tablespoons butter
7. Add Linguini to sauce pan that has everything in it, stir together
8. Add Parmesan cheese
9. Stir, plate and serve