MADE ON ISLAND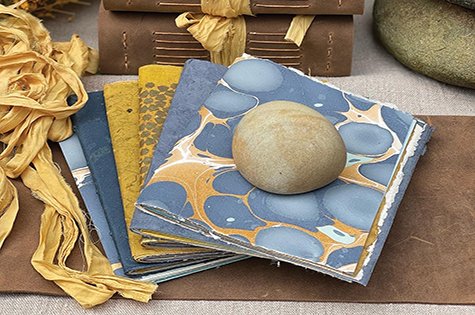 Like Setting the Finest Table for Your Muse

Cynthia Pareja's Exquisite Bound Books
By Lauren Clark
Hypatia Book Arts is a small bindery on Martha's Vineyard that specializes in creating unique, beautiful books by hand, using centuries-old techniques and exquisite earth-friendly materials from around the world that reflect generations of fine-artisan craftsmanship.

The bindery is founded and run by artist Cynthia Pareja who relishes in working with extraordinary papers, natural, rustic leathers, luscious hand-dyed silks and linens, and book-binding techniques, some of which date back to ancient Egypt.

When stepping into the Hypatia Book Arts booth at the artisan festival, you'll find that every piece is carefully crafted and designed with a beauty that inspires, made to elevate your work and allow your creativity to flow. Cynthia's passion for what she does is found in every detail, from the high-quality papers to the hand-dyed silks, and most importantly, her love for helping each individual find the perfect book for their needs.

Cynthia explains, "It is this interaction and our shared human experiences that lie at the heart of what I do, in tandem with awe and reverence for the book form as an instrument of unfettered exchanges of knowledge, sacred words, innermost thoughts, and expressions of beauty that nourish our souls."

Since the birth of Hypatia Book Arts on the Vineyard in the Spring of 2021, hundreds of books have found their way into the hands of writers, musicians, photographers, poets, interior designers, travelers, newlyweds, new parents, memory-keepers, and simply anyone with something to say or save. Hearing everyone's story as they explain why they are investing in a Hypatia Book truly makes Cynthia's heart sing.

Sometimes she hears, "These books are too beautiful to write in!" Her reply? "Just the contrary! Their rustic beauty is perfectly imperfect, just like each of us!