ON ISLAND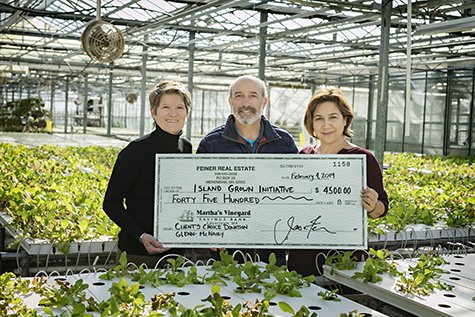 The Client's Choice

The Most Socially Responsible Real-Estate Agency on the Island
By Olivia Cameron
Jim Feiner, principal broker of Feiner Real Estate, wants to have the most socially responsible real estate agency on Martha's Vineyard, rethinking his relationship to money and community investment, while hopefully inspiring others to do the same. When he started Client's Choice in 2015, Feiner put his money where his mouth is. The Client's Choice program donates 10% of the agency's profits for each sale to the non-profit of their client's choice, with no expense to the client. "As a small company we want to do the best we can to be different, unique and impactful." Feiner says.
He was steeped in community from an early age, moving to the island full time when his parents bought the Beach Plum Inn from his grandparents, who bought the property in 1944. "My parents liked to travel, liked food, liked to have adventures; it was a great way to grow up," says Feiner. "They were always trying to help people with housing or other situations. I got a good moral compass from them."
Feiner majored in marketing, hoping to go into advertising. When the market crashed he brought his creativity and love of people to real estate instead, moving back to the Vineyard in 1990 to work with his mom, who started Feiner Real Estate in 1979.
Over the years, Feiner has tried to give back to the community in a variety of ways, including serving 15 years on the Community Services Possible Dreams Auction Committee, 5 years on the Chilmark Conservation Commission, and 21 years on the Chilmark Housing Committee where he is the currently chairman.
As the housing market skyrocketed in recent years, pricing out families who can't afford housing or the high cost of living, Feiner felt the increased importance of supporting the community and ensuring accessibility for everyone. He put his out of the box thinking to use to try to make a difference. "I felt like I wanted to find a way of giving back that would also be tied to my business, a way of being transparent about what we're doing."
When someone buys a home, they are also buying into a community. Feiner hopes his program will help sustain that community and also connect his clients to the place they are now part of, forging connections. "Someone who is moving here who maybe doesn't know the Vineyard well doesn't know who we have for non-profits," says Feiner. "A lot of people are very philanthropic but the question is more, do they like the org, do they know about it, how much do they donate here." Clients are always excited when they learn they get to choose a non-profit, and sometimes become more intimately involved. There are more than 200 non-profits on the Island, which rely on subsidy or are entirely dependent on individual generosity.
One initial difficulty was telling his agents that this was the way they were going to do business moving forward and getting them used to it. The agent who sells a property can use it for marketing, and can feel good about the role they play in donation. Feiner had a three-and-a-half-foot check made that agents and sometimes clients pose with when they present the money, adding to the excitement of giving. "For us to be able to do this we have to have sort of a different relationship with money; every dollar doesn't have to be important. My wife and I used to write checks to different small charities, and that was worthwhile," says Feiner.
"But now I'm writing checks for 5,000 to 20,000 dollars and it's much more impactful." The first check was almost $5,000 to the Island Housing Trust. Last year they sold a couple of significant properties, leading to larger checks, totaling about $76,000 in donations. In an ideal world, Feiner hopes other agencies and brokers will follow their lead in ensuring non-profits have the funds they need. "We did pretty well last year. But other people do better than we do, other people could do bigger and better things if they chose."
Feiner hoped non-profits would use them as a tool for raising money, but many considered recommending them as a conflict of interest. Feiner plans to unroll a new referral program, Refer to Give, which brings a similar model to the national level but isn't specifically agency focused. They would find and vet brokers for buying and selling anywhere in the country, with 50% of the referral fee going to charity.
"Because we're supporting the community, the success of the program is almost kind of a permaculture situation; if we're doing well, we're supporting the community. Obviously, I need people to want to work with me. It needs to be more than just luck, we need to market what we do and hope that people share our vision and goals," says Feiner. "We're hoping to give half a million dollars away by 2025, we're near $330,000 total. As long as the market and the community support us, we'll keep trying to make a difference."
To learn more about the Clients Choice Program, contact Jim at:
jimfeiner@gmail.com