HOME PORTRAIT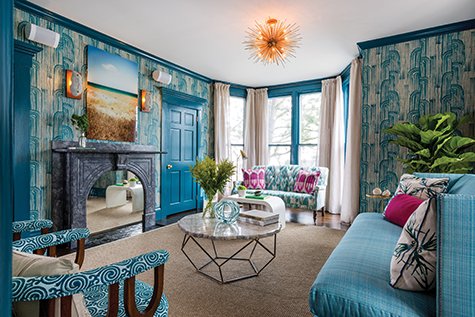 The Edgartown Collection

Four Unique Faces of Local Luxury
By Tessa Permar, Photography by Read McKendree
The Christopher, the Sydney, the Richard, and the Edgartown Inn offer four different routes to luxury, ease, and delight. Embedded in downtown Edgartown, minutes away from restaurants, shops, and scenic Edgartown harbor, the hotels are the brainchildren of Boston-based real estate developers Ann and Charles Hajjar. In a 2019 interview with real estate reporter Derek Z, Ann Hajjar shared, "As my children got older, I really wanted to put my name on something, to show them that I can build something for their future." She began with the Christopher on South Water Street which opened in 2015. The Sydney opened on Winter Street that same year and was expanded in 2018 to include "the Captain's House."
In 2018, the Hajjars opened the Richard on Main Street. And finally in 2020, they added the Edgartown Inn on North Water Street to what is now known as The Edgartown Collection.
All four businesses are managed by Lark Hotels, whose brand and management style perfectly capture the effortless elegance of The Edgartown Collection. According to the group's website, "each Lark Hotel invites guests to experience modern luxury in the heart of an iconic destination, to feel the pull of a nostalgic getaway while surrounded by today's amenities, and to find attentive service when they want it and privacy when they don't." The four hotels in The Edgartown Collection reflect this ethos flawlessly. They offer custom-designed rooms with plush mattresses, blackout shades for leisurely mornings, waffle kimono robes, synthetic-fragrance-free bath products by Lather, as well as high speed internet and flat screen TVs. "They all have fabulous, intimate patios with fire pits where you don't feel like you are downtown Edgartown anymore," says Allison Wilson, Area General Manager of The Edgartown Collection. "You can be sitting at the fire pit in the courtyard and feel so away from everything, then just walk a few steps and you're downtown."
Each hotel brings its own flair from the vivid decor to the thoughtfully designed "small plates breakfast." Wilson explains: "We offer items like fresh fruit and orange juice, rich roasted local coffee, overnight oats, homemade sweet and savory pastries, all created with love and all included in your stay. The breakfast can differ based on property, as we try to create the story of the property. Where there might be a guava smoothie at The Christopher (with a St. Barths meets MV design), that same morning at The Edgartown Inn might be a spinach, mango pineapple smoothie (think Farm to table). We might serve a local eggs quiche at The Richard (inspired by royalty), and at the Sydney fresh blueberry muffins topped with sugar that looks like sea salt (a modern beach house vibe)."
In describing the bespoke breakfast dishes, Wilson also highlights out one of the most striking aspects of this collection of hotels: their unique and evocative designs. All of the buildings began as historic Edgartown properties. Ann few steps and you're downtown." Ann Hajjar told Derek Z, "With these historic hotels, you can't beat the details. We try to maintain things like the woodwork, the original banisters, and stair cases, while freshening things up with new rugs, new wallpaper, fresh coats of paint, and some really comfortable, beautiful, bright furniture." It is in these incredible design transformations that the hotels shine.
Take Hajjar's first Vineyard hotel, The Christopher. Formerly, and aptly called, The Victorian Inn, the Christopher is now a French Caribbean oasis in the middle of New England. A 2018 press release captured it this way: "Designed by Annsley McAleer of Boston's Annsley Interiors, cool blues, purples, and pops of coral mix with batik prints, rattan furnishings, African baskets and locally made pottery, and photography for a breezy, tropical feel that is distinctly New England." So distinct and lush are Annsley's designs for The Christopher that the hotel has been featured in numerous blogs, one solely dedicated to the color teal (a color displayed in many shades and patterns at The Christopher). Designer Annsley recalls, "The design process at The Christopher was a lot of fun. Given the theme of St. Barths meets Martha's Vineyard we went with a colorful, organic, made by hand vibe. We particularly loved working with Vineyard vendors like Chilmark Pottery and Dunes and Duchess to give the inn a sense of the place where it is located."
That same year, the Hajjars opened The Sydney, another Victorian property. However this one designed with a modern beach house feel. The owners consider The Sydney hotel to be a "small jewel on a wide isle." One of the central establishments just off North Water Street, The Sydney also houses fine-dining restaurant L'Etoile. L'Etiole offers seasonally-inspired French cuisine featuring local produce, herbs, shellfish, as well as other meats and fresh ingredients. Guests have the option to dine under the restaurant's scenic tent, inside The Sydney's elegant dining room, or at the sophisticated Bar L'Etoile and Lounge.
According to the opening press release, "After months of a full-scale renovation, The Sydney (formerly known as The Fallon), built in 1892, features eight guest rooms designed by award-winning Robin's Nest Interiors of Hingham, MA. Each accommodation offers a blend of bold fabrics, modern furnishings and eclectic accents. In keeping with the island's sailing heritage and beach culture, design touches feature classic hues of blues and turquoise, fused with the crisp jewel tones of orange, apple green and pink." While the interior colors feel contemporary, the overall effect of The Sydney is one that reflects the building's original splendor.
The building dates back to 1892. Captain Charles W. Fisher was a renowned whaler of his day. He married Parnell Pease who accompanied him on a whaling trip that lasted five long years. After returning, Pease wanted to establish her home on land. Captain Fisher used the funds he'd raised from the sales of whale blubber and oil to build what was then a modern Victorian home. When it came to preserving the historic Captain's House, the Hajjars looked to local master of both new builds and renovations, Architect Patrick Ahearn. The Ahearn Architect team shares, "Patrick Ahearn, who has worked on more than 250 residences in Edgartown Village alone, considers the work done for the Hajjars at The Sydney to be a critical element of the revitalization of the Village core. At The Sydney, Patrick added a new and historically motivated structure with direct connection to Winter Street on land that was previously an empty parking lot. As part of the project, clear dialogue and connection with Main Street was established along with new brick sidewalks to encourage pedestrian access and friendly interaction among Vineyard residents and visitors. In addition, inside the original Sydney structure, Patrick made modifications to establish a new entrance and flow within the restaurant and to add new retail opportunities along the street. Ultimately, this led to a far more animated streetscape anchored by the inn with its open-air courtyard."
In July of 2018, as The Sydney expanded, the Hajjar's opened The Richard on Main Street. Originally a 19th century Greek Revival home, the Hajjar's enlisted Rachel Reider of Rachel Reider Interiors to design a regal experience. Reider writes, "The Richard - a name long associated with royalty - was conceived as a retreat fit for a king, which was accomplished through a layered design that juxtaposes a masculine, edgy vibe with soft, organic forms. Strong sculptural furniture selections play off black and white fabrics and wall coverings for a bold visual contrast, while brass metal finishes and pops of deep purple add the right amount of regal flair." She continues, "While not overtly coastal, we incorporated materials such as seagrass rugs, sheer woven drapery, rattan lighting, and bleached wood to subtly remind guests of the Vineyard connection. The result is a royal escape with crisp, modern edge." The Richard offers standard king and queen accommodations as well as a signature "Lark Suite," with it's own modern design and space for couples or a family.
The most recent property added to the collection is the historic Edgartown Inn. After welcoming visitors for more than 45 years, it reopened under Hajjar ownership and Lark management in July of 2020 with renovations echoing a coastal farmhouse aesthetic. Rachel Reider returned to Edgartown to create designs that celebrated the abundant gardens and farms of Martha's Vineyard. Organic and airy colors paired with materials like wood, rope, and linen evoke the serenity of the Island's natural spaces. Reider also wanted to use the space to celebrate local artists. Each of the twelve guest rooms feature photographs by Alison Shaw and artist MC painted an island-themed mural in the entryway of the Inn. Lark Hotels President and Founder Rob Blood says, "We like to think beyond the obvious when it comes to tying a hotel experience into a destination, and paying homage to the Vineyard's many farmers does just that. For a small, 12-room hotel, The Edgartown Inn packs a lot of personality and points of interest without taking away from its light and tranquil feel."
Each hotel in The Edgartown Collection goes beyond the obvious, not just in their luxurious amenities, with secluded fire-pits and tailored breakfasts, but in their artful and often playful styles.
To find out more about The Edgartown Collection of Boutique Hotels visit:
theedgartowncollection.com
or book a visit May through October.