COMMUNITY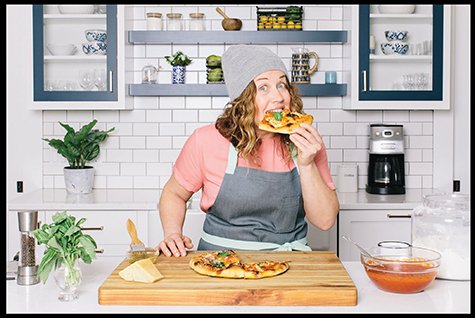 Check Out What's Cookn' at The Farm Institute
By Amelia Smith
At the Farm Institute in Katama, livestock graze and vegetables grow, and a journey through the kitchen transforms those things into delicious meals. In 2018 to 2019, the Trustees of Reservations built a teaching kitchen that completes the farm-to-table process right at the farm. Here, Jenny DeVivo and other chefs teach kids and adults to cook with a focus on fresh, local foods.
Jenny DeVivo is passionate about food. As head cook at the West Tisbury School, she incorporates local produce into meals that defy the stereotype of school lunch. At the Farm Institute, she teaches students to follow recipes but also to use their imaginations. "We forage in the garden for seasonal ingredients and create dishes that can easily translate into the home kitchen," Jenny says. Connecting to the local food system, to farmers and fishermen, is a key part of these lessons.
"It's a great space and a great teaching kitchen," she says of the Farm Institute. After a cooking class, Jenny and her students sit down to digest the meal together, not just literally, but also by talking about it. There's a lot to learn about cooking, but also a lot to enjoy. "At present we're in a bit of a food crisis because we're having a lot of trouble getting normal staples like chicken and meat," Jenny says. "What we're teaching is flexibility in the kitchen, and ingredients that can complement what you already have." Those are practical concerns, but cooking is also about bringing back the magic of sharing time together.
Jenny has taught classes on making pizza from scratch, chili, stews, pastas, and soups at The Farm Institute and elsewhere. The Farm Institute also offers other cooking classes, including focaccia by The Vineyard Baker, Teri Culletto, sausage making with Tyler Potter of The Swimming Pig, and a new monthly offering, Pasta Club with Chef Katie Leaird.
An up-to-date schedule of The Farm Institute's classes and events can be found at
thetrustees.org/place/farm-institute-the
For more about Jenny DeVivo,
www.jennydevivo.com