HOME PORTRAIT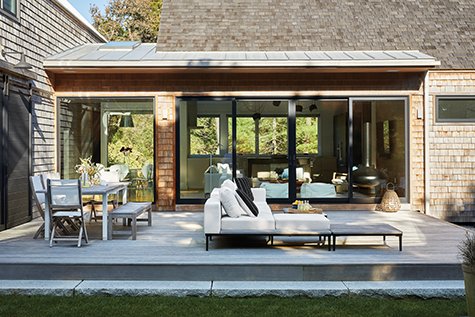 Personal Property

The Ambitious Home an Architect Builds for Himself
By Kara Goldfarb, Photography by Sean Litchfield
Prominent Architect and Cofounder of LDa Architecture & Interiors, Treff LaFleche Designed His Own Home in Katama. His Ambitions, Personal Beliefs and Ideas are Embodied in the Form and Context.
It started with a fire. In 2017, the year after Treff LaFleche and his wife Jody had bought the little cottage in Katama, the damage from an electrical fire was bad enough to make them say: let's knock it down and build something new. "Once we had the chance to start fresh it enabled us to really think, well what kind of house would we like to have on the Vineyard?" LaFleche says.
The result: A stunning vacation home that combines traditional Vineyard staples like cedar shingling and naturally weathering red cedar trim with modern influences like the introduction of contemporary materials such as metal and glass.
As an Architect, LaFleche has spent a lot of time thinking about the structure and design of houses. But, in contrast to building someone else's house, there's a special freedom in decision-making that comes with building your own house. "Being more playful with your own home is easier because you only have yourself and your family to convince," he says.
The property happens to be a corner lot–meaning lots of visibility from the outside. So one of those "playful" decisions was to incorporate a lot of glass into the house's exterior. "When people are traveling down one road or the other road and they look into the house they can see us and we can see them," LaFleche says. It's an openness that entails interactions like, "people walking by with their dog or riding by on bikes to the beach, you can say hello, wave hello, welcome them in, stop off for a while, have a drink. That kind of attitude." The decision to have seemingly little privacy was made before Covid 19 hit, but in light of the pandemic, human interaction is a hot commodity. As it turns out, much of LaFleche's vision for the house–the fluidness of open spaces, the necessity of tranquil escape areas, the ability for certain rooms to be flexible and multi-functioning–seemed to foreshadow how many people are thinking about their homes now, post-pandemic world.
A little back story: LaFleche founded LDa in 1992. Though the firm is based in Cambridge and Osterville, he's been coming to the Vineyard since the 1980s. When he and his wife discovered they each had a deep appreciation for the Island, they decided to get married on South Beach and look for a home on the place they both loved. A second marriage for both of them, the couple has five kids between them ranging in age between 19 and 34.
Planning the new house meant thinking smartly about the space in a way that allowed everyone to spread out and feel like they had a place for me-time if they needed it. LaFleche also wanted to ensure that the design was harmonious with a carefree frame of mind. "Vacation houses, in my opinion, really want to have a feeling of simplicity to them. Because when you go there, you go to escape right?" says LaFleche. "So I think part of the flair of the house," he adds, "is that it's meant to be seen as a restrained yet elegant, light-filled series of rooms that enable you not to worry about taking care of it and enjoy the fact that you're there."
At the same time, he couldn't entirely neglect the need for practical spaces–an office, an area to work out, room for visitors to sleep. To establish these two dichotomies, the architect set a (somewhat playful) goal for himself:
The creation of two forms in the home representing the house and the hotel pieces in Monopoly. The left–which contains the basic living spaces and the bedrooms all on one floor–is reminiscent of the proportion and scale of the green building (the "house") in Monopoly. While the right–which contains the mudroom, the multifunctional wellness room, an office, and the loft for guests–is reminiscent of the scale of the red "hotel" building. Then there's a double height entry area and the staircase. "So there's that very simple kind of house and hotel division, joined together by the low roof that creates the feeling of a little compound," LaFleche explains.
It sounds paradoxical, but the simplicity of the structure allows for various intricacies within. The use of unexpected materials, for instance. In the living room, the tan floor extends and runs up one of the walls, which are otherwise white. Then, across from the living room's white and tan color scheme, black is introduced as an accent on the wall in the dining space. Upon closer inspection, you'll find the black is a burnt wood, with a unique and beautiful texture. A Japanese methodology called Shou Sugi Ban, burning the wood preserves its surface so that it's not as susceptible to weather and aging. That burnt wood turns outside and frames the front door as well. A third unexpected layer is the staircase railing. Maintaining that balance between classic Vineyard house and contemporary elements, LaFleche opted for a glass railing, instead of a traditional handrail or balusters.
Environmentally speaking, LaFleche took steps to make sure the house was energy efficient. This included using rigid exterior insulation to keep the house well insulated, and opting for all electric so that the production of heat or air conditioning doesn't use any fossil fuels. This coming year, when he puts solar panels on the back side, he hopes it will be able to generate enough power to make the house a net-zero energy house: the amount of energy produced equals the amount of energy consumed.
The fireplace in the main room has that same unexpected characteristic as other elements of the house, while simultaneously maintaining low energy use. LaFleche says, "You want the kind of the charm and beauty of the flame in the fireplace without the inefficiency of an old-fashioned chimney that has to be vented to the outside." hanging from the ceiling, the fireplace is a steel structure that burns highly efficient bioethanol. So it heats up the steel, which radiates energy into the room, but it's 99.2% efficient and it doesn't generate any noxious fumes.
If it seems like creative and meticulous thought went into every detail of the house, that's likely because it did. The garage, with barn doors on one side and finished with naturally weathered cedar, isn't just a place to store bikes and kayaks; it's "the party barn garage"–equipped to transform into a family space where people can hang out, playing ping-pong and listening to music on a rainy day. The bonus room isn't just an extra area; it's a wellness space that allows people to escape to an upper level and read, do yoga, play cards, have a one-on-one conversation, or just be away from the action when needed.
LaFleche reflects thoughtfully on his builder Dave Brodsky of Brodsky Woodworking. "Dave has a particular appreciation of design and craft, having studied Design at RISD. He has an excellent ability to collaborate and achieve the design with a superior level of craftsmanship," he says.
These days, it's not just LaFleche who is thinking deeply about how his space is utilized. There's "no question that the pandemic has motivated all of us to think about where we dwell and how we dwell," he says. Without that rhythm of coming and going throughout the day, most people found themselves reevaluating the structure of their homes and asking whether they provide the needed balance between working and living and being in a family but also being an individual. As LaFleche phrases it, " I think we're realizing that, in the final analysis, the place that we wake up to each day and the place we go to bed each night– these places really have to have some flexibility about them." From those loosely defined bonus rooms to managing the transmission of sounds, to the way light and air and views are being used…it's clear that LaFleche's something risky or unconventional, others might ask why they should take a particular risk.
Designing his house was not only a chance to explore things, but potentially a way to convince a client of a bold idea that's harder to explain than see compositionally. Or a way to answer questions like, "How do I feel restored each and every day when I never leave my space?" Since designers and architects have the interest, background, and experience, they are being heard in more ways than ever before. "Now the innovative ideas don't seem quite so crazy," LaFleche says with a laugh.
Looking at both LDa's and LaFleche's goals for his Vineyard house, balance is a consistent theme. The Katama house strikes a balance between something that feels authentic to the neighborhood with a clear, contemporary interpretation. With a client dealing with a site that already has a structure on it, discussions often focus on the balance between cost and timing and preservation and sustainability.
And across the board, taking everything like light and proportions and finishes into account in order to be able to evoke a certain mentality in one area versus a different mentality in another area of the same space. It's certainly something LaFleche put emphasis on in his personal project. Now, "everybody's talking about how they dwell," he says. Across the board, people are sharing and posting and blogging about how they manage their space. "Everybody's fascinated by this."
The amount of attention being paid to these concepts makes it an exciting time to be an architect. LaFleche can ruminate on the possibilities in the office space of his new home. Of course when he wants to get out of that mindset and simply relax, or clear his head, or spend time with his family… well, the wellness room or party garage are just a few steps away.
To find out more about LDa Architecture & Interiors call or click:
www.lda-architects.com
,
info@lda-architects.com
, (617) 621-1455 or (508) 348-5272