CUISINE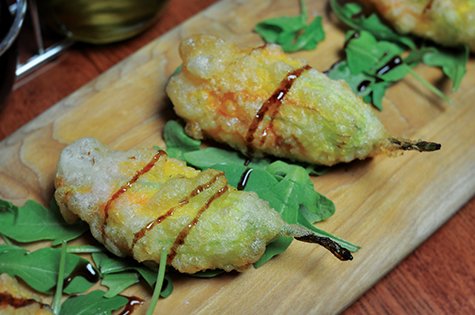 The Island's Perfect Taste of Italy

At Salvatore's Ristorante Italiano on Union Street in Vineyard Haven
By Lisa Belcastro, Photography by Charlie Utz
How can a relaxing summer stroll along the water lead to one of the best dinners I had all summer? Simple, a friend and I detoured up Union Street in Vineyard Haven, stopped at Salvatore's and asked if they had a table available. Though we didn't have a reservation, and the place was busy, one high top was waiting outside for us. Can I just say that The Fates smiled upon us?
Salvatore's, named after chef Salvatore Della Torre, is new to the Vineyard's restaurant scene. Conceived and created by three friends – Salvatore, Dusan Veselinovic, and Nikola Stalovic – the Italian ristorante is a welcome addition to the Island, and especially Vineyard Haven.
Salvatore, Dusan, and Nikola spent months renovating the building and preparing to open in the spring of 2020. "We had a vision. We desired to do something, but we had no money. Everything we could build by hand, we did," said Dusan.
When COVID closed everything down, Salvatore's opening was delayed. By early summer they were offering take out and finally were able to serve guests indoors and on their sidewalk patio. Though the restaurant gained some fans last year, it's safe to say that 2021 was Salvatore's premiere season.
I can't tell you how glad I am we went for a walk that summer night and decided to eat out and were blessed to be given the last open table at Salvatore's. I've been back many times since, usually ordering a Limoncello martini as my friends and I peruse the menu and decide what delicious meal we're in the mood for.
On my first night there, we started with the Insalata Tricolore and the Prosciutto Mozzarella. Both were flavorful, and we eagerly awaited our main courses while we munched on fresh bread, dipping each bite into olive oil.
My friend had no trouble deciding what he wanted: Parmigiana Eggplant. As I sat there with too many great choices, I finally ran through "Eeny, Meeny, Miny, Moe," and landed on the Pappardelle al Filleto di Manzo. I was thrilled.
I'm a huge fan of eggplant. I grow six varieties and bake many eggplant Parmesans from July through November and freeze some to enjoy throughout the winter. I share that so you'll understand when I say, if you like, or love, eggplant Parmesan, go to Salvatore's! It's fabulous! Salvatore's eggplant is so darn delicious one friend orders it every time he is there. I begged for the recipe, and Salvatore happily shared it with us.
There are a couple of secrets to Salvatore's eggplant Parmesan. First, he bakes the eggplant with only a spritz of olive oil on it instead of breading and frying each slice. The second secret – his tomato sauce. "I make the sauce fresh. No herbs, no onions, no garlic. Just tomatoes. You want to taste the tomatoes," said Sal, adding, "Remove the seeds from the tomatoes to take the acid out."
While the Parmigiana Eggplant is some people's favorite, the Tagliatelle Salvatore is my top choice. The fresh pasta, the yummy seafood, and the delicious lemon sauce are the perfect taste sensation. This dish is so easy and so satisfying it is no wonder that Salvatore says, "Prepare this for your
wife. Happy wife, happy life."
The pasta is made fresh in house, but you can purchase fresh pasta if you don't have time to make homemade pasta. You can follow Salvatore's simple instructions with the recipe below just be sure you heed this bit of advice, "Do not add salt to the seafood. Make the water very salty to cook the pasta. Only salt in the water."
I so wish I could tell you that I saved room for dessert on that first night, but I foolishly passed on the tiramisu. I have not made that mistake again. Last weekend, though too full after dinner for dessert, my mom and I took a serving of the tiramisu home. Now, I'm so happy Chef Salvatore has given VINEYARD STYLE readers his tiramisu recipe. You can guess what I'll be making for the holidays!
I had always made tiramisu with rum. Salvatore thought I was nuts. He said from now I am to use Disaronno almond liquor. Since I'm a huge fan of his tiramisu, I'll definitely switch to Disaronno. The one caution he advised, "Dip the ladyfingers in the espresso very fast. You don't want them to fall apart."
Salvatore has also given VINEYARD STYLE readers two great appetizers: Beef Carpaccio and Squash Blossoms. The beef carpaccio is super easy to make and, as Chef Salvatore said, "It's very good for a starter. It's light."
While the carpaccio is easy to make, Salvatore did stress that we should buy the freshest, best cut of filet mignon that we could. "Buy very good quality meat. No fat, very red," he said, then added, "Fresh, fresh, fresh."
I've enjoyed the squash blossoms on more than one visit. I don't normally enjoy battered food, but the blossoms are so lightly battered that all you taste is the yummy cheese mixture. Salvatore noted that the tempura should be "very cold so it fries quick and crispy." He also showed me his technique of dipping the stuffed blossom quickly into the tempura, then dipping it into the cooking oil before dropping it fully in the fryer.
The squash blossom recipe came from Salvatore's grandmother's café in Positano on Italy's Amalfi Coast. "As a boy, I would follow her around and ask, 'What is this? What is that?"
All those questions led Salvatore to two years of cooking school in Italy and then another two years of education in Lyons, France. He spent eighteen years total in France, meeting his American wife in Paris, and eventually moving to America. His wife had grown up in Maryland but loved the Vineyard. So, in 2005, they moved sous chef at the Sweet Life Café in Oak Bluffs and went on to cook at Bittersweet, Atria, the Harborview, Garde East, and La Soffitta.
Salvatore and Dusan met at La Soffitta. "We shared the same philosophy around Italian food," said Dusan, who came to the States in 2016. Dusan, originally from Serbia, worked for seven years on a cruise ship before settling in Miami. He met his wife in Miami. "She went to the same high school in Serbia as my sister. I had to come to America to meet my wife," joked Dusan, who now has a fourteen-month-old daughter named Lenka.
Nikola, who is also from Serbia, is one of Dusan's best friends and Dusan introduced him to Salvatore. Nikola first came to the Island in 2014 for a week with a friend. He loved it and moved back here in 2016. He then met his wife, who is also from Serbia, on Island. They now have a twenty-month-old daughter named Mila.
"This is a family business. We have three families here," said Salvatore, who's been married for twenty-one years.
In keeping with the idea of family, Nikola mentioned that they are trying to connect with more Island farmers. "Farm-to-table is our goal, connecting with local farms and families to source as much as we can, as well as being able to give back to Island Elderly Housing, Island Food Pantry, and many more," said Nikola, adding, "We loved working with the MV Sharks all season, providing the guys with traditional meals of Italy to inspire them to play better. Go Sharks!"
As with many Island businesses, Salvatore's hopes the staffing shortage will be resolved by next summer. The three partners plan to offer lunch and dinner in 2022. "We're still looking for cooks," noted Sal.
Salvatore's is open year-round. In winter, they serve dinner five nights a week from five to nine. They are closed on Tuesday and Wednesday.
Reservations are recommended. Let me know what your favorite item on the menu is. As I typed that last sentence, my neighbor called and asked if I wanted to go to Salvatore's tonight for dinner. Perfect timing - LOL! Without hesitation I said, "yes," so we might see you there.
20 Union Street in Vineyard Haven
Reservations recommended: (508) 687-9457,
salvatoresristorante.com
Stuffed Baby Squash Blossoms
Ingredients:
Tempura Batter
1 Cup Flour
Pinch of Sea Salt
12 ounces
San Pellegrino
Squash Blossoms
4 Squash Blossoms
½ Cup Ricotta Cheese
¼ Cup Parmigiana
Reggiano
Touch of Lemon Zest
Extra Virgin Olive Oil
Balsamic Glaze
Handful of Mixed Greens
Sea Salt + Pepper
Method:
1. Whisk tempura ingredients until thoroughly mixed.
2. Keep the tempura mixture very cold until ready to use.
3. In a separate bowl, mix ricotta and Parmigiana Reggiano together.
4. Mix in a pinch of lemon zest, sea salt and pepper.
5. Gently stuff blossoms with cheese mixture, 2-3 tbsp. per blossom.
6. Heat olive oil in a fryer or pot.
7. Dip blossoms into tempura mixture, then dip into oil slowly, and then drop into the oil.
8. Cook blossoms for 3 to 4 minutes until lightly golden brown.
9. Arrange greens on a plate, then place blossoms on greens.
10. Drizzle blossoms with balsamic glaze.