MADE ON ISLAND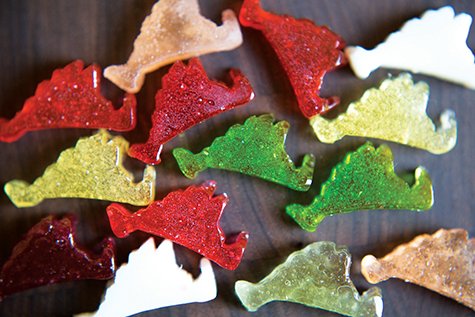 Vineyard Confections

Bringing Sophistication to Sweets
By Tessa Permar, Photos by Kelley DeBettencourt & Paula Karol
Like champagne popped on the tongue, the flavors of Vineyard Confections boutique candy shop surprise and delight. Paula Karol's new business features tart and herbaceous lollipops, rich caramels, classic brittle, and even dog treats. Karol may be a master of presentation with eye-catching colors and elegant sugar shapes, but it's her unique flavors that make her confections truly special.
After dreaming of living on the Vineyard since high school, Karol found her island home in 2010. Nine years later, she traveled to Madrid, her birth-city, and discovered an old candy shop that sold violet sweets. These candies held for Karol, not only the old world magic of Madrid, but also the spark of an idea. A nurse practitioner in dermatology by profession, Karol began experimenting with techniques, design, and flavors in her spare time. In 2020, the self-taught candy maker opened her business.
Vineyard Confections offers classics year-round including Karol's own violet candy, sea-salt caramels, Vineyard lollipops, and nut brittle. With seasonal treats, she lets her creativity and flavors fly. "I try to find things that are either classic or old-fashioned flavors, or just very unique," Karol says of her lollipops. "I do a delicious pineapple cardamom. I've done strawberry basil. On Mother's Day I experimented with floral flavors: hibiscus, rose, and coconut lemongrass." For a special order on Cinco de Mayo, she made margarita and chocolate-dipped-churro lollipops, chili mango candy, and spiced dulce de Leche caramels. Her latest creation, Becca brittle, combines decadent macadamia nuts, mango, and shaved coconut.
If you tend to avoid the cloying sweetness of brandname candy, Vineyard Confections' are in a whole different category. With punchy, complex flavors, they are sweet enough to be an afternoon indulgence, yet sophisticated enough to complement a lavish event. And there's something for doggies as well.
Inspired by her own taste-testers Sushi and Valerie, Karol researched healthy ingredients for dogs. "I like to treat them often and without having them gain weight. I use fresh root vegetables like pumpkin, carrots, butternut squash, acorn squash, and beets."
Vineyard Confections are available at Martha's Vineyard Made and at the Katama General Store in the summer. You can order for work, weddings, or other special occasions at VineyardConfections.com. Look out for the tart cranberry pop around holiday season. Christmas will bring lollipops in sugar plum and spiced orange, a variety of caramels, and Karol's hand-pulled peppermint sticks.
For more information, to contact and order any of Paula's creations visit her website:
vineyardconfections.com