ON ISLAND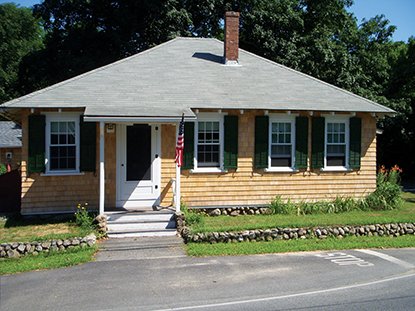 The Resource, Incorporated

A Non-Profit Community Development Corporation Since 1994
By Amelia Smith
For many Islanders, finding affordable housing is a challenge. Even staying in a home can be difficult when the cost of renovations and maintenance increases, and incomes remain relatively low. The Resource, for Community and Economic Development, Inc., or TRI, is a non-profit community development corporation that was founded in 1994. It works in south-eastern and western Massachusetts as well as on Martha's Vineyard. Here, TRI helps lower-income Islanders with rehabilitation and maintenance of their homes, so that they can stay on the Island and remain part of the community here.
Melissa Vincent grew up in Edgartown and started working for TRI in 2009 as the administrative assistant to a project manager. She is now the Executive Director of TRI and works on housing rehabilitation here and in western Massachusetts. Melissa is passionate about her work, and about housing on the Island. She has served on the Edgartown affordable housing committee and on the Dukes County Regional Housing Committee, and her husband is on the board of Houses of Grace, which works towards sheltering the Island's homeless population. Melissa grew up here, left for college, came back, and left again. After some years working in the fashion industry in Texas, she came home for good in 1992.
Melissa works with income-qualified homeowners on the Island to get them the support they need, logistically and financially, to maintain their homes. TRI is funded through community development block grants to the towns. The towns apply for grants from the state of Massachusetts, and Oak Bluffs and Edgartown make those funds available through TRI to Islanders whose income is less than 80% of the area median.
"It's a first come first served program except for emergencies, like no heat, water intrusion, or failed septic," Melissa says. She worries about people who wait too long to apply, perhaps because they think that someone else might need the help more. "If they wait too long, the problems get worse," she says, "and once you apply it can take several years." TRI helps maintain the funding for these projects by collecting information that the town's grant writers can use to demonstrate the need here.
"We get phone calls for everything from needing a ramp to 'a tree has gone through my roof.' We never like to turn anybody away," Melissa says. Five years ago, TRI created the PALS program, Preserving Affordability Loan Support, because some applicants were just above the income limits of their main programs. PALS allows residents with up to 99% of the county's median income to apply for funds through their town's Community Preservation Committee. "This is so that people can live affordably in their homes," Melissa says. "We don't want people to feel like they have to sell because they can't afford to maintain their property. If people leave, then we lose the fabric of our community."
TRI works with a range of people, from young people who have gotten a deal on a property with problems to older people living on a fixed income who have been in their homes for decades. "I get far more out of this than my clients do," Melissa says. "I get to go home every single night knowing that I've made a difference, sometimes to people who maybe have never gotten help before, or who don't think they deserve it, and are living in conditions that no one should have to live in."
"We had a young family who lived off one of the main streets," she says. "We got called into this house where the family had lived without heat." The house had two bedrooms, but because it had no central heating system, the family had all crammed into the main living room and kitchen area, which they heated with plug-in space heaters, using makeshift partitions for privacy. "It broke my heart," Melissa says. "They were doing the best they could do with what they had, but they had no heat. We wound up putting in a whole new heating system, ceiling system, and windows." The ceiling had been made of some kind of crumbling tile. The next fall, the mom of the family wrote to Melissa. She wrote: "I can't thank you enough for the impact this has made on our family. For the first time ever our daughter has invited friends over to our home." In addition, the mom was able to get off her asthma medications, because the ceiling tiles had been aggravating her condition, and once they were replaced she was literally able to breathe easier.
The projects managed by TRI help keep the community together. Most of the contractors and subcontractors who rehabilitate these homes are local, and it helps the residents feel more secure. "When people feel safe and seen and heard they can start giving back to their communities," Melissa says. She's seen people who have been helped by these projects go on to be more active in the community by doing things like volunteering on town boards. "We are giving them the opportunity to live there safely and affordably," Melissa says.
To To learn more about TRI and its programs, go to:
www.theresource.org