HEALTH + FITNESS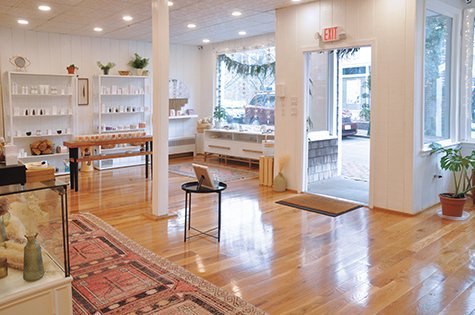 Botanical Beauty+Co.

Providing Clean Skincare & More, Year Round
By Tessa Permar
Martha's Vineyard is a destination for fresh food and clean living, so why not skin care? Rachel Soknic opened Botanical Beauty & Co. with the goal of bringing clean skincare products and treatments to Martha's Vineyard year round. "I carefully curated clean skin care lines that I thought the Vineyard was in need of," Rachel says. "I wanted them to be pure and potent but still results driven. We've seen a big shift towards clean beauty recently, but there was a need for it on this island, I love that people have been receptive and excited to move towards healthier options."
Rachel dreamed of opening her own shop. During her eight years as a professional esthetician working in spas and beauty spaces, Rachel made lists of the products she hoped to carry someday. She was especially drawn to what she describes as clean products: "no harsh ingredients, no harmful chemicals." In April of 2021, she achieved that dream opening Botanical Beauty & Co. on North Summer Street in Edgartown. The shop's fresh, airy, and inviting atmosphere is like a breath of Spring air all year long.
Rachel explains, "I want people to come in and know that they don't have to be worried about what harsh ingredients are in the products." The first product line she chose to carry, one that is still a favorite today, is called Green Envee: "a vegan, plant-based, cruelty free, and gluten free, organic skincare line." Rachel shares, "I want nursing moms to a man or woman facing health issues to have safe options." She also focuses on products that are sourced in eco-friendly ways, and features many women-owned businesses.
In addition to curating and selling skincare, make-up, and wellness products, Rachel continues to use clean products and procedures as an esthetician. Services include individual skin consultations, waxing, lash lifts, and make-up for weddings, as well as some pretty magical facials. Rachel emphasizes individuality. "I enjoy customizing every facial; one size doesn't fit all. I tailor my facials to the person's specific skin needs. With post care instructions and a new home care regime, I try to really get to know the person and customize a home care routine that fits their lifestyle."
Rachel understands that the world of healthful skin and body care can feel overwhelming. She built her business as a place where clients can not only find trustworthy products, but also ask questions and learn about taking care of their skin. She uses instagram to introduce and highlight new products that she is passionate about. Two classics she loves are oil cleansers and Vitamin C. An oil cleanser is great for cold Vineyard weather because it hydrates and cleans the face without stripping it of moisture. Rachel explains, "Vitamin C is amazing for any age group. It has so many benefits for the skin. It can reduce dark spots and brighten skin complexion. When you start to see and feel the difference, it just makes you want to keep taking care of yourself."
Rachel offers her expertise at Botanical Beauty & Co. year round, with by-appointment services and shopping in the winter. Whether it's a cleansing oil for dry parched skin, a soothing soy candle, or a deep and rejuvenating facial, Botanical Beauty & Co. offers so many delightful ways to care for yourself and your skin.
For more information e-mail:
botanicalbeauty.mv@gmail.com
or call 508-939-4367