SCENE + SEEN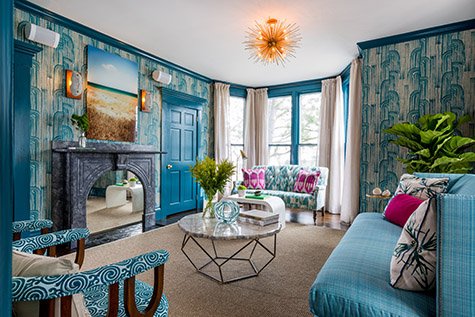 The Edgartown Collection

Four Unique Boutique Hotels
By Tessa Permar
With the Edgartown Collection, Boston-based real estate developers Ann and Chuck Hajjar transformed four traditional Edgartown properties into not just boutique hotels but works of art. Managed by Lark Hotels, they are The Christopher, The Richard, The Sydney, and The Edgartown Inn. "The hotels so near and dear to them are each named after one of the their children" shares Gabriel Bagot, Assistant Manager of The Sydney and The Edgartown Inn.

Each hotel brings its own flair from the bold luxurious decor to the thoughtfully designed "small plates breakfast" served at each hotel. In addition to fresh fruit, beverages, and pastries, "there might be a guava smoothie at The Christopher, and The Edgartown Inn might have a spinach, mango, pineapple smoothie. Or we might serve a local eggs quiche at The Edgartown Inn, and at The Sydney fresh blueberry muffins," says Allison Wilson, Area General Manager of The Edgartown Collection.

Ann Hajjar's first Vineyard hotel, The Christopher, opened in 2015 on South Water Street. The design vision of St. Bart's meets Martha's Vineyard was executed by Annsley Interiors. The Richard opened next on Main Street, designed with royalty in mind by Rachel Reider. Reider also designed the next two projects. The Sydney is a Victorian Winter Street property with a modern beach house feel. Opened in 2017, it combines a new Main House, designed by local architect Patrick Ahearn, with The Captain's House: former home of Captain Charles W. Fisher built in 1892. The most recent property added to the collection is the historic Edgartown Inn. After welcoming visitors for more than 45 years, it reopened under Hajjar ownership in 2020 with renovations echoing a coastal farmhouse aesthetic.

May through October, the hotels offer a range of luxurious amenities. Wilson shares: "They all have fabulous, intimate patios with fire pits where you don't feel like you are in downtown Edgartown anymore. You can be sitting at the fire pit in the courtyard and feel so away from everything . . . then just walk a few steps and you're downtown.