HEALTH+FITNESS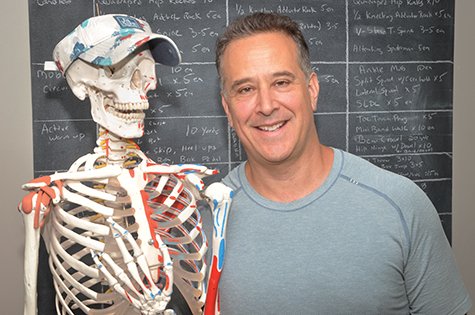 Bmovable

FST: Movement From the Ground Up with Gary Barlett
By Pat Waring
I really found my calling with FST!" said Gary Barlett who has been introducing the innovative health and fitness technique, Fascial Stretch Therapy, to Island clients through his Bmovable practice since 2019.
Response has been very positive. Clients report benefits from Improved sports performance to increased ease of movement and even pain relief for hip, back and other issues. Better sleep often results. FST can relax the nervous system.
FST is a new method of assisted stretching. Unlike many other bodywork and exercise practices,It targets the connective tissue rather than muscles, to help align and balance the body.
Clients are competitive athletes, weekend golfers, hikers, others from varied walks of life. Though most are over 50 and into their 80s, he treats people of all ages including youthful sports buffs seeking to improve their game to health-minded Islanders, from active to sedentary, who want to feel and move better.
"If people move better, they move more often, and the more they move the better they feel," Gary said.
Gary grew up on Martha's Vineyard, moving from New Jersey with his family at age 12. He attended Island schools and met his wife Nicole here in the early 1990s. They married in 1997, When it was time to put down roots, begin careers and raise a family they agreed the Island would remain home.
Before discovering FST, Gary and friend Brian Athearn founded MV Tech in 2001. He served as an EMT, as a police officer in Aquinnah then Tisbury, and was written up in the Vineyard Gazette for saving a cardiac arrest victim's life using a portable defibrillator.
With a lifelong interest in health and fitness Gary was fascinated when he heard of FST in 2018. In January 2019 he headed to Arizona's Stretch to Win Institute completing several levels of intensive training.
Gary completed additional training to address specific sports and movement issues, holds numerous certifications including Corrective Exercise Specialist, Functional Strength Coach, and is pursuing a massage therapy license.
He is a Certified Titleist Performance Institute Specialist, to help golfers identify physical limitations, then works with them to correct and improve their movements.
Gary had been providing personal training for some time. He began incorporating FST after initial trainings. It became the centerpiece of his practice.
"Clients loved it, were asking for it, and I noticed that they were feeling so much better, getting out and exercising on their own."
During hour-long appointments clients relax on a treatment table while Gary moves them through a series of stretches. There is no discomfort and clients sometimes fall asleep.
"It is a pretty satisfying job when you know you are helping a person in pain and realize they can have a better quality of life," Gary reflected.
For more information visit
Bmovable.com
, e-mail
Gary@Bmovable.com
or call 508-962-1847.