ON ISLAND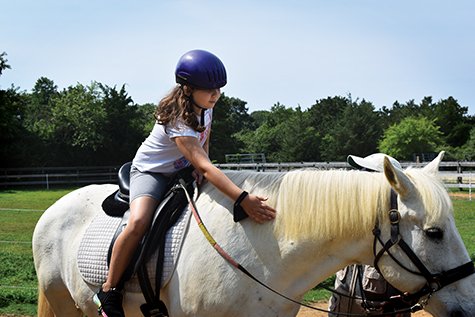 The Misty Meadows Equine Learning Center

Changing Lives, One Horse Experience at a Time
By Amelia Smith
Misty Meadows Equine Learning Center is surrounded by fields and pasture, a spacious barn in an idyllic setting. It looks like a well-appointed conventional horse barn, but as a community therapeutic horsemanship center its focus is on bringing horses and people together to transform lives. Affordable and accessible group classes are the foundation of its curriculum, and the program is designed to foster a nurturing environment. The students include school children, adults, and individuals with special needs who can benefit enormously from their inter-actions with horses.
Sarah McKay grew up in Northern Ireland, where she rode horses competitively at a young age. On the Vineyard, she worked at the Martha's Vineyard Commission, as a store manager at Cronig's Markets, and as executive director of Island Grown Initiative. Through her work at IGI, she met Carol Kenney, who owned Misty Meadows with her husband Jerry. The couple were planning to put the property on the market, but through a series of conversations between Sarah and Carol, a new vision for the horse barn's future began to emerge. In 2015, the Kenneys offered to lease the property to the Martha's Vineyard Community Horse Center for four months, to run a pilot program for local students. Those first classes were an enormous success, and in late 2016 the Kenneys donated the barn to the newly formed non-profit.
At Misty Meadows, students learn to better understand the horses, their peers, and themselves, with a focus on unmounted activities. "Students are allowed to be who they are, they don't have to dress up in conventional horsey stuff," Sarah says. In after school programs, kids learn about horse body language and caring for horses. They go on walks together, and there are art projects, which sometimes include painting the horses – those that will tolerate it. Some horses like the attention, Sarah says, while others want nothing to do with the extra fuss.
In January of 2018, Martha's Vineyard Community Horse Center merged with Rising Tide, a therapeutic riding program primarily for people with disabilities. The name changed to Misty Meadows Equine Learning Center, and the following year it became an accredited Professional Association of Therapeutic Horsemanship (PATH) center. Misty Meadows works with the Island Autism Group and other local organizations for people with
special needs.
The horses are central to the process, and it takes a certain temperament to make a good therapeutic horse. "It's physically and emotionally stressful for them," Sarah says. Carrying an unbalanced weight on the back is physically hard for a horse, so they need to be strong, and the horse picks up on a rider's emotions, so they need to be relatively calm. People come to Misty Meadows with a range of challenges, and so do the horses. They come from many places – former show horses and family horses, even a thoroughbred racehorse. In the wild, horses would have stayed with their herds throughout their life, but now most horses are moved around a lot, and the transitions can be challenging for them.
When they arrive, they can take some time to settle in, but once they do, they can become very attached to their work here. Noble, a horse that was at Rising Tide, and moved to retirement on the far side of West Tisbury. He soon broke out of his retirement home and made a solo journey back to Rising Tide. From there he moved to Misty Meadows, where other horses from Rising Tide had gone, and now he continues to work there, helping people develop skills, empathy, and self-confidence. Another notable character is Tony Smalls, a miniature horse who is also a painter. He travels to local libraries, schools, and elderly housing to reach people there with and his owner Annie Parsons, who also leads the mounted archery program for adults and older kids.
Misty Meadows has introduced many new programs in recent years. One program for adults is Walking with the Herd, which teaches some basic horsemanship skills while focusing on self-care and mindfulness. A mini summer camp introduces kids to the horses through a variety of mounted and unmounted activities. Adult horse-manship classes are designed to boost health and wellness. All of these programs are offered at a small fraction of their cost. Misty Meadows is working on fundraising and development to ensure long-term sustainability, so that Islanders of all means and abilities can continue to connect with horses for decades to come.
To learn more about their programs and how you can help, visit their website or come to an open house.
For more information, click:
mistymeadowsmv.org