GARDENSCAPES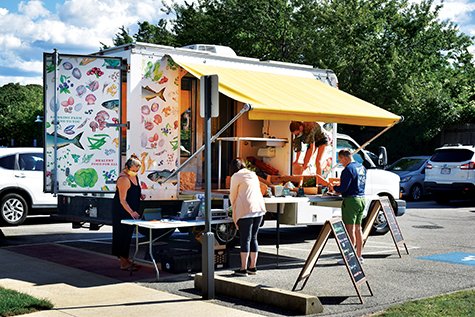 The Island Grown Initiative's Mobile Market
The Island Grown Initiative's Mobile Market is a truck stocked with reduced-price fresh, locally grown produce and eggs. The Market also offers a selection of lightly processed Island-made items, often using local ingredients. The Market makes weekly deliveries as part of IGI's mission to expand healthy food access for all in the Island community, with a focus on people who participate in food assistance programs. They purchase produce at wholesale prices from local growers and sell with a small markup to cover operating expenses; this is not a for-profit venture.
Everyone is welcome to shop at the Mobile Market. We accept cash, check, credit cards, Pandemic EBT (P-EBT), SNAP/HIP, Farmer's Market Nutrition Program Senior and WIC Coupons, and Mobile Market Coupons. For more information on SNAP/HIP click: www.recworcester.org/hipfaq.
The Market operates on weekdays from July through February, stopping at eight locations across all Island towns. Typical shopping hours are late afternoon/early evening, varying for each location. Go online at:
www.igimv.org/mobile-market
for a full schedule of their daily locations.
There are two ways to order from the Mobile Market. You can go shop the market in person at any of our stops or you can preorder online (see below).
The Mobile Market will be on the road through February delivering farm-fresh produce and eggs. Place your online order 24 hours in advance at mobilemarketorders.square.site.
To donate click:
www.igimv.org/donate