SCENE & SEEN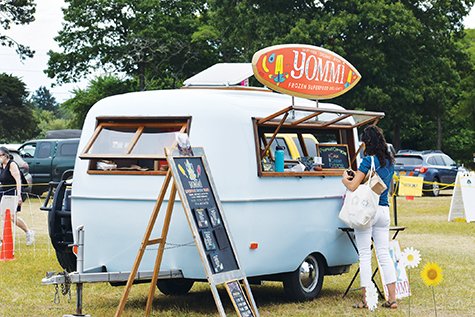 Yommi Goodness
By Lisa Belcastro, Photography by Randi Baird
Are you ready for a treat that is delicious, good for you, and available in at least six decadent flavors? Me too!
Say hello to Yommi Frozen Superfood Delights.
I first tried a Yommi bar earlier this summer. I loved it! At the time, I had no idea I was eating something that was actually super nutritious! All I knew was that the friend who had given me a Peruvian Choco Buzz had only given me one and I desperately wanted a second one.
Fast forward to the Ag Fair, and there was the adorable Yommi blue camper, which contained a freezer of Heaven on earth! After ordering a Lemon Alive and taking two scrumptious bites, I knew all Vineyard Style readers deserved to know about these fabulous delights.
Nicole Corbo and Adrian Johnson founded Yommi in 2017. Their first venture at the Chilmark Flea Market, which featured their Golden Goodness frozen treat, blossomed into approximately two thousand frozen bars a week. "She makes them, I freeze and wrap them," said Adrian of the seven-to-eight-hour days they are producing their super food bars four times a week.
Whether you call it a bar or a pop or a frozen delight, you won't believe all the nutrition packed into each dessert. From fruit to herbs to greens to spices to honey and local sea salt, you are eating pure nutrient-dense goodness. "They are frozen superfood bars," said Nicole. "They are organic, dairy-free, and beegan (they have honey so they can't be considered a true vegan product)."
Nicole and Adrian expanded to six flavors: Strawberry Bee-Licious, Mint Chip Magic, Blueberry-Lemon Bliss, Golden Goodness, Lemon Alive, and Peruvian Choco Buzz. Strawberry Bee-Licious is their most popular dessert, though Nicole's favorite is Mint Chip Magic. "Growing up, mint chip ice cream was my favorite. We've put a good amount of greens in this one, so I know it's healthy, but when I eat one I feel nostalgic."
"Every time I eat a Blueberry-Lemon Bliss, I can't believe it's possible to be this good. Just something there that is unbelievable in your mouth," said Adrian of his first choice.
Nicole shared that she's testing out new recipes for the fall. There's a pistacchio dark chocolate-dipped with orange, cardamom, and avocado that sounds amazing. "I have to peel the skins off each nut," Nicole said with a chuckle. "I'm also planning on a pear ginger maple cream with local pears and local ginger."
Adrian added, "We did a pumpkin caramel for the Living Local Fest. Oh my goodness, it was great. We've also talked about a crème brûlée, and that's got to happen."
Nicole and Adrian source as many of their ingredients locally as they can. They buy honey from Island Bee Company, salt from MV Sea Salt, strawberries from Fire Cat Farm, and herbs and greens from various local farms. The bars have no juice fillers or water added.
I now have all six flavors in my freezer and five grad students headed to the house for a long weekend. They will be exceptionally happy.
You can purchase these amazing delights at the West Tisbury Farmer's Market Wednesdays and Saturdays, as well as these Island locations: Chilmark General Store, North Tisbury Farmstand, Mermaid Farm, the Vineyard Grocer, Cronig's Healthy Additions, Black Sheep, Morning Glory Farm, Nomans, Rosewater Market, and Katama General Store.
Nicole and Adrian will also cater your special event serving their wholesome and delicious Yommi bars to your family, friends and guests from their elegantly restored vintage Boler camper kiosk.
You can reach them at:
vintagedelicious.com
& follow them on Instagram instagram.com/yommimv or facebook.com/YOMMIMV