CUISINE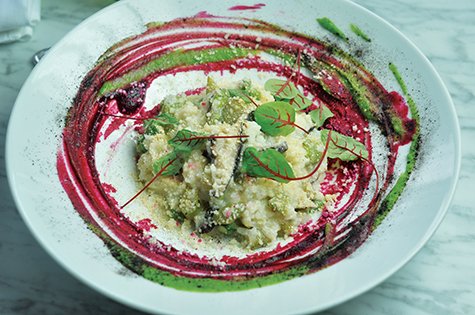 Erin and Hal's Sweet Life

A Marriage of Ambiance, Service, and Gourmet Cuisine
By Lisa C. Belcastro, Photography by Charlie Utz
Summer and outdoor dining go together as sand and surf on our Island beaches. Few restaurants on the Vineyard offer the ambience, service, and gourmet food as does Sweet Life at the top of Circuit Avenue in Oak Bluffs. Owned by Erin and Hal Ryerson, Sweet Life invites patrons to step inside for a night of fine food and elegant care.
Hidden behind a tall fence, lies a quiet, romantic setting with twinkle lights overhead and plants and flowers surrounding and decorating each table. It's as if you've stepped into a backyard garden party, minus any upkeep or cleaning on your part.
"We want people to leave here well fed, well cared for, and feeling as if they belong," said Erin, who first meet Hal in 2008 when they both worked at The Outermost Inn.
Hal added, "We want customers to see our passion – from the wine list to the cocktails to the food to the staff to the ambience."
I've eaten outside at Sweet Life numerous times. Each occasion was pure pleasure. While the restaurant has undergone a few changes in ownership over the years, the dining experience has been exceptional throughout the last two decades.
Hal and Erin, who married in 2014 and now have two children, Loretta and Kit, purchased the restaurant in 2017 from Suzanna and Kevin Crowell, owners of Detente restaurant in Edgartown, who bought the business in 2013 from Pierre and Susan Guérin. The transition from Suzanna and Kevin to Erin and Hal was nearly seamless. Hal had been working as the chef de cuisine at Détente and Erin the front of house when Suzanna and Kevin approached them about buying The Sweet Life.
"Sweet Life seemed to drop into our laps," said Hal, who graduated from Johnson and Wales Culinary School. "We weren't looking to buy a restaurant."
"Once it became available, we were all in right away," said Erin, who went back to school for writing and received her Masters Degree just prior to purchasing Sweet Life. "We were really conscious that Sweet Life was already an established restaurant. The menu completely changed the first year, but we didn't make any major structural changes in the beginning."
In the last four years, Hal and Erin have made Sweet Life theirs. Happy dinners return again and again, and the restaurant is always busy.
"We're making 100-150 dinners each night," said Hal, who changes the menu often to keep the chefs creative and the patrons excited about returning to try something new. If you're a pasta lover, you should know that Hal makes all the pasta in-house every day. That's worth a trip to OB in summer all on its own!
Sweet Life is known for serving locally grown and harvested food. Chef Hal has selected three recipes from items on the current menu, which all feature locally sourced items.
The Martha Rose Scallop Crudo is a customer favorite. The appetizer is a "cold, refreshing, palate-cleansing seafood dish," said Hal, adding, "there is always a crudo on the menu."
If scallops are a Vineyard specialty, Hal is presenting them at their finest – raw. I'm not a big fan of horseradish, so I was thrilled to bite into the scallop crudo and taste a burst of lime. The broth was light and refreshing with the perfect hint of citrus zing.
The recipe is "super simple and quick to make." Hal noted that the broth is best made the day before, allowing the flavors to blend for twenty-four hours. Freshly grated horseradish is best, but you can use a jar brand.
For vegetarian dinners, Hal offers a daily meatless risotto. The current risotto is comprised of beets, MVM shiitake mushrooms, asparagus, local zucchini, cured lemon, and Parmigiano Reggiano.
Hal had me at shiitake, but when he added the cured lemon, I was ready for a large bowl of risotto. The recipe is easy to follow. You can adjust the vegetables based on what is available at local Island farms or your own garden.
If you're looking for the MVM shiitake mushrooms, head up to the Farmers Market on Wednesdays or Saturdays to buy a bag or two (or more) of those incredible mushrooms. They're so good I can't wait to open the bag and eat them raw while I continue walking around the Market.
Now, curing lemons is a three-week process, so feel free to buy preserved Meyer lemons at any of our Island grocery stores. If you order the risotto at Sweet Life, rest assured that the Ryersons have not purchased the cured lemons. Hal cures his lemons at Sweet Life. The attention to detail, curing the lemons, handmaking the pasta, and sourcing fresh and local, are what make Sweet Life a special dining experience.
Okay–have you ever tried octopus? Do you dare?
If you're a fan, or willing to try something new, Hal's grilled octopus will delight your taste buds. The chorizo puree was fantastic. I honestly wanted to ask for a container of it to take home.
The octopus appetizer requires time, about three hours of prep, but much of that is passive cooking. You can buy a whole octopus or just tentacles. Follow the recipe, and you'll impress whomever you're making dinner for. It's Hall current favorite dish.
My favorite dish on the current menu was hands-down the local striped bass. Pan seared with the skin on, my mouth enjoyed every bite. The highlight of the striper was the contrast of chilled local tomatoes and hot fish.
Erin and Hal would love to pamper you. Be sure to add Sweet Life to your summer and fall fun list. The restaurant is open for dinner Tuesday through Saturday from 5:30-9:00 pm, and for brunch on Sundays from 11 am to 2 pm. Reservations are recommended.
sweetlifemv.com
.
Summer Risotto
with l­ocal peas, asparagus, cured lemon, and MVM shiitake mushrooms
Ingredients:
(
serves 4
)
Local peas
Asparagus
Cured lemon
MVM shiitake mushrooms
Risotto:
Ingredients:
2 cups arborio rice
1 large Spanish (or white) onion finely diced
6 tbsp. olive oil
1 cup dry white wine
8 cups vegetable stock
Method:
1. Bring 8 cups vegetable stock to simmer.
2. In a medium size rondeau, add olive oil and diced onions.
3. Sweat onions until translucent, NO COLOR!
4. Add arborio rice and "toast" with the onions for 2-3 minutes.
5. Add hot vegetable stick 2 cups at a time.
6. Constantly stirring rice–always clockwise!!
7. Repeat adding stock as it cools down, salting as needed to taste.
8. Should take approximately 25-30 minutes–the rice should be tender, but not mushy. Slightly firm center that shouldn't leave a chalky feeling after taste.
9. Plate with local peas, asparagus, shiitake mushrooms to preference, add cured lemon.
Very important to constantly stir the rice as the agitation is the key to releasing the starch from the rice to give it the trademark creamy consistency.