COMMUNITY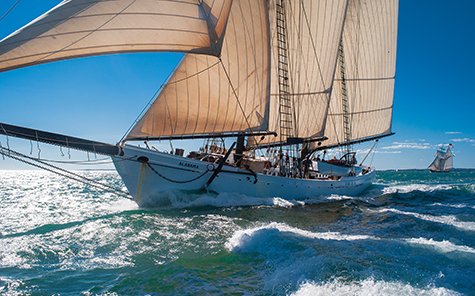 Exploring Themes

The Vineyard's Maritime Heritage Viewed Through the Lens of Award Winning Photographer Alison Shaw
By Amelia Smith, Photography by Alison Shaw
This summer, photographer Alison Shaw received the Sail MV Walter Cronkite Award, which honors an individual who has advanced the appreciation of maritime culture on Martha's Vineyard. The story of the Vineyard's maritime heritage is illustrated by many of the photographs on her gallery walls. Boats and seascapes are illuminated in washes of color or focused in precise detail. Throughout Alison's long career as a photographer she has delved into many topics and themes, but the Island's coastline is a recurring subject, seen through many different lenses over the years.
Alison grew up sailing, but when she moved to the Vineyard in 1975 she stopped spending time on the water. Instead, she worked 70-hour weeks for the Vineyard Gazette, doing production in the back shop, and shooting editorial photographs on black-and-white Tri-X film. "My early photographs were pretty bad," she says of her first efforts. A few years later, in the early 80s, she had begun to develop a style, and started showing her work in galleries. In those early works, the Vineyard appears in shades of gray. Alison's following grew, but her style would soon make a major shift.
In 1989, the Gazette started publishing Martha's Vineyard Magazine and Alison dove into the world of color photography. Some of the fans of her black-and-white photography were slow to warm to the change, but working in color had changed her perspective and given her new inspiration. "Some artists find a formula and stick with it," she says, "but for me photography is all about self-expression and discovery. I can only sustain one subject and/or style for so long." For her, those times devoted to a single subject can span as much as a decade – she explores them in depth. The Island's constraints demand that. "One really cool thing is that you have a hundred square miles – there are definite boundaries, so you have to go deeper rather than farther afield," she says. Often, her new styles and subjects resonate with those who buy her books and photographs, but the primary reason for her evolution comes from within: going deeper keeps her creative flame alive.
Although she had photographed many seascapes over the years, a new theme in her work began to emerge in the mid-1990s, when Bill Graham asked her to document the construction of his new boat, a 24-food daysailer to be built by Gannon and Benjamin. The project resonated with her, and she had full creative control. She spent the next six months photographing the construction of Maybe Baby. "It gave me so much joy and so much connection to the art of traditional boat building" she says. Not long after, she heard about a 60-foot schooner that was going to be built at Gannon and Benjamin. Rebecca would be the largest schooner built on the Island since Abraham Lincoln was president. Author Tom Dunlop wrote the text in the book Schooner, while Alison's photographs illustrated the story. The cover photo, of the ship under construction and lit up in the workshop against the evening sky, is an iconic image. Alison's wife and business partner Sue Dawson was the book designer, and they published in collaboration with Jan Pogue of Vineyard Stories.
On a later visit to Gannon and Benjamin, Alison found the boat builders lofting a whaleboat, drafting its curved lines in full size on the workshop floor. This boat would be a replica of a historical design, and it would be carried by the Charles W. Morgan, the last surviving wooden whaling ship. Mystic Seaport, which was restoring the Morgan, had sought out the help of wooden boat builders from all over New England to build these boats. Once again, Alison photographed the process, from lofting to launch.
Much of Alison's maritime photography is more artistic than documentary. She has created several series exploring themes, shapes, and colors in the maritime world of the Island. One series captures profiles of prows, some gleaming, others chipped. Another series pictures hulls from above, stem to stern, set on black backgrounds. Each photo is rich with detail. Her seascapes take many forms. Earlier seascapes were detailed, sharply focused and composed. In the early 2000s, she began "painting" with the camera, moving it like a brush to highlight the motion of swaths of color across the frame, to capture a feeling. Lately, she has been working with more neutral tones and muted hues, with a softer focus. Again and again, she meets the challenge of seeing the island from a new angle, helping us to appreciate it more every year.
As for the Cronkite award, it's a fitting honor. "To receive this award – where I'm in such amazing company – is such an honor and surprise," she says. Previous award recipients include Nat Benjamin and Ross Gannon, whose work she has documented. Alison also knew Walter Cronkite personally from the years when she was his winter caretaker; during the time she worked for the Gazette. Her long history on the Island has enriched her work in many ways, allowing her to see and explore the connections and themes that emerge here with new tools and processes that evolve with every decade of her career.
To find out more about Alison Shaw's photography, call or click:
alisonshaw.com
.
Alison Shaw Gallery, 88 Dukes County Avenue, Studio: 508.693.4429, Gallery: 508.696.7429