ARTIST PROFILE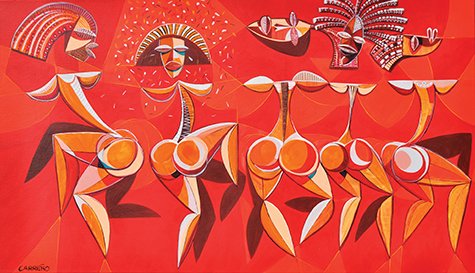 The Inspired Paintings of Alejandro Carreño

Magical Realism-Each With a Story
By Gwyn McAllister
The influences that have determined the style of painter Alejandro Carreño are as varied as the places that the artist has lived throughout his career. Born in Havana, Carreño studied graphic design. Then, on a scholarship he travelled to Germany to study product design. He spent time in a city in central Germany before moving on to Berlin where he worked as an graphic designer for almost five years. In 1995 Carreño, who had by then established himself as a fine artist, moved to the Dominican Republic.
Although he wanted to return to a familiar lifestyle, he had decided that his native home had changed too much for the worse and was too restrictive. "Cuba is too political," says Carreño. "If you have a different point of view you might get in trouble. I am a free thinker. I'm not afraid to say what I think. I don't want to hide my opinions."
In the Dominican Republic, the artist rediscovered his passion for color and vibrant images. "There's a huge difference between Caribbean culture and the German culture," he says. "In Germany everything was grey. I didn't like that. I got a lot of criticism there from my teachers. They didn't like me to use bright colors. When I came back to colors I think I came back stronger. I have to be true to myself."
Now living on Martha's Vineyard, where he relocated in 2009, Carreño has retained that honesty, honoring his roots with very colorful paintings that often feature fish, traditional Afro-Cuban musicians and other symbols of the artist's Caribbean-based life.
It's not just the use of bold colors that defines Carreño's work. There is vibrancy and a sense of joy in his paintings. The artist is perhaps best known for his images of fish and other sea life. Although his paintings are highly stylized and often fancifully colored, each fish species is readily identifiable. As an avid fisherman, Carreño has extensive knowledge of the sea life found in local waters. Bass, bluefish and lobsters are among his favorite subjects. "When I was in Cuba I was always near the water and I spent a lot of time fishing," he says. "When I moved to the Dominican Republic, I came back to spearfishing and fishing and I started to paint fish. This work was very popular."
While the basic outline of the fish – including fins, teeth and spines – tend to be proportionally reproduced, each image is rendered in varying degrees of abstraction, with the artist's design background clearly in evidence. In some painting the colors are close to real life, although they are stylistically done in a non-blended color block style. With others, Carreño has allowed creativity to take over – using interesting color choices and geometric patterns to further stylize his subjects. His lobsters all feature oversized claws and are often shown disarticulated and painted in a variety of hues.
In an even more abstracted style, Carreño creates wonderful Cubist inspired paintings of women's torsos – focusing on rounded buttocks and guava shaped breasts. Although the female form is apparent, the images expand on the subject by incorporating other geometric shapes (including spiked columns to represent the spine) and repositioning the body parts of one or more figures in order to create a colorful kaleidoscopic effect.
Extending the Cubist style to pictorial images, Carreño is fond of telling stories through his artwork. In one painting, titled "The Party", he sets the stage with a cast of Latin jazz musicians playing, variously, a stand up bass, bongo drums and keyboards. Through an open window, from which a tiny bird has flown into the room, one can see a paper boat sailing on a vivid blue ocean. The artist relates the story of the painting, explaining that the bird has brought a message from the female bass player's foreign lover. Her other lover is one of the band members, causing an uncomfortable atmosphere. In the follow-up painting "The Party 2" the foreign lover has left and the band members, with the exception of the woman, are rejoicing.
There is much symbolism to be found in the "Party" series. As Carreño explains, "In the background is a little history of Cuba - sugar cane, which was the main industry for decades, pieces of architecture in limbo, showing the debacle of what once was one of the most beautiful cities in Latin America, the plate with a carcass of a fish means the lack of food, as well as the spine of the bongo player. Behind is a dried tree, but in the dried tree is a leaf, meaning hope. Under the bongos is Eleggua, the greater Orisha [deity]. Eleggua is the first God in the Yoruba religion."
Music has always played a part in Carreño's life. "In Havana you heard music everywhere," he says. "The Carnival was on my street. The floats would drive in front of my house with a band playing. People were dancing half-naked. I could see it all from my balcony. You have music in Cuba everywhere."
The artist himself plays percussion instruments. While living in the Dominican Republic he often played with other musicians in restaurants. Their compensation would be free food and drinks.
The colorful Cubist style of the party paintings is a good fit for the magical realism of the story behind them, which, Carreño says, is very loosely based on a story told to him by a friend. Magical is an appropriate way to describe much of the artist's work – abounding with symbols, metaphors and mystical elements. The Cubist style allows the artist to express much more than a literal interpretation of his subjects. He speaks of one of the artists who influenced him saying, "What Picasso tried to do with Cubism was to show things that people don't normally see in paintings by opening up the image to show all of the sides."
"I use geometry to show things in a different way," Carreño adds. "I want to show the energy, the movement, the dreams of the people."
Although he honed his technical skills during his time in Germany, he found inspiration and a sense of soul lacking in his work. "When I was in Germany nothing came to mind when I was dreaming or daydreaming," he recalls. That all changed once Carreño moved back to the Caribbean and, since settling full time to the Vineyard he has managed to recapture the spirit of his homeland. "There are so many images from Havana that are coming back to me all the time," he says. "I'm recreating my time there."
With characteristic good humor, Carreño laughs when summing up his approach to painting, saying, "You can take the Cuban out of the island, but you can't kick the island out of the Cuban."
For more information, or to see more of Alejandro's work call or click:
Island - Life Studio - 61 Circuit Ave, OB, 508.572.363, Instagram: @mvislandlife, E-mail:
nya@mvislandwiderealty.com
Alofft Gallery - Litchfield, CT, 860.361.3689
Chapman Art Gallery -
chapmanartgallery.com
, Cotuit, MA, 508.681.8170