HOME PORTRAIT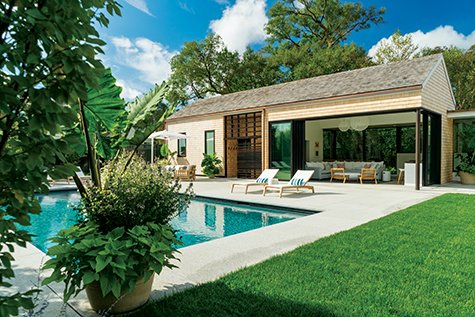 Landscoping

Landscope, Inc.'s, Legacy of Meticulous, Balanced and Beautiful
By Tessa Permar
When it comes to landscape design, construction, and maintenance, Landscope Inc. can do it all. From flourishing gardens, to the design, build, and maintenance of a landscape from the ground up, there is no one quintessential Landscope project.
Yet you know Landscope's work – whether it's a stone patio or a native wildflower meadow – because it is always meticulous, balanced, and beautiful. Landscope founder and president Fred Fournier has infused his company with an integrity, warmth, and order that flows through every wing of the company from masonry to the main office.
Withmore than 40 years of strong collaboration, environmental responsibility and care, and the constant pursuit of excellence, Landscope continues to be one of the premier landscape companies on Martha's Vineyard.
"We really have gone from being a modest company to a very specialized company," says Fournier. Landscope offers -an immense range of services within landscape, construction, design and maintenance including stonework, gardens, and habitat restoration, property management, organic landscaping and more. Landscope takes on a range of projects each year, from a "1000 sq ft blue stone patio for just the average home-owner to a multi-million dollar landscape project that can last several years," Fournier explains. The company is known for their stonework, including terraces, patios, stone paths, and parking areas. They also specialize in landscape design which can include native plantings and land reclamation, ornamental tree and shrub beds, water features, greenroofs, transplanting and more. Additionally they provide maintenance to their impressive outdoor spaces.
On their larger projects, Landscope is sometimes just one company involved in a major property build or renovation. Fournier emphasizes the level of collaboration involved when Landscope takes on such a multi-faceted project: "It's about building a team: the client, the architect, the landscape architect, the general contractor, and then you get the landscape contractor, which often ends up being us, and then you put it together. The ultimate goal is to produce that finished product for your client." Several of Landscope's finished projects have garnered prestigious awards from the Boston Society of Landscape Architects, the American Society of Landscape Architects and Landscape Architecture Magazine, and their work has appeared in many national publications.
Before he founded an award-winning company, Fournier played football and lacrosse growing up in Taftville, Connecticut. He attended the University of Vermont on an NCAA football scholarship where he played for two years until they dropped the program. A natural leader, Fournier then helped develop the University's lacrosse program. After his studies in Forestry, Resource Economics, and Outdoor Recreation Management, Fournier received his Bachelors of Science in Ornamental Horticulture and Landscape Design. Fournier moved to the Island after graduating for a summer job, where he met Mike Donaroma. For two years, Fournier helped Donaroma to establish his Retail Nursery. Then in 1980, Fournier formed Landscope. "In the early days," Fournier recalls, "We did landscape design and installations. We were doing all these really wonderful projects," but they were outsourcing the maintenance. As Landscope grew, they hired experts on maintenance, landscape construction, masonry, and fine gardening.
Today, their original two work trucks have grown to approximately 25 and the company employs about 45 people. But one practice Fournier has never let go of is the pursuit of continued learning that he utilized in high school and college. "I always say that if you don't learn something new today, it's kind of a boring day. So I try to learn something new every day…If we come across a disease or a plant that I don't know…I'll take a piece of it and come back to the office and identify it." Fournier keeps a small reference library for just that reason. After starting his company, he continued his studies in landscape design at the Radcliffe Seminar, affiliated with Harvard's Landscape and Architecture school. Landscope Inc. boasts a high level of expertise across all areas: "Our degreed landscape architects are specialists in native habitat design and restoration, bringing expertise in plant ecology, biology and conservation planning, ecological restorations, land-scape architecture, hydrogeology, and horticulture."
Orchestrating teams in masonry, fieldwork, maintenance, mechanics, and the office, Fournier understands deeply the value of his team. "We are really very fortunate to have a great staff…Because sometimes this can be a very challenging business. It's hard, it's dirty, it's hot, sometimes it's stressful, it's demanding," Fournier elaborates. He strives to keep morale up by keeping it as comfortable and receptive an environment as possible, really considering the ranges in age, background, language, skill set, and personal goals that each employee brings. Fournier's says with a chuckle, "I run Landscope like Bill Belichick runs the Patriots: team first. It's not about "I" or "me." I'm still an individual and I want to treat you like I want to be treated. We run with that theme. Josh is the same." He is referring to Vice President Josh Kochin. Kochin joined the company in 1995 right out of high school. He left to earn his Bachelor's degree in Landscape Architecture and rejoined to head Landscope's landscape construction department. "Josh is a valuable and key member og the Landscope team," Fred admits. Masonry, another major department sports four crews of three masons each to execute Landscope's renowned stone walls, patios, fireplaces, and other lasting stone structures. Landscape Maintenance sports twelve to fifteen employees while a mow crew of six individuals cover about eighty lawns per week. "We have a lot of really key people who do a wonderful job in their respective areas," Fournier expresses. Fred has employed his own three sons to help with different aspects of the landscaping business over the years. Employing people who specialize in each area allows prominent companies like Landscope to excel in each of their projects. It's one of the reasons Landscope maintains such strong relationships not only with clients, but also with their collaborators. "It's a comfort thing," Fournier explains. "They know, if they call you up, someone's going to answer the phone. If they have a problem, we'll be able to troubleshoot it. I can't reiterate it enough: It's about the team, it's about being able to work together."
Characteristically, Fournier takes a moment to acknowledge this wife Jennifer's contributions to his success with her help and support since day one. Jennifer is a mother of four and has been an Edgartown School teacher for 28 years running.
While Fournier skillfully navigates the social side of running a company, his other great love is for the land itself and everything that grows in it. He describes what makes landscaping unique: "You have to keep it alive...It's a little different than a contractor who takes lumber, wood, and materials and puts them up. If you put them up properly and if you preserve them properly, they're going to survive. Whereas in the landscaping business, if you don't water that plant, if you don't nurture it, if you don't care for it," it won't survive. Landscope places special emphasis on preparing a piece of land, be it a field, lawn, or bed for planting. The ground on a job site, resting under the boots of myriad tradespeople, is at high risk for being compacted and even contaminated by inorganic materials. Landscope workers take great care to churn and prepare the soil and mark it off so that when planting finally happens, the roots can grow.
They also specialize in landscape rehabilitation and preservation of native plants. "We're really big on protecting the environment as far as saving and preserving native vegetation, because you can't replace it," says Fournier. "You can't go out and buy huckleberry, and you can't go out and buy some of these oak trees." Landscope has developed and mastered techniques for transplanting rather than destroying trees and vegetation. "We've gotten a lot better, especially now with recycling," he adds. "We are really adamant about that. So when you're cleaning up a job site, you've got a pile of roots, a pile of rocks, a pile of concrete." The materials are sorted into piles and then loaded onto trucks to be deposited at Keene's, Goodales and Kenny's. At Landscope headquarters they have bins for clean glass, plastic, and paper, as well as water stations, encouraging employees to bring reusable water bottles.
Landscope Inc. works with world-famous architects on high-profile properties in the most sought after locations, but their consistent care, integrity, and attention to the smallest details is what allows them to continue to create breathtaking outdoor spaces. Fournier describes his clients with not just appreciation but admiration. "We work with a lot of very fun, thoughtful, and also very generous people." Like the young family who decided to extend their project timeline by years so they wouldn't disrupt their neighbors. Or the woman who downloaded an app so she could learn about the different species being planted on her property. "A lot of times we get very personal with people, because I'm doing their window boxes, I'm doing their fire pits," Fournier notes. It's this personal touch and consistency that keeps many clients on board for more than twenty five to thirty years.
As Fred Fournier considers retire-ment in a few years, he reflects on the impact of the business he has grown. "It's been our livelihood but also the livelihood of 45 other people," he remarks. And no doubt the business has impacted a great many more clients and collaborators alike. The past year has been a series of challenges one after another due to Covid. Plants didn't grow, trucks didn't transport, travel and commerce was suspended, and yet the Landscope team, along with so many, found ways to persist both as a business and a community. Landscope, like many companies, stares down a massive backlog of suspended work, while the pandemic economy remains unpredictable. Fournier unfurls a design he's made for an upcoming project. The scaled-down birds-eye image of the property indicates the brick, the sod, the patio, and the plants. This page sits atop about four other full landscape plans completed by another landscape firm that is a frequent collaborator with Landscope. These pages contain lists of codes, each one corresponding to a single circle on a map. "This is the road map," explains Fournier. It is difficult to predict the future these days, but Fournier and the Landscope team seem to have figured out a way through. From the exquisite order of a plant list at the beginning of a project, all the way to the sorting of plywood, granite, and roots to be recycled at the end, Landscope creates magic from raw materials. They have found a way to balance preservation with architectural excellence. And still their work continues. "It's the kind of business where if you don't get up in the morning, put your pants on, put your boots on, no one's gonna do it for you. We're only as good as our employees, we're only as good as the activity that we create and produce each and every day." While there may be a day not too far off when Fournier will pass the leadership of Landscope into new and capable hands, his passion for shaping and preserving incredible landscapes will continue on in the dedication of his team, the shared efforts of his collaborators, and the joy of his clients.
To find out more about Landscope Inc. call or click:
landscopeinc.com
,
fredfournier@landscopeinc.com
,
508-696-8812