ARTIST PROFILE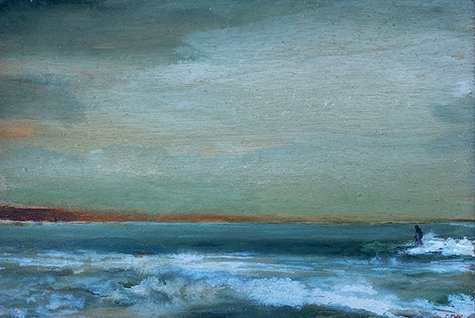 Colin Ruel

Preserving Island Spaces + Faces
By Tessa Permar
The Vineyard is changing fast, accelerated by pandemic migrations and climate change. If you're seeking a space that reflects and preserves Island history, while continuing to write it, look no further than the newly established Ruel Gallery. Artist Colin Ruel and jeweler Nettie Kent are an Island power couple. Together they've transformed a family-owned craft and gift shop into an exemplary fine art space in the heart of Menemsha. The new gallery celebrates their singular and innovative artistic voices, while preserving the history and culture of their shared Island home.
Colin Ruel combines folk and contemporary art influences with his Island roots to create vast and emotive landscapes and soulful portraits. "I sort of paint how it feels rather than how it looks," he says. Standing beneath a Ruel seascape, your ears practically sting with salty wind and your nose can just about smell the sweet ocean rot that for so many of us, is the aroma of home. Ruel was born into this landscape. Raised in Menemsha, he grew up on the water. His great grandfather Clarence was a lobsterman, stonemason, and townworker among other jobs. Ruel's grandfather was the revered Captain James D. Morgan, a fisherman who navigated by traditional techniques. And his grandmother Roberta Morgan made the beloved beach plum jelly sold for decades at her store The Harbor Craft Shop in Menemsha. Ruel explains, "I grew up right in back of the shop. There's those houses on the hill–I grew up in one of those houses with my brother."
While Ruel learned boating and fishing from his folks, he also developed an eye for craftsmanship and art. Captain James and Roberta were both folk artists in their own right. Morgan began whittling small boats at a young age. When he had to retire his boat at the end of his fishing career, he was still a master at shaping the wooden vessels in miniature. James crafted meticulous weathervanes with life-like boats sailing atop the wind-catching arms. He also co-created paintings with his wife Roberta, who painted color into James' ink drawings. These items were sold at The Harbor Craft Shop along with Roberta's jellies and sewn goods including dresses, aprons, and more. For many years the shop provided not just authentic Island crafts and goods but hearty conversation with Roberta. "It's really nice," remarks Ruel. "My grandmother is 91 and she's sort of retiring. She passed it on at least to use for a while. She's so friendly and she's making beach plum jelly still." Many a heart was lifted following a good chat in Roberta's shop, a tradition Ruel and Kent plan to continue.
It was on this foundation of dedicated work, ocean sense, and craft that Ruel was raised. He found music in high school and played often with Nina Violet, Willy Mason, and others in their prolific musical cohort. In addition to guitar, keyboard, vocals, and songwriting, Ruel contributed eye-catching posters for shows at Che's Lounge in Vineyard Haven, which led to an invitation to participate in a local art show. But Ruel continued to pursue music, touring with fellow Island musicians. Music brought him to Brooklyn, where he eventually found a position assisting contemporary artist Holton Rower, grandson of iconic abstract sculptor Alexander Calder.
Scrolling through social media, you may have come across a time lapse of Holten Rower's "Pour Paintings." Rower is known for his process of pooling thick streams of paint over plywood and wooden blocks that spread in rings of vivid color. The results can appear equal parts scientific and psychedelic. While the time-lapse videos may be soothing to watch on Youtube, to work in Rower's studio required absolute precision and dedication. Ruel carried the skills he honed working on Rower's color-popping contemporary pieces to a job restoring Calder's works, which then led to a position as an art restorer and fabricator at Alchemy Paintworks.
Alchemy Paintworks is one of, if not the go-to fabrication studio for some of the biggest contemporary artists of the past several decades. Ruel laid hands (and tools and paint) on works by some of the most well known contemporary artists of this time, including conceptual minimalist Sol Lewitt, sculpture Anish Kapoor (of the Chicago bean), and master of mixing high/low art and media in animated character-scapes Takashi Murakami. The job could be as varied as the artists and works it served. Ruel worked for Urs Fischer on a piece characteristic of his epic time-stopped style: a sculpture of a bed sunk and nearly splitting from the weight of an unseen force. Ruel and the other assistants polished, sanded, smoothed, and polished some more until the hard surface resembled actual fabric. Another project for Urs Fischer took Ruel to an industrial desert-scape in Qatar. The job was to install one of Fischer's towering yellow teddy bear lamps. This is just what it sounds like. A 30 foot tall golden bear made of metal that looks like plush neon fabric, sagging under the head of a black desk lamp. The fabricators from Alchemy Paintworks found themselves caught in Qatar bureaucracy, and spent days waiting to build their bear whilst marveling at the desert landscape, the refreshing coastal water, and the bustling airport construction complex. Needless to say, it was a long way from Menemsha Harbor.
As Ruel immersed himself in contemporary art and urban living, and as he began to explore his own voice in visual art, the Island began to tug. Upon a return to Martha's Vineyard, Ruel met Nettie Kent, a jeweler, artist, and Island soul. Together they moved back to Brooklyn in 2010 where they both continued to develop their art forms. Kent shaped her jewelry brand while Ruel continued to hone his voice in both art and music. In 2013 Ruel reached a musical milestone when he opened for the band The Lemonheads. Eventually he reached a point where he felt ready to work as an artist full time. At that time, Ruel was painting contemporary pieces characterized by bright crisp colors and abstract shapes. "My style has kind of changed," Ruel recalls. "Before, it was abstract with a lot of color gradients." With such a range of influences, Ruel labored for a long time to find something that felt like his own: "I feel like in New York I spent so much time figuring out what I want to do and just painting, going crazy. Then I was home sick and I wanted to be in nature. And then I was just like: Paint just exactly what I know."
In 2014, Nettie Kent and Colin Ruel married in scenic Menemsha, and two years later, they returned to stay. By now Ruel had begun painting his homescape, swaths of water with vast moody skies, a fisherman or a skiff cutting shadows against the horizon. These paintings hung and sold in The Field Gallery and the Granary Gallery, both in West Tisbury, for roughly six years. During this time Kent developed her jewelry business. At the same time she and Ruel raised their two young boys on the same creativity and ocean life they knew as kids.
Then Roberta Morgan, Ruel's Grandmother who owned The Harbor Craft Shop decided it was time to let go of her shop and asked if Colin and Nettie might like to take it on. Ruel shares that before it was a gift shop, it was Roberta's father Clarence Morgan's garage, where he spent afternoons working on his Model A Ford. In 2019 Ruel and Kent took the space on both as a place to show and share their work, and as a way to continue the history of the building. "The one other thing we sell is Roberta's beach plum jelly," Ruel notes with a grin. But in the middle of laying fresh white paint on the old garage-turned gift shop-turned gallery, the pandemic hit. Like so many, Ruel and Kent have been balancing uncertainty with what they do best: create.
Today more than ever before, Ruel believes in the importance of preserving and sustaining local culture and traditions. On the floor of his studio, he is pushing foggy yellow pigment across a "canvas" of wood, laying the groundwork for a sizable landscape. "I like it because you can see the wood grain," he mentions. Watching him work from the corner of the room is a group of familiar faces. Many are tanned and weathered with smile-lines crinkling at the corners of their eyes. They are the faces of Menemsha, many of them fisherman, some of them family. Ruel has been expanding his style and body of work again to include portraiture. Though the individuals in the portraits vary in age, they appear together as a group of elders might, a cohort of people who uphold traditions even as the world around them changes. Ruel has plans for two shows in the months ahead after the gallery opens in May. One will be a series of these portraits of local folks. The other, which has no set date, is a retrospective of Ruel's grandfather's work: his weathervanes and boat carvings, as well as Ruel's paintings of James and Roberta Morgan.
Despite its small stature the Ruel Gallery seems as sturdy as an anchor, steadying a beloved boat against an unpredictable tide. The year has brought incalculable changes to the Vineyard and the world. Ruel's work reveals that there can be a balance between holding onto traditions and creating anew. Ruel taught himself to paint, drawing from the ocean wisdom and folk art of his local elders, and the meticulous and explosive power of contemporary art classics. Through these traditions, he developed his own voice and style, one that he continues to grow. In the Ruel gallery, visitors can literally touch the past. In Ruel's work, we are reminded why that past is so important to preserve as we continue to shape the future.
For more information, to see more of Colin's work and Nettie Kent's jewelry click:
ruelgallery.com
Please contact them with any questions or commission inquiries.