HOME PORTRAIT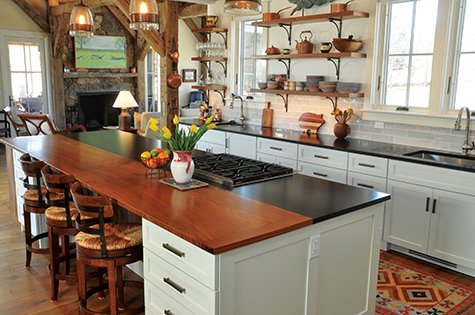 Technical & Creative

John Meade of Coastal Creations Kitchens and Bath
By Amelia Smith
When Islanders and sum-mer residents look at their kitchens in dismay, frustrated with cabinets that aren't working well or dispirited by a worn or dated appearance, they often turn to John Meade of Coastal Creations Kitchen and Bath. John is the Island's go-to designer for kitchens of all types, delivering reliable, customer-focused design. He works with year-round and seasonal clients, contractors and caretakers for projects of every size and budget. The result? Kitchens (and baths) that are a pleasure to use and be in every day.
John Meade has been working in kitchen and bath design for almost a quarter century. Originally from Hyannis, he studied architectural engineering at SUNY Fredonia, and took drawing classes as part of his degree there. "The thing about kitchen design is there's a technical aspect to it as well as a creative aspect, so it does come in handy," he says. In 1987 John moved to the Island to manage the Carpet Barn in Edgartown. After a decade at Carpet Barn, he felt that the time had come for a change. He saw a "no experience necessary" help wanted advertisement for a kitchen designer at H. N. Hinkley's, in Vineyard Haven, and the rest is history.
Twenty years later, Hinkley's closed their kitchen and bath department and John went out on his own, founding Coastal Creations Kitchen and Bath in February 2017. "I was disappointed about what happened at Hinkley's, but I was also excited to be starting my own venture." It was a challenge to put all the pieces of the business together, but his customers from Hinkley's – contractors and homeowners who he had gotten to know over the years – readily followed him into his new business. "I enjoy the back and forth process. I like working with people," John says. "It's always satisfying to know that what they end up with is what they really wanted."
Lately, the demand for new and renovated kitchens is growing. "During the past year, with the covid situation, there are people who are spending more time in their second homes and have decided that they need to make their kitchens more comfortable and efficient if they're going to be spending more time here," John says. Others are buying homes here and renovating them to suit their needs or upgrading older kitchens, which might have been put in on a tight budget a decade or more before.
West Tisbury Dream House
One of John's recent projects was a new kitchen for a homeowner who had previously hired John to redesign a kitchen in his Edgartown home and another project, making this their third project together. "When it came time to build our dream house, I called John," the homeowner says. The new post-and-beam house overlooks rolling meadows, and its kitchen is just inside the home's main entrance, adjoining the great room.
"We started with the architect's plans and then it was a process between myself and the owners on exactly how to lay out the kitchen," John says. "They wanted the design style to be similar to what we had done on their house in Edgartown, and they particularly wanted a big island." That large kitchen island has some unique features, with a breakfast bar along one side and kitchen counter with a cooktop on the other. On the bar side the surface is a single, 13-foot long piece of eastern elm, sourced from Western Massachusetts for the project, while kitchen side of the island has a leather-textured granite countertop, matching the other kitchen counters. Its unique configuration meant that custom cabinets were required.
The cabinets are white, which provide a lightening contrast to the room's dominant palate of natural wood textures. A backsplash of light gray tiles on the wall also helps create a perfect setting for several of the the antique farm pieces that the owners had collected, including an egg closet for their own chickens' eggs, copper pots and pans, and local art.
Summer Haven in Edgartown
When John was introduced to the owner of this spacious Edgartown summer residence, there was one thing that she wanted to keep from the old kitchen – a brass bottle opener attached to the end of the counter. That small fixture became part of a bar area with a small under-counter beverage cooler, a sink, and an overhead cabinet for glasses just inside the front door. The owner's contractor called John, who then worked with the owner on the design. Her main goals (aside from keeping the bottle-opener) were to increase the kitchen's workspace, to make it more functional and efficient, and also to create another entrance to the kitchen area.
The kitchen occupies one spacious corner of a cathedral ceilinged great room. It gleams with stainless steel pots and countertops that look a bit like marble (actually a quartz from Viatera called Karis). The large space is well-suited to creating lavish meals for family gatherings, and is one of the largest kitchens John has ever done. It makes good use of the many organization and storage tools in the Starmark cabinetry line. "That's my predominant cabinet line," John says. "It's a great quality product for the price point, and they can do almost any modification that I ask for, so they're very versatile. They have a great selection of door styles and finishes, and they're very consistent in their quality." He used this same cabinetry brand for the other two renovations mentioned in this article. Here, he used blind corner pull-out shelves, u-shaped slide out trays under the sink and cooktop, vertical pull-out spice racks under the counter, and many other elegant storage and organization solutions.
Design by Committee in Oak Bluffs
This summer home is a campground cottage that was moved to its current location many years ago. Currently owned by three sisters, it has been in their family for generations. The kitchen was part of a 1973 addition and it was too small and cramped to meet the the family's needs – the property gets heavy use between the sisters and various cousins in the family. The sisters also wanted to update its look to be more clean and contemporary.
"We had to go through the design process in the committee with the three sisters," John says. "It was a lot of communication but it was very smooth. The main thing they wanted to accomplish was expanding the kitchen so that they would have a dedicated pantry area and also have a better island for people to sit, and have a more efficient way of moving through the kitchen." The kitchen runs the length of the room, for more than 25 feet. It's essentially a galley kitchen, laid out along a single wall, with a pantry area at one end with a ten-foot long island separating it from the living and dining areas. The new features include a larger refrigerator and two work stations, as well as the island replacing a more cramped kitchen peninsula. At one end, they removed a wall separating the pantry closet from the kitchen, and eliminated a desk area at the opposite end, adding another eight feet or so to the length of the kitchen.
Fixer-upper in Katama
For another recent project, in Edgartown, John helped a couple re-design the kitchen of their vintage fixer-upper in Katama. The owners are Leo Convery, a local electrician, and his wife, Deneen. Leo bought the house in the late 1980s. "I've been fixing it ever since," Leo says. He has worked through the house one room at a time, doing most of the work himself. The original kitchen had dark cabinets, marble-look Formica countertops, and linoleum floors. After well over thirty years, it was overdue for an overhaul, and it has truly been transformed.
"We do most of the renovation together," says Deneen. "He does most of the work, I do a little decorating." It was a big project, so the couple moved into their basement while work was in progress. Fortunately, the basement is fully finished, with a recently-renovated bathroom and a small galley kitchen that John also redesigned, so it was an adequate living space while the main part of the house was a construction site. "Deneen and John got together and decided on the design, I just did the work," Leo says. Leo knocked out the wall (and did all the electrical work) creating an eat-in kitchen breakfast bar from the living room, bringing more light to both spaces where the wall had been. Their contractor, James Neeb, installed the cabinets with deep drawers for pots and pans, and a pull-out for garbage. On the wall beside the refrigerator, they added a deep pantry cabinet that took over some space from a hall closet.
"In a kitchen this small, you want as much counter space as possible," Deneen says. The counters are a white quartz from Cambria called Newport, with a subtle texture. After the old faux-marble Formica, they didn't want busyness. The cabinets are a deep blue color called Blueberry. "I looked at it and I said, 'That's what I want.' It's such a pretty blue," Deneen says. Blue-and-white backsplash tiles from MV Tile tie it all together, while Leo ensured that there were plenty of lights recessed in the ceiling and over the bar, and that, with the white countertops, has made the previously dark kitchen into a light-filled space. "I'll stand in the kitchen sometimes and say, 'I love my kitchen,'" Deneen says.
Overview
Kitchen fashions, lines of cabinetry, and other trends come and go. Before the pandemic, John went to trade shows to keep up with the changes, and he hopes that those will return again. Recent trends include Shaker style, painted white cabinets, and mixing a couple of different colors in one kitchen. Quartz is the most popular countertop material these days, but other choices like Corian, granite, and even laminate are still available. In cabinets, John helps clients select from among a half-dozen carefully vetted brands that he sells, all of them American made. He also draws from a large selection of countertops and fixtures. Current knowledge is key to bringing in the right components.
These, and a thousand other small details, are the stuff of which kitchens are made, with each part making up a harmonious whole. Working out the design means balancing function, appearance, and a host of practical considerations. The whole process of design and installation can take six to eight months for a large project, but smaller projects can be done in as little as a few weeks, depending on the details. John specializes in the design of the kitchens, and his installer, Douglas Fogg, can be employed to install the kitchen for clients who aren't already working with a contractor on their renovations.
John often has as many as thirty projects in play at a time, at different phases of the process. "I've gotten to the point where I'm so busy that I need to hire another designer and in order to do that I need a bigger space," John says. He'll be opening a showroom this summer to make space for the new designer and to display his array of cabinets. All of the news will be posted on his website, so keep an eye out for the latest news or contact John Meade at his website:
coastalcreationskb.com