CUISINE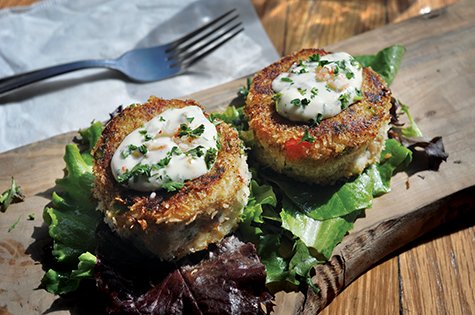 Lucky Hanks...Lucky Us.

Cuisine and People That Feed Your Soul
By Lisa C. Belcastro Photos by Charlie Utz
So restaurants welcome you like a familiar home, inviting, warm, and filled with friendly faces and cozy nooks. Lucky Hank's is one such place. Every time I enter the door, whether I sit inside, on the enclosed patio, or outside in the green grass under the shade trees, I smile at the simple pleasure of being there.

Doug Smith, owner and chef, opened Lucky Hanks in the fall of 2012. Doug started coming to the Island while in college. He worked at Nancy's Raw Bar, then came back a few years later when Nancy's opened the upstairs restaurant. Doug's worked every aspect of the restaurant business, from the kitchen to the bar to waiting tables to front-of-house to writing staff training manuals.

He loves the restaurant business, and he also loves the Island. "When I worked at Nancy's, I loved it here – the nature, the stars at night, the beaches, the people. I knew I wanted to move here."

Doug found the 100-year-old house that is now home to Lucky Hank's and put together a business plan. He pitched his idea to the banks on Island and was turned down by all of them. Not one to give up easily, Doug reached out to his parents. "My mom and dad loaned me the money. I couldn't have done this without them."

Anyone who's eaten at Lucky Hank's is grateful for Doug's parents. Doug's dream soon became a great place to eat breakfast, lunch, and dinner on island. Lucky us! And, the folks who work at the restaurant love it too as most of Doug's staff have been there eight or nine years.

"I've never worked in a great restaurant that didn't have a great team. I'm lucky that a few of my team have been with me from the beginning. When COVID started last year and things were very uncertain-Will we open? How will we serve people? Takeout? Meal kits? I knew I had a small crew of people who have been here doing the job every day since we opened. Not every restaurant has that luxury," said Doug.

If you dine at a restaurant often, you inevitably have a favorite dish or two. For me, at Lucky Hank's, it's the Cod Cakes. For breakfast with eggs over easy, for lunch with a side salad, or for dinner, Doug's Cod Cakes never disappoint.

I was at a friend's house today and mentioned that I'd had the Cod Cakes twice in one week. My girlfriend's response was instant excitement and an immediate shout to her fiancé letting him know Lucky Hank's was open. Pretty sure they're going tomorrow night for Cod Cakes.

Doug has generously shared his Cod Cake recipe with us at Vineyard Style. He's also shared a few "secrets" so we can make it at home as he does in the restaurant. "This is a great recipe to use the leftover parts of fish that you can't cut into nice dinner or lunch size filets. That is why I write "trim" next to cod in the recipe. I use all the trimmed parts I can't use elsewhere. I love being able to utilize all of the fish we source and not waste a morsel" said Doug, adding, "I use the same recipe for salmon cakes, but up the mustard and dill a little."

The first trick to great Cod Cakes is chunks of cod. Many fish cakes or crab cakes have shredded fish. Doug stressed that we need chunks of cod. "A lot of cod cakes have potato in them. This one is cod, and lots of it. No filler, all killer," said Doug.

"Freshness and simplicity make these cod cakes easy and delicious. You need to keep the cod moist. Don't overcook the cakes," said Doug, who was an English lit major in college and named Lucky Hank's after a character in Richard Russo's novel, Straight Man.

If for any reason you're not a fish lover, go for the meatloaf. This spring, when Yankee Magazine declared Doug and Lucky Hank's the "comfort food specialist," they certainly had Doug's meatloaf in mind.

"I wanted to do really excellent comfort food. When I interviewed chefs, one of the first questions I asked was, 'can you make a great meatloaf," said Doug. The current recipe was created nine years ago by Lucky Hank's first chef, Danny Finger, and it's never left the menu.

"The meatloaf sandwich is the first thing my wife and I want to eat when we open," said Doug.

The recipe is easy to make. You'll notice that Doug tops his meatloaf with ketchup (or barbecue sauce), probably the same as your mom made it. Doug mentioned that he'll "add things to the ketchup to make it spicy. Or add some cumin for a cross between ketchup and barbecue sauce." However you top it, you'll love this meatloaf recipe.

With summer on the way and our local gardens, or home gardens, being planted with an abundance of goodness, we all need a great risotto recipe. Pick some fresh spinach and tomatoes and basil, and this risotto will become a staple. And, as an added bonus, Doug uses Mermaid Farm's feta cheese – the best feta outside of Greece.

"I've always loved making risotto. You can incorporate different flavors or textures, and it becomes a different dish. This one is packed with vegetables. I like to get as much vegetables into a meal as possible," said Doug.

"The real main ingredient of risotto is attention. It is a dish you have to watch and attend to the whole time you are cooking it. It requires constant stirring, reducing, and adding liquid until it is done. The bonus is the love and attention you put into the dish is rewarded in the final result," said Doug, who shares the full Lucky Hank's recipe. Be sure to read through the recipe before you start. Doug gives great insight and detail that you don't want to miss.

You also don't want to miss Doug's new Clam, Kale, and Corn Soup which is beyond good. I don't like clams, but I loved this soup and ordered it again the second time I went. It's got a ton of vegetables and a little kick to intrigue your taste buds.

Lucky Hank's offers a great selection of drinks. My personal favorite is the Raspberry Mint Lemonade. It's pretty and tastes great. You can have it with or without alcohol. Doug grows the mint at Lucky Hank's and creates everything inhouse. "I like muddling," said Doug. "I created the recipe, and it got such great feedback that it's now a signature drink."

Is dinner truly complete without a yummy dessert? Not in my world. I highly recommend the Banana Foster Bread Pudding. This yummy, creamy dessert is perfect year-round, but especially good in summer.

Now, if you're at Lucky Hank's and either the Almond Hazelnut Dacquoise or the Blood Orange Crème Brulee are on the menu, order one or both. I've eaten at Lucky Hank's twice in the last ten days, enjoying the Dacquiose on my first visit and the Crème Brulee the next time. Sooooo good! Doug's next dream is to open a bakery, so you can just imagine that all his desserts are fabulous. Save room or buy one to-go
to enjoy later.

While Doug loves to cook and create in the kitchen, he also has a passion to help others. The journey from Nancy's to Lucky Hank's included a few detours that ultimately shaped Doug into the compassionate and generous man he is today. Doug left Nancy's because he was drinking too much. He moved to New York and woke one morning with the reality that he needed and wanted help.

The path to sobriety wasn't easy nor was it an overnight, one and done, quick fix. Doug sought the help he needed when he needed it. Now, he's helping others. In 2019, Doug went to Colorado to take a class on becoming a recovery coach. For the past two years he has served as a recovery coach for Martha's Vineyard Community Services.

"I'll also say that my team of recovery coaches at Community Services is awesome. We share resources, advice, support. I love being part of a great team," said Doug, who also volunteered at the Harbor Homes Winter Shelter this year.

Doug's desire to help others walk the path of recovery is pushing him to formulate a new business plan – a sober living home on Island. "A large part of getting sober is realizing that it is difficult to do it alone. Group settings, meetings, and like-minded people helped me," said Doug. "I would love to see the opportunity here for people to live in a sober environment for an extended time."

Lucky Hank's is currently open six days a week, Tuesday thru Sunday for breakfast, lunch and dinner. You can order breakfast from 8 am to 3 pm. Lunch is from 11:30 am to 3 pm. Dinner is currently from 5-8 pm. When the summer season begins, Lucky Hank's will be open seven days a week and dinner hours will expand.

Lucky Hank's Cod Cakes

Ingredients: makes ten cakes
2 pounds cod, trimmed
½ small green pepper, diced
½ small red pepper, diced
3 scallions, chopped
Chopped herbs to taste/color (we use parsley, chives, and tarragon)
½ Cup sour cream
4 TB Mayonaise
2 TB Dijon Mustard
¼ cup fine diced shallots
1T dry dill
Salt and pepper to taste
Panko bread crumbs (they make Gluten free panko from rice flour)
½ gallon milk (poaching liquid)
2 fresh bay leaves (for the poaching liquid)

Method:
1. Add milk, cod, bay leaves, salt and pepper to taste into a medium-sized pot.
2. Cook on med/low for 15 minutes or until cod is cooked.
3. Strain cod from milk and cool thoroughly in the fridge.
4. Once the cod has cooled, add all ingredients into a large mixing bowl. Fold together by hand. (Be careful to leave some nice chunks of cod. Don't mix it all into a paste).
5. Portion cakes (approximately 2-3 oz) and coat with panko breadcrumbs.
6. In a nonstick pan on medium heat, add oil or butter, then cook cod cakes on both side until they are DGB (Delicious Golden Brown) and heated through. Remember that the cod is already cooked. The longer you cook, the dryer they will get. Lucky Hank's serves them for breakfast, lunch, and dinner, topped with lobster tartar sauce.

Lobster Tartar Sauce:

This is a super decadent tartar sauce.
We use it on top our cod cakes and
as a base for our lobster salad. – DS

Ingredients:
1 cup mayo
1 oz Lobster meat, finely diced
1 boiled egg, finely diced
1/4 cup sweet relish
1/4 cup dill pickle, finely diced (or use a dill relish)
1 TB chopped capers
1 TB shallots, finely diced
Squeeze ½ lemon
1 TB fine herbs (we use parsley, tarragon, and chives)
Salt and pepper to taste

Method:
1. Mix all ingredients in mixing bowl
until combined.