GARDENSCAPES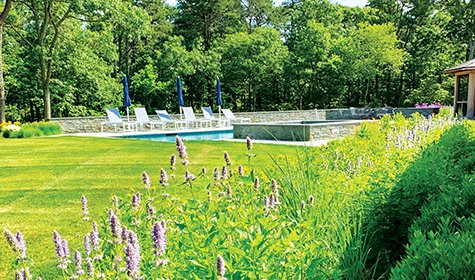 From Soup to Nuts

Contour Landscape Construction
By Olivia Cameron
Contour Landscape Construction grew as a collaboration between a bunch of friends with a shared vision, hoping to bring something fresh to the robust network of landscape companies that call the Vineyard home. Though the company is relatively new, they have roots in the wider Island landscape community. "You know, it's not easy to do when you're a younger group of guys. We've been really fortunate; we've gotten to get in with a few contractors and landscape architects that really brought us up to where we are today. We're very fortunate for the Island community and people that have reached out to help us get started and get our name out there."
Trevor McCarthy grew up mowing lawns and raking leaves in Central Massachusetts, and he quickly developed an appreciation for hands-on, outdoor work. He went to the Stockbridge School at UMass for Landscape Contracting, where he built friendships that laid the groundwork for Contour Landscape Construction. One friend's brother owned a landscaping company on the Vineyard, where McCarthy worked during the summer. When he graduated in 2011, he moved to the Island full time. He worked for Contemporary Landscapes and Beetlebung Tree Care before starting the business in 2016. "I think it's kind of always been a dream of mine," says McCarthy. "I was able to find some good friends that I was working with that had the same idea. We thought we could put something together that would be enjoyable and offer good quality work, so we kind of just jumped in and took the risk." Made up of young professionals mostly in their early thirties, the team includes guys who also went to Stockbridge, and guys who grew up on the Island, including Shane Fisher, James Pearl, Ben Madeiras, Wyatt Hamilton, Steve Sanborn, Chris Costello, Mike Serino, Nick Kent, Chris Bonica, Tom Christopher, Mike Araujo and Sarah Williston.
Contour Landscape Construction is a full-service landscape construction company, offering quality installation and maintenance, working to satisfy basically all landscaping needs. They also do some in-house design, subcontracting Steve Sanborn, who has a DBA as a landscape architect. "We try to be a soup to nuts operation and to give everyone the opportunity to have one company handle everything," says McCarthy.
Most of what they do is newer construction, either for a new home or a renovation. They come in at the very beginning of a project, working with the general contractor or landscape architect, and building their way up. They start with the underground work of utilities, electric, drainage, and then move into creating hardscapes like patios, walkways, and driveways. From there they install lawns with irrigation and planting beds, adding trees, shrubs, flowers. "It's really kind of a systemic process to install one of these high-end landscapes. They're pretty in depth in terms of details and quite a bit of moving parts."
Afterwards they maintain the property, ensuring the landscape looks its best when homeowners are around to enjoy it. They prefer to foster long-term relationships with clients, working with them to create a beautiful, custom landscape.
They also strive to be thoughtful and protective of the wider ecosystem they're working within. "I think most clients kind of have a vision of what they're looking for, and it really comes down to us as the contractor to educate them and make them aware of what's possible within that realm, to make sure that everyone is on the same page," says McCarthy. "It's not just getting what you want but it's doing it properly, and making sure that we're looking out for the island especially. This is such a closed, small community that we want to make sure we're not destroying things for future generations, so to be mindful of all of that is really where I think our company can be a little bit more successful than some of the others."
McCarthy oversees the day to day operations of running the business, the management of scheduling and mobilization crews, as well as project management and working closely with the foreman on each crew to make sure projects run smoothly. "I think my favorite part is just the opportunity to work within the green industry, being outdoors, working with living and changing and moving landscapes," he says. "We're trying to work with something that's also a living ecosystem. You can't change everything, you have to adapt with what you're given, and it creates challenges. I think solving problems and challenges is something that keeps me going."
But what sets Contour Landscape Construction apart is the emphasis on team atmosphere and effort, creating a work environment of collaboration. Each crewmember is vital to the company's success and brings their own expertise and labor to create the highest quality work together.
For more information about Contour Landscape Construction Call or click: 508.330.2593
Trevor@contourmv.com
, Web:
Contourmv.com