MADE ON ISLAND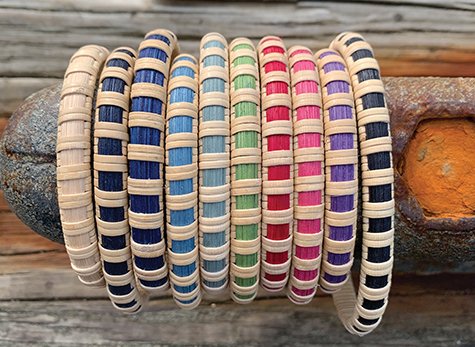 A New Take on a Rich Maritime History

The Handwoven Bracelets of Time and Tide
By Pat Waring
It takes faith, determination, and more than a little chutzpah to launch a business in the midst of a pandemic shutdown. But for longtime best friends and business partners Doriana Klumick and Kate Conde Foster, January 2021 was the auspicious moment to start offering their handmade bracelets woven in the style of Nantucket lightship baskets. Thus was born Time and Tide.
"We have always had an affinity for Nantucket basket weaving and began weaving as a hobby," explained Doriana.
"This was definitely the silver lining in 2020! The pandemic gave us the time to explore our interest in lightship bracelets and the history of basket making on Nantucket."
Captivated by the delicate reeds, slender canes, intricate woven patterns and rich maritime history, the pair came up with the idea of incorporating the technique into bracelet designs.
"We wanted to find a way to keep this 200-year-old cottage industry alive and present day. By incorporating the natural fibers into a more trendy bracelet, the next generation is able to enjoy this craft," she added.
Meeting during happy summer vacations here as youngsters, Doriana and Kate made the Vineyard home more than 20 years ago. They already have created two successful businesses: Plan
It Martha's Vineyard + Nantucket, and Island Cocktail Company.
The bracelets and cuffs feature subtle seaside hues, sand-toned canes woven with brighter reeds in custom dyed colors - blue, pink, ebony, purple. End caps of wood, stone, or legally obtained ivory are adorned with tiny images of lighthouses, whales, mermaids. Some boast a wampum heart, scallop shell, or freshwater pearl.
"As Island lovers at heart, the beach is where we get our inspiration," Doriana said.
A customer favorite is the simple Amity cuff or bracelet, often chosen as a gift. The style is available for kids too. Custom orders are welcomed for a personal touch. Each bracelet can take up to four hours to complete. They are committed to using only New England vendors and artists.
"Our clients love that all of these pieces are made by hand in Edgartown," said Doriana. "It's a way for people to feel connected to the island, even when they are away from it."
Time and Tide's stylish website contains extensive information on the process, materials, and lightship basket weaving history dating back to the whaling days. One page explains their sourcing of ivory.
"We have always been in awe of this delicate and traditional craft and the patience it bestows on the maker," the partners explain.
The women are gratified by enthusiastic customer response. Orders arrive from across the U.S., from vacation visitors and locals alike.
Small woven accessories include key fobs, chunky barrettes, and the tie clip, a perfect Groomsman's gift. Custom cuffs are often ordered for bridesmaids. Newly designed hoop earrings are next.
Although sales are currently only online, the partners promise an in-person venue in Edgartown soon.
For more info and orders visit:
timeandtidemv.com
or on Instagram: @timeandtidemv