ON ISLAND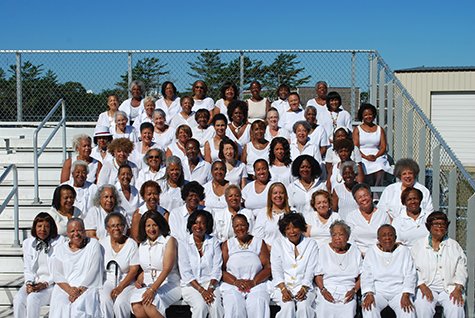 The Group of Friends That Became the Cottagers

The Island's African-American Women's Charitable Organization
By Amelia Smith
The Cottagers have been a vital and enduring part of Oak Bluffs' summer community since the 1950s. One the original Cottagers was Dorothy West, who told this story of the group's origins: "My friend Thelma, she told me one day – this is thirty-odd years ago – that she overheard some White people saying that there were all of these rich Black people down there – when they are not – and the White people said that they don't give to charity." This was taken as a challenge. Thelma and her friends got together and decided to donate $10 each to the hospital, gathering a total of $300, which was a lot of money at the time. That group of friends became the Cottagers, a charitable organization made up of African-American women who own homes on Martha's Vineyard, and their successors are still active in the community here. After that first gathering, they donated to the hospital every year, and soon began to contribute to other organizations, including the Food Pantry, the NAACP, and the Oak Bluffs fire and police departments.
As the African-American summer community grew, so did the Cottagers. Eventually, they capped their membership at 100 women. "The ladies come from all over the country, very powerful ladies, too," says Olivia Baxter, current president. Many of the members have mothers, grandmothers, or aunts who were Cottagers in earlier decades, reflecting their families' long history on the Vineyard, and the longevity of Oak Bluffs as an African-American resort community. Carrie Tankard is one of a handful of members who live on the Island year-round. "They get off the boat in June and roll up their sleeves and get working in July and August, to raise money to give back to the Island," she says of her fellow Cottagers.
In the late 1950s, the organization began holding fundraisers to support their giving, instead of relying solely on member donations. In the 1960s, that included bazaars, dinner dances, and cultural events, along with arts and crafts classes for children, dances for teenagers, ham and bean suppers, and clambakes. Their annual fashion show had its beginnings in the early 1960s. In 1982 the Cottagers began giving house tours. The African-American Cultural Festival, another annual event, began in 2003. All of these were done in the interest of supporting local charities and the scholarship fund. "Every summer when we're getting ready to give money out, we have the people come to us, physically, to tell us about their organization," Olivia says. Students who receive their scholarships come to talk about their college and career plans.
With a larger membership, the early, informal meetings on each others' porches became impractical. In 1968 the Cottagers voted to buy the old Oak Bluffs town hall on Pequot Ave., now known as Cottager's Corner. The building, over a hundred years old, is currently undergoing renovations. "It used to have two jail cells," says Olivia. "A brick closet on the first floor used to be a jail cell for men. On the other side was a jail cell for women." Cottager's Corner was added to the Island's African American Heritage Trail in 2006, when the group had their 50th anniversary.
Last year, the covid pandemic upended the Cottagers' summer plans, but they persisted. House tours and the fashion show were canceled, but member meetings and book talks moved onto Zoom. This summer, 2021, marks the 65th anniversary of the Cottagers, but most events have been put on hold due to ongoing pandemic. The Cottagers' giving will continue, though, supported by member dues just as it was in the beginning. The Cottagers will be here, working to make a difference. vs
If you would like to learn more about the Cottagers, there will be an exhibit in the Community Gallery of the MV Museum from August 10th through September 24th. Updates and more information about the Cottagers can also be found on their website:
www.thecottagersincofmv.org