SCENE & SEEN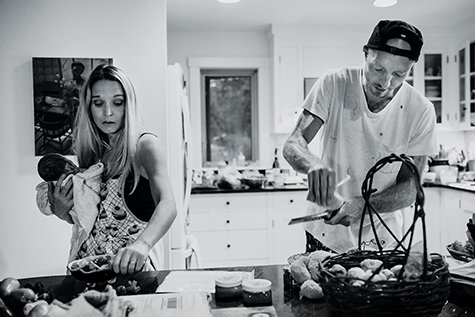 Wine+Peace

The On-line Wine Shop with a Conscience
Meet Wine + Peace, a new marketplace for responsibly made wine, founded by Chilmark residents Sam and Katy Decker. A sommelier and social justice advocate, the Deckers founded the company in their living room back in 2018 after noticing two problems: small American wineries were struggling financially in an industry that no longer supported them. And most of their friends hated to buy wine.
Their idea was to create something like a digital farmer's market–a platform that would bring all the best winemakers in America together under one roof, and allow consumers to buy their wines straight from the source. ­
"Basically, we're the Etsy of wine," said Mr. Decker, formerly the GM and wine director of Atria in Edgartown.
Getting the world–investors specifically–to accept the idea that customers would one day want to buy their wine online required some convincing. Then Covid-19 happened, and "one day" arrived overnight. People started buying wine online. A lot of wine. Some of them bought their wine from Wine + Peace, which launched in December of 2020.
Unlike other wine e-commerce sites, Wine + Peace is not a retailer; they don't buy from distributors or mark up their wines. Instead, they are a direct-to-consumer platform that enables independent wineries to easily upload their products and sell directly to consumers. Translation: higher profit for winemakers, and better wines for the rest of us.
This innovative model has helped the company attract some major names in the natural, low-intervention and sustainable wine community–producers like Martha Stoumen, Steve Matthiasson, Cathy Corison and Adelsheim.
The Deckers want to make buying wine online fun. But more so, they want to show the next generation that wine is about a lot more than taste. It's a reflection of our values. So rather than organize their wines by grape or region, the site is divided into five Value Categories–Human, Community, Environment, Women and Pioneer–which reflect their winemakers' core missions. For example, in the Human category you'll find Martha Stoumen, who pays her employees for time they dedicate to activism outside of work; or Adelsheim, who partners with ¡Salud! to provide free healthcare to their vineyard workers through mobile onsite medical units.
A manifesto on the company's site states: "We have to take responsibility for the industry we've chosen to participate in and actively engage in making it better. We have to champion those who are doing the right thing and speak out against those who aren't. We have to rethink wine's role in our culture by asking why it matters and who it is for."
At its heart, this is Wine + Peace's mission: to champion the small producers, and to help bring about a more equitable and sustainable vision for American wine.
Visit Wine+Peace at:
www.wineandpeace.com
, and follow the company on Instagram at @drinkwineandpeace.com