SCENE + SEEN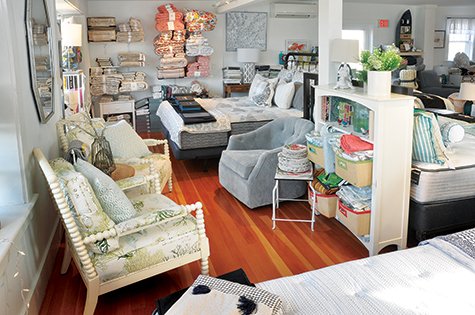 Ocean Breeze Bedding

Is Now The Home Goods of Martha's Vineyard
by Pat Waring
Customers expecting only mattresses, sheets and pillows at Ocean Breeze Bedding will be happily surprised. Since moving her business from Edgartown to its spacious, more visible State Road Vineyard Haven location in 2017, owner Bethany Scanlon has expanded her inventory dramatically.
"The store now offers one-stop shopping," Bethany said proudly.
Along with outfitting up-to-date bedrooms in a range of styles, patrons may browse through functional and decorative furniture pieces and items to enhance every room in the home. Bethany displays chairs, sofas, sleep sofas, as well as bookcases, coffee tables, end tables, and more. There are lamps, vases, throw blankets, handbags, towels, rugs, gifts, artwork and even day planners and holiday décor.
"People don't realize the amount of product I have!" she said.
Among Island-made goods are pampering products from Liz Carroll's Vineyard Bath and Body. Bethany offers her own line of Ocean Breeze Bedding candles, and works with women-owned companies when possible.
"Customers have been really happy with all the new products," Bethany reported. "People say the store is warm and inviting." One admirer called Ocean Breeze "the Home Goods of Martha's Vineyard."
Bethany displays a creative mix of styles and brands, traditional to contemporary, from affordable to high-end. She is committed to offering high quality pieces "that will last a long time."
"I have a little bit of everything for everyone," said Bethany
A third-generation Islander, Bethany worked 10 years with a mattress business before setting out on her own. She launched Ocean Breeze in 2011 in Post Office Square, featuring mattresses, beds, and bedding. In 2017 she purchased, renovated and expanded the Vineyard Haven property.
Home staging for sale and long or short-term rental is another of Bethany's skills. Along with courses and extensive experience, she has a special flair and eye for creating impeccably appointed spaces that feel welcoming and comfortable to everyone.
Unlike businesses negatively impacted by Covid 19, Ocean Breeze Bedding has thrived, thanks in part to people spending time at home.
"Lucky for me people wanted to spruce up their spaces," said Bethany. "I am very grateful!"
Others who moved here after the pandemic began turning to Ocean Breeze to furnish new homes. Bethany welcomes customers and maintains strict Covid precautions from masks to hand sanitizing.
After a decade running her own business Bethany knows the pros and cons. She sets her own schedule and makes decisions. But with the responsibility work can seem endless and she must maintain boundaries between her business and personal lives, especially with a four-year old daughter, 21 year-old son, two rescue pups at home, and a rescued pony down the road!
"I get to do what I love, I get to use my love of creating comfortable spaces for people," said Bethany happily.
Ocean Breeze Bedding and Home Décor, 322 State Rd., Vineyard Haven, 508.696.9600
oceanbreezebedding.net
email:
oceanbreezemv@aol.com