MADE ON ISLAND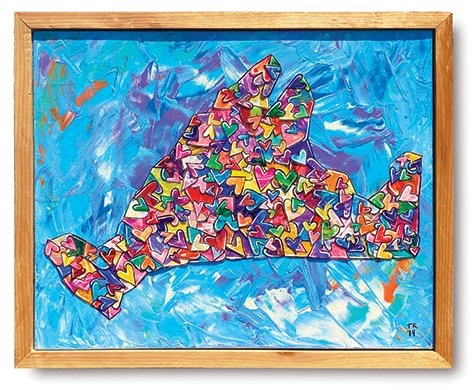 Inspired Vibrancy

From the Mind and Brush of Tara Reynolds
by Pat Waring
"I love making people smile," says Tara Reynolds about the motivation for her perky and colorful artwork. We suspect that creating it makes her smile too. "Most people tell me it's bright and cheery and makes them happy, which is my goal!"

Born and raised on Martha's Vineyard, after high school graduation Tara left her Edgartown home for the Savannah College of Art and Design, earning a BA in Fine Art and Illustration.

"I've always known this is what I wanted to do," she confided.

Tara happened upon her personal style by chance. At college she signed up for a course in collage on a whim. For the young artist it was an eye-opener and would become a life-changer as her career took shape.

She discovered collage could be more expressive than cutting up and pasting existing images, and enjoyed the creative freedom of painting her own paper for collage designs. Until then her work was purely representational. Once she fell in love with collage there was no turning back.

Home on the Island Tara began creating her signature "collage paintings." Her multi-step process entails painting and cutting paper, affixing shapes to canvas, outlining designs in black "to make them pop."

She published "Alphabet Zooup," "Bruce's Martha's Vineyard Vacation" and "The Martha's Vineyard Coloring Book," all hits with parents and grandparents, and popular baby shower presents.

Tara takes inspiration from Vineyard nature - "there are so many bright, beautiful colors!" Her joyful flowers are everywhere, blooming in vases and tomato cans, blanketing her popular "filled islands" – outlines of the Vineyard adorned with flowers, fruits, shells, fish.

Not content to let her vibrant designs remain on canvas and prints, Tara expanded to magnets, stickers, masks, greeting cards, and playful paper earrings. Affordably priced, these make perfect gifts or souvenirs.

For years Tara worked at restaurant jobs, pursuing art in spare hours. Recently she took the plunge to commit herself full time to her art. With studio space in the Chilmark home she shares with husband Owen and their two dogs, Mya and Ziggy, Tara maintains a five-day workweek, creating art, handling marketing and business tasks.

Tara is a member of the Vineyard Artisans Festivals, sells on etsy, at the Chilmark Flea and Oak Bluffs Open markets, and several Island retail shops. What's next? Tara wants to broaden her clientele and explore fabric art. Whatever the future holds, her creations will surely continue to bring joy and smiles to all who see them.